In the current age of technology, it is more important than ever to keep your home and family safe. And what better way to do that than with the best home security cameras on the market? There are a variety of different security cameras on the market, each with its own set of features. So, how do you know which one is right for you? If you're looking for indoor or outdoor cameras, we've got you covered.
Read more: CES 2022: Innovative Smart Home Products
Here is a list of the best home security cameras on the market:
Arlo Pro 4 Spotlight Security Camera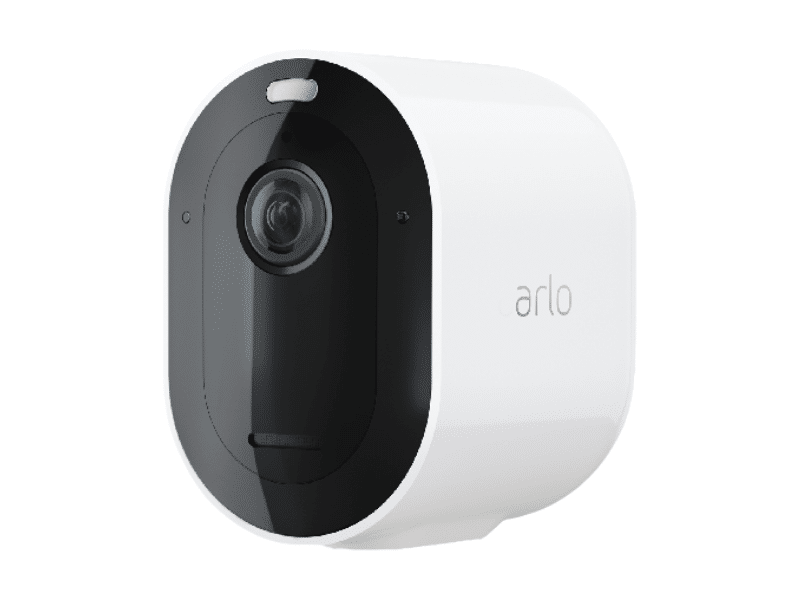 One of the best outdoor security cameras on the market today is the Arlo Pro 4 Spotlight Camera. This battery-operated outdoor camera does not require any wiring or hub, making it easy to set up and use. It features a motion detection that will send instant alerts on your phone when it detects movement, ensuring that you will be able to see what is happening even in the dark. It boasts 2K resolution, color night vision, two-way communication, and more. The Pro 4 has no trouble differentiating between people, vehicles, and animals, so you can be sure that you will only be notified when there is an intruder. In order to have these cool features of object detection and package detection, you have to be subscribed to the Arlo Smart plan. This outdoor camera is also compatible with Amazon Alexa, Google Assistant, and Apple HomeKit.
You can buy this on Amazon for $179.99.
Ring Floodlight Cam Wired Pro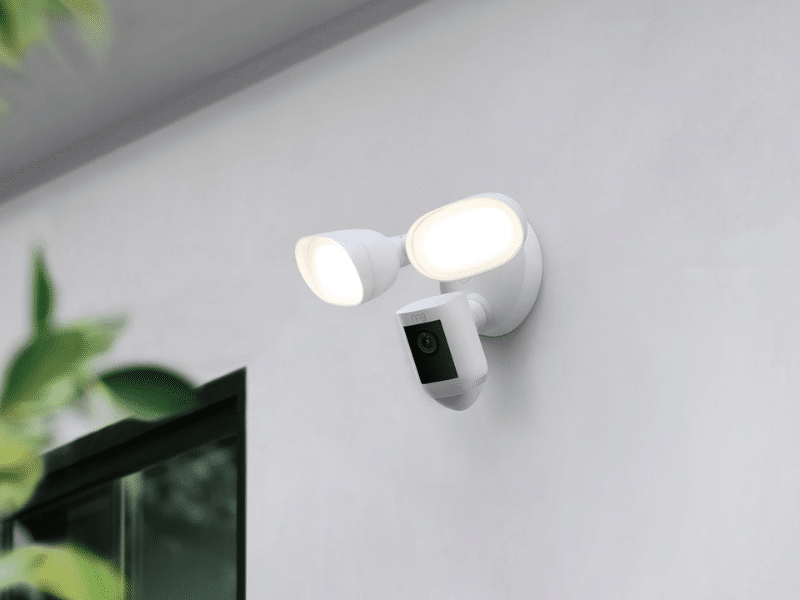 The Ring Floodlight Cam Wired Pro is another great outdoor security camera. This camera is weatherproof and can be used both indoors and outdoors. It has two powerful LED beams that will turn on when motion is detected, scaring away any would-be intruders. And like the Arlo Pro 4, it also works with other smart devices and can be controlled using Alexa or Google assistant. Its dual-band Wi-Fi will keep you connected to your home network. It has a sharp 1080p camera and a loudspeaker that can be used to scare away intruders or talk to them from a distance.
This wired home security camera uses the same 3D motion radar technology that Ring first introduced with its Video Doorbell Pro 2. When the sensor detects an object, it measures the distance between it and the camera and sends an alert if that distance exceeds the threshold. Ring also added a Bird's Eye View where it shows the path of visitors on an aerial map view for motion events recorded by the camera. Unfortunately, you'll also need a subscription to Ring's $3/month cloud storage plan to record and share your video.
You can buy this on Amazon for $249.99.
Google Nest Cam (Battery)

The Google Nest Cam is perhaps one of the well-knownhome security cameras on the market. This battery-operated camera is perfect for those who don't want to deal with any cords or wires. It has a built-in rechargeable battery and can last up to 3 hours of rolling video storage for free. Since it is battery operated, you can place it anywhere from your home to your backyard. The Nest Cam also features 1080p resolution, night vision, and two-way communication. If you already have a Google Home Compatible Devices, the Nest Cam is a great addition because it can be integrated with Google Assistant and other devices to create a home security system. You can also buy the Nest Aware subscription, which gives you access to 30 days of video history, familiar face detection, and more.
There's also a wired version of the Nest Cam if you don't want to worry about the battery. However, the wired version is not weatherproof.
You can buy this on Google Store for $179.99.
Wyze Cam v3

The Wyze Cam v3 is a great, affordable security camera that you can use for both indoor and outdoor use. This Wi-Fi camera has 14 days of free cloud storage and 1080p full HD resolution. It is however important to note that this free storage has clips that only last for 12 seconds. It comes with a microSD card slot for local storage. This home security camera also features two-way audio so you can communicate with whoever is on the other side of the camera. The Wyze Cam v3's night vision is notable since it produces color footage at night using a starlight sensor and two types of infrared LEDs.
If you subscribe to Wyze Cam Plus ($2/month), you'll get unlimited-length footage with no cool-down periods. It is one of the cheapest home security cameras on the market and is a great starter camera for those who are looking to get into home security.
You can buy this on Amazon for $35.98.
Ring Stick Up Cam (Battery)

Ring Stick Up Cam is one of the most affordable home security cameras you can buy for under $100. You can use it both indoors and outdoor.  If you want to mount it from your ceiling, you will need to purchase the ceiling mount kit for an extra $20. This security camera records in 1080p HD with a 130 field of view, giving you a great view of your home or property. It also features real-time notifications and live view, so you can keep an eye on things even when you're not home. It lasts for a couple of months before it needs to be recharged. If you don't want to charge it again and again, you can also buy a separate solar panel for it.
Ring Stick Up cam is only an Alexa-enabled device. This means it's not best if you have Google Home or Apple HomeKit. Nevertheless, it is still one of the best home security cameras on the market today.
You can buy this on Amazon for $99.99.
Blink Outdoor

Blink Outdoor Security Camera is a battery-powered security camera that's weatherproof and easy to install. This wireless security camera records in a sharp 1080p video with a 110 field of view. One of the great things about this security camera is that it has two-year battery life, so you don't have to worry about recharging it all the time. This is longer than the Stick Up Cam which only lasts between three to six months per charge. Blink Outdoor camera will give you good footage during the day but the night vision will only be white and black as it doesn't have a light to illuminate the video. It also features a speaker and microphone for two-way audio, motion detection, and a temperature sensor. Because of its affordable price and long battery life, this security camera deserves to be one of the best home security cameras in 2022.
You can buy this on Amazon for $89.99.
Related Article