Smart homes are on the rise. In smart homes, you'll find smart devices with either Alexa compatible systems or with Google Home systems. Both have the ability to make our lives easier, more efficient, and fun! Smart home technology is especially useful for owners of animals. It's a new way to enjoy your pet and your living space. Smart home technology is allowing pet owners to monitor their pet's health, provide entertainment, and keep them safe. If you're looking into purchasing Smart Home Tech for pets, look no further!
Here are some of our favorite Smart Home Tech products that you and your pet will enjoy!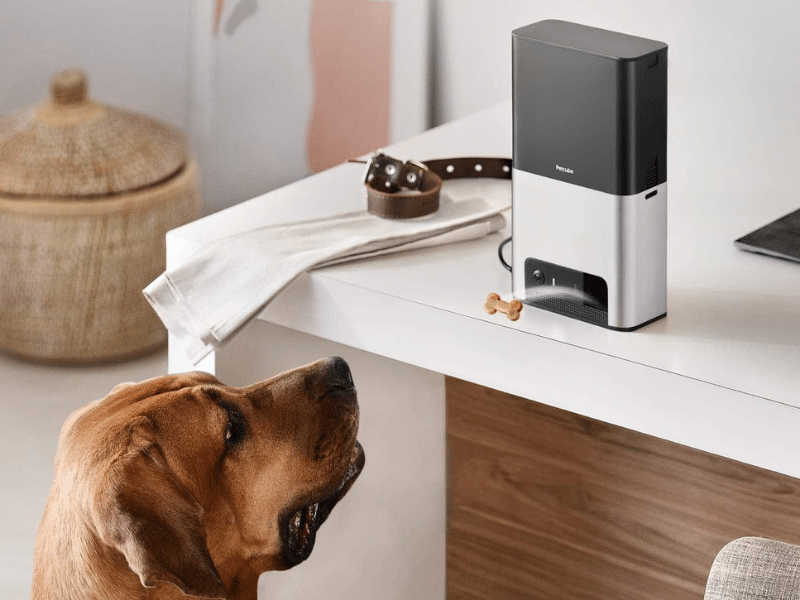 Petcube Bites is one of the best smart pet cameras out there. This pet-friendly device is perfect to monitor your pet while you're away and allows for two-way audio communication! It has motion detection alerts just like your smart security system that tell you when your pet is active and you need to check-in. This product also has a full HD camera so you can get the best view of your pet while they're playing or sleeping. Petcube Bite 2 has a built-in treat dispenser! Yup, you read that right, it is an automatic pet feeder that can dispense your pet's favorite treats at the push of a button! It also has a built-in Amazon Alexa so you can control your Petcube with voice commands. Best of all, it has a 24/7 online vet so you can get a vet's advice anytime you need it!
You can buy this Smart Home Tech for Pets on Amazon for $249.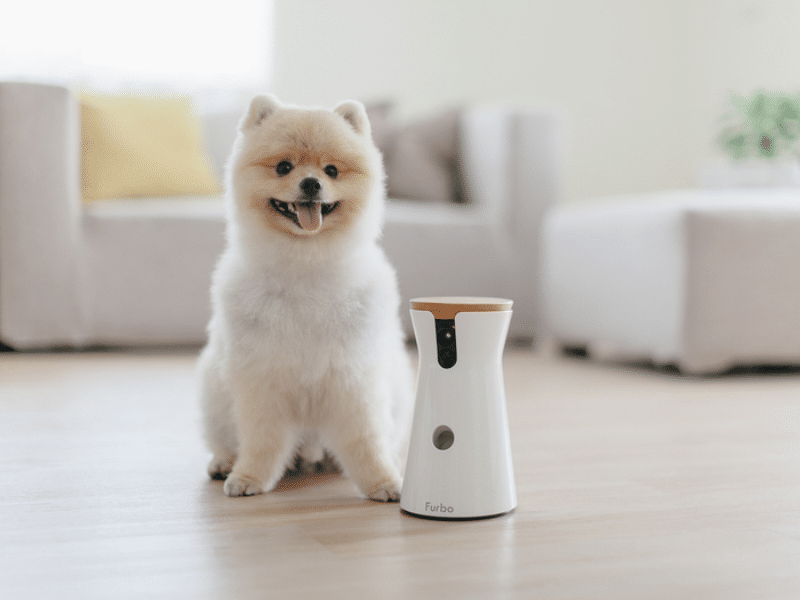 This pet-friendly device is like the Petcube Bites. It is a much cheaper alternative to Petcubes. Like Petcubes, you can watch your dog from afar and dispense on-the-spot treats wherever you are. It has a top-rated live streaming camera with night vision to see your dog and immediately get alerts when there's any unusual barking noise. According to Furbo, their Smart Dog Technology has saved more than 2,800 dogs from fires, gas leaks, and intruders. There's also a Doggie Diary, which provides you 60 seconds of the cutest moments from your dog's day.
You can buy this Smart Home Tech for Pets on Amazon for $169.

This Self-cleaning Litter Box is perfect for smart pet owners on the go. It does all of the dirty work! This litter box will clean itself automatically so you never have to scoop again. It has very advanced technology like an automatic night light, timer and is also WiFi-enabled. With this, you'll know exactly when it needs your attention via a push notification from the Whisker app. Its odor control helps reduce a large percentage of unwanted odors, unlike traditional litter boxes. Also, you don't have to worry about your Smart Litter Box running out of power because it has an energy-efficient sleep mode!
You can buy this Smart Home Tech for Pets on Litter-Robot for $549.

Pet parents' worst nightmare is to lose their pet. For your pets who are wanderers or escape artists, this is the perfect Smart Home tech to buy. It's essentially like your Fitbit but specifically designed to track your pet's fitness levels and activity. Whistle Go needs to be attached to your pet's collar to give you updates on your dog's daily activities like how much they play, walk, distance traveled, and more. This is made possible through its companion app. In addition to health monitoring, it can also be used to track your pet's location and notify you if your pet is out of the safe zone. It has a long-lasting battery life, which lasts for up to 20 days on a single charge.
You can buy this Smart Home Tech for Pets on Amazon for $129.90.

Are you tired of your dog scratching the front door until someone notices? Are you sick of your furry friends tipping over all the trash bins when they want to get in or out? If your answer is yes, then the Smart Door is for you! Smart Pet Doors give your furry friend complete access to your home and allow them to come in at their own pleasure. It opens up when it identifies your pet's smart key worn on their collar. After your pet passes through the SmartDoor, the door will lock automatically. Smart Pet Door is perfect for dogs, cats, and even small animals. It has a durable design that can last up to many years! This Smart Home tech is the complete package for pet owners who want convenience.
You can buy this Smart Home Tech for Pets on Amazon for $119.99.

Every dog owner knows that smart dogs need smart toys! The words "bored" or "alone" are never in your pet's vocabulary when you have this smart toy. It is Bluetooth-enabled and you can control it from your smartphone. It has two modes: autoplay and drive. Autoplay mode automatically adjusts how it reacts based on the different actions of your dog. On the other hand, drive mode allows you to control this pet tech on how it moves. Wickedbone has a strong build, as well as its 9 motion settings making it great for all dog breeds. It is ideal for active dogs who love running, running after balls, and playing fetch. This hands-free chew toy is interactive and fun for both you and your pet.
You can buy this Smart Home Tech for Pets on Amazon for $69.99.

Does your dog have way too much energy? Are you tired of playing fetch for hours on end every single day? This Smart Pet Tech is perfect for active dogs who love to run! iFetch Mini is a small automatic ball launcher that comes with 3 miniature tennis balls. iFetch has three distance settings, 10, 20, or 30 feet so you can adjust it to your dog's preference. Smart Dog Tech like the iFetch helps you maximize your time with your pet. It is great for small and medium dogs. Have large dogs? Don't worry because the iFetch has iFetch Too, which uses larger, standard tennis-sized balls. It will surely provide hours of entertainment to your pets
You can buy this Smart Home Tech for Pets on Amazon for $115.
Read More