As Smart Home technology becomes more popular, the number of smart light bulbs on the market is increasing. Smart light bulbs are one of the best ways to get started with smart home technology as they help you to get the smart home functionality without having to worry about switches and plugs. Smart light bulbs are also one of the most versatile smart home devices as they can be used in bedrooms, living rooms, offices, and more. If you're looking for the best Smart Light Bulbs this year, look no further.
Here are the Smart Light Bulbs that made our list:
Best Smart Bulb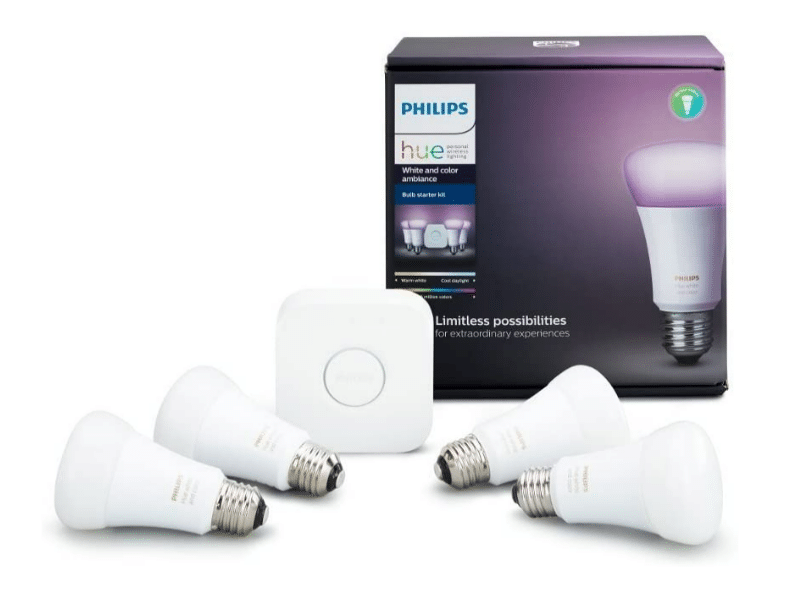 No other smart light bulbs can compete with the smart light bulbs of Philips Hue. It's undoubtedly the best smart light bulb of 2021.
The Philips Hue White and Color Starter Kit works with Apple HomeKit, Alexa, and Google Assistant to give you the power to control your lights from almost anywhere. You can choose from 16 million colors and 50,000 shades of white light to suit your mood or environment. The Hue bridge included in the starter kit links all of your lights together and allows you to control them from your smartphone or tablet. Unleash your creativity with these smart bulbs by programming your own personalized shades of white light. These smart light bulbs may set you back a hefty penny, but if you're like mood lighting, we say go for it.
You can buy this on Amazon for $195.42.
The Best Smart Light Bulb Without a Hub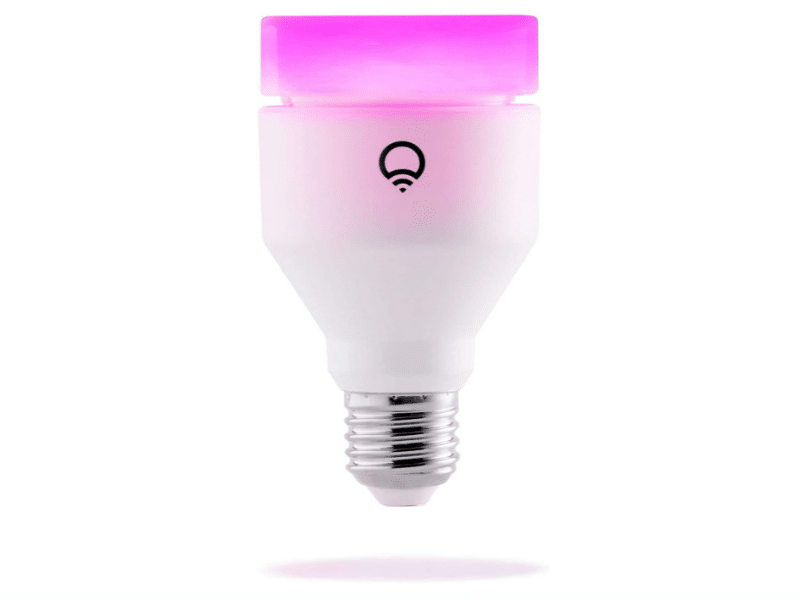 While the Philips Hue Smart Light Bulbs are undeniably great, if you really don't want to spend a lot of money on Smart Light bulbs, LIFX is your best choice. It's the best Smart Light bulb next to Philips hue bulbs and but it does not require a hub. It works with Amazon Alexa and Smart Things, Apple HomeKit, and more. It can change between 16 million colors and a thousand shades of white to suit your mood and needs. You can schedule its settings so your Smart Light Bulbs will automatically turn on when you wake up and turn off when you go to sleep. There is also Day and Dusk automation features that allow smart light bulbs to tailor their brightness in accordance with the time of day.
Like most smart light bulbs, it's easy to set up, no technical skills needed – just plugin and get started. LIFX is perfect for Smart Home beginners since it is very intuitive and easy to use.
You can buy this on Amazon for $71.92.
Best Overall Value

The Wyze Smart LED bulb is of great value overall. These smart LED lights have many features that are rarely seen for low prices like full color control, bright and dimmable, Hub-free app control, and compatibility with Alexa and Google Assistant. You simply won't find a better smart light bulb for a lower price than this. This smart lighting gets a brighter 1,100 lumens or roughly the equivalent of a 75-watt incandescent bulb. These smart light bulbs work well for many spaces like living rooms, bedrooms, dining rooms, kitchens, bathrooms, and even closets.
You can buy this on Amazon for $47.97.
Best Smart Light Bulb for Smaller Fixtures

With a 200,000 hour lifespan and up to 800 lumens, the LIFX Mini White Smart Bulb is a great choice for smaller fixtures. Compatible with Amazon Alexa, Google Assistant, and Apple Homekit, this light bulb can be controlled from across the room. These smart bulbs are dimmable and can be turned on and off with a simple tap. LIFX Smart Bulbs has a built-in Wi-Fi & LIFX cloud. Ít is easy to set up and does not require a hub. You can control lights individually or as a group from this Smart Bulb app.
You can buy this on Amazon for $26.99.
Best Retro-Style Smart Light Bulb

If you're a fan of retro-style led smart bulbs, then you're going to love the TP-LINK Kasa Filament Smart Bulb. This bulb is easy to install and works as advertised. It also comes with dimming capabilities like many other smart light bulbs in the market. What's unique about the TP-LINK Smart Bulb, is that it uses an LED filament, to create a design that imitates classic incandescent lights. It also glows at a warm white color temperature of 2700K. You can control this bulb using Google Assistant or Amazon Alexa. These smart lights have a power usage report so you can keep track of energy usage.
You can buy this on Amazon for $16.99.
Best Smart Outdoor Floodlight

Smart outdoor lights are very practical when it comes to porch lighting, pathway lighting, and garage door lighting. Sengled Smart LED with Motion Sensor is one of the best smart lights for outdoor use in 2021. Sengled's 4th generation has a high-quality PIR motion sensor. When a moving object is identified at a particular range, it will automatically light up and last for roughly 90 seconds in dark settings. It can detect not only people, but also animals, automobiles, and other moving things. Installing a camera next to it can turn it into a security light, keeping your home safe at night. This motion detector light bulb uses waterproof seals to protect itself from outdoor weather conditions, such as rain and snow. Therefore, it is okay to hang it outside where it will come into contact with water.
You can buy this on Amazon for $23.98.
Affordable Wifi Smart Bulb

If you're looking for an affordable way to bring smart bulbs into your home with Wifi support, this is the Smart Bulb for you. While it does not have all of the bells and whistles that other Smart Bulbs do, it is definitely more affordable than many of its competitors while still giving you access to smart technology in your home. It works with Alexa and Google voice command with no hub required. With built-in wi-fi, you can control your smart bulb from the convenience of your smartphone or tablet without hassle. The Smart Bulb lets you set schedules to set times where you want your smart bulb to turn on or off letting you light up your life without a fuss.
You can buy this on Amazon for $11.99.
Have you heard about the latest smart home devices of Amazon? Check it out now – Cool Amazon Smart Home Devices in 2021