If you're like most people, then you love spending time in your home watching movies or TV shows. The best devices for a perfect home theater can make this experience even more enjoyable. Having a home theater is the ultimate dream for many families. Luckily, with so many devices on the market today, it's easier than ever to create a theater-like experience in your own home. Whether you're looking for a big smart TV or the best sound system, these are some of the best devices for a perfect home theater.
Best Home Theater Projector
If you want to get a massive, high-quality image to display on your screen, a home theater projector is a way to go. Home theater projectors have been a popular choice for a long time due to their ability to produce large-scale images that look amazing. The Samsung Premiere Projector is one of the best choices available today because it offers more power than other comparable models. With this projector, you'll be able to get great 4K resolution and HDR content, which will give your images an incredible look. With a three-color laser that eliminates the need for a color filter, this projector's 2,800 lumens ensure that you'll have a bright image, even in a well-lit room. The built-in 40W speakers also let you enjoy a complete audio experience without having to buy additional speakers.
Make sure to include a projector screen with your projector purchase for the best possible viewing experience. Overall, this is one of the best choices for an awesome home theater projector.
You can buy this on Amazon for $4,999.99.
Best Home Theater OLED TV
If projector screens aren't for you, then an OLED Home Theater TV is a great alternative. With ultra-thin bezels, this TV looks good on the wall of your home theater space. The LG CX OLED TV can upscale content that isn't 4K for a better viewing experience. It supports Dolby Vision and Atmos, which is important when you're looking for optimal sound quality. The CX OLED also has a built-in Google Assistant, allowing you to control your TV with your voice. Gamers will be happy to know that this TV supports both Freesync and Nvidia G-Sync. The LG CX series also offers a variety of sizes from 77 inches to 48 inches to accommodate any home theater space. Alongside 4 HDMI ports, 3 USB ports, an ethernet port, and more, this OLED Home Theater TV is one of the best options on the market.
You can buy this on Amazon for $2,296.99.
Best Dolby Atmos Home Theater System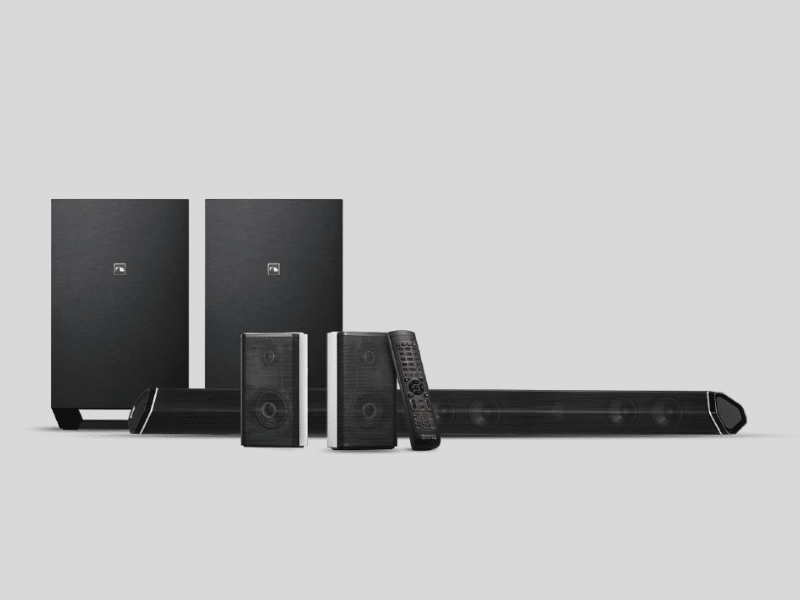 If you want a full home theater system that will immerse your whole room in surround sound, then look no further. The Shockwafe is available in numerous models from Nakamichi, but the Nakamichi Shockwafe Elite 7.2.4 is the best combination of channel count, functionality, and pricing.
This surround sound system is consist of a soundbar, dual 8-inch subwoofers, and a pair of rear speakers. The soundbar can handle Dolby Atmos and an A/V receiver will not be necessary anymore. Its soundbar already contains all of the functions of an A/V receiver and is able to receive, process, and output all of the most advanced audio and video standards. The rear speakers included provide height channels for a better and more realistic Atmos effect. This system is relatively simple to set up and with the proper calibration, any user will be able to get amazing sound. This is one of the best Home Theater Systems available today.
You can buy this on Amazon for $1,099.99.
Best Home Theater Soundbar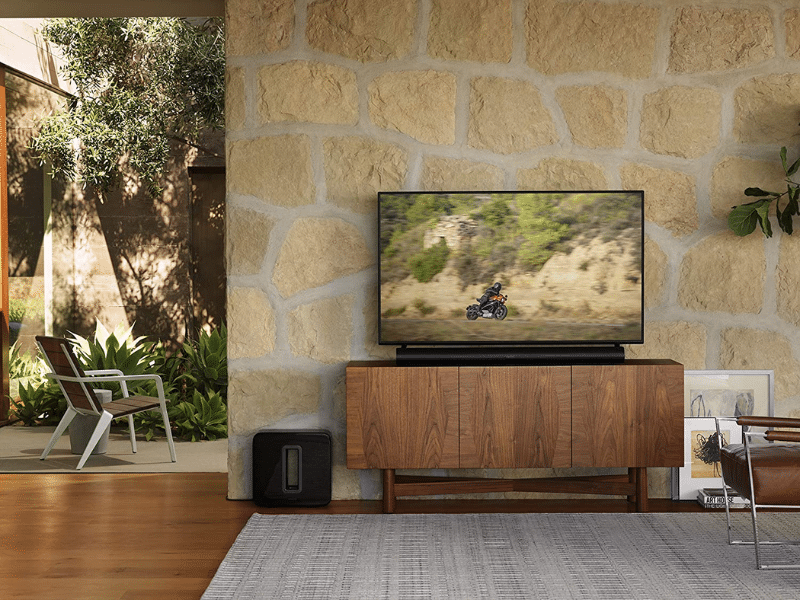 If you're looking for devices for a perfect Home Theater System, but don't want the hassle of wires and connecting speakers, then you should definitely consider getting a soundbar. The Sonos Arc has everything you'd want in a high-end soundbar. It's simple yet offers surprisingly good audio quality with a great amount of bass. The Sonos Arc can deliver room-filling sound without any additional speakers or a separate system. To produce a 3D audio experience, the Arc employs its array of speakers to bounce sound off your walls and ceiling. Sonos' Trueplay technology tailors the audio to your specific environment and personal preferences. With its sleek design, this is one of the most aesthetically pleasing soundbars available on the market today. The Sonos Arc will surely enhance your movie-watching experience with crisp, rich, and accurate sounds.
Read more: The Best Smart Speakers
You can buy this on Amazon for $1,076.97.
Best Home Theater AV Receiver

In a home theater, the AV receiver is the hardest-working component. It is what gets all of the different signals from your Home Theater System and has to process, amplify, and distribute them. Although some speaker system does not require an AV receiver, if in case you need one, you can opt-in for Yamaha RX-V6A. This 100 Watt AV receiver boldly explores entertainment possibilities for an advanced home theater. It offers seven channels of speaker amplification and the ability to set up two overhead audio channels for even more immersive sound. For a receiver in this price bracket, it offers surprisingly outstanding room correction.
You can buy this on Amazon for $649.95.
Best Blu-ray player

This Blu-ray player is the first 4K Blu-ray player to support HDR10, HLG, HDR10+, and Dolby Vision. It uses unique chroma and HDR processing technologies to reproduce images with cinema-level quality at home. With its ability to support multiple HDR formats, your system will never have any issues displaying different types of HDR signals. Its Hi-Res Audio help achieve vibrant sound reproduction and supports both Dolby Atmos and DTS:X. It also has a built-in WiFi to make it easier for you to access an abundance of content from a variety of apps. It's the player we all deserve, albeit at a high price. For a perfect home theater setup, this should be your choice.
You can buy this on Amazon for $1,379.
Best Surge Protection

Surge protectors are an essential Home Theater System component to ensure safety. Protect your components, like Blu-ray players and speakers against surges with Surge Protector from Belkin. It comes with 12 outlets, 8 of which rotate to accommodate even the bulkiest devices for a perfect home theater. This surge protector features 4320 joules of surge protection and an input voltage of 125V. It also includes an 8-foot long power cord and radio frequency interference (RFI) to block unwanted line noise. However, one drawback of this surge protector is the lack of USB slots.
You can buy this on Amazon for $38.99.
Read More