So, you've finally decided to start working out! Congratulations on taking the first step towards your new and improved self. This can be a very rewarding experience but also could prove to be challenging for those who lack the proper knowledge or workout equipment. In order to help ease this transition for you, we have compiled a list of the Best Workout Equipment for Beginners.
When starting any new workout routine, it is important to consult with a physician beforehand to ensure that you are physically able to participate in the chosen activity. Once your doctor has given you the go-light, you may begin looking for equipment that will assist you in achieving your goals.
Here are some of the best pieces of workout equipment for beginners:
In every workout equipment, a sturdy yoga mat is an absolute must. Hard floors are unforgiving for your body, not to mention how they can tire out your hands and feet if you're holding yourself upon them for an extended period of time. The Manduka PRO Yoga Mat is a great option that will support the weight of your entire body, and help you perform poses and exercises more easily. This 6mm thick yoga mat provides good grip and cushioning, making it great for both beginners and experienced yogis.
You can buy this workout equipment for $129.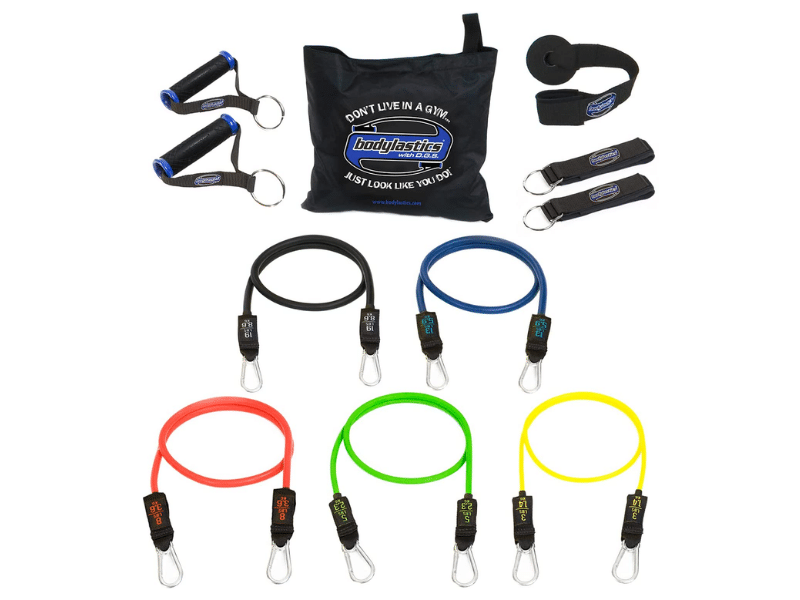 Resistance bands make great workout equipment for beginners, as they can be used to create a wide range of exercises. They're also very useful and easy to transport, making them a great option for people who travel frequently. The Bodylastics Resistance Bands Set is a good option for those just starting out, as it includes a variety of bands in different weights and resistances. You'll also get two handles and ankle straps, door anchors, a carrying bag, and a PDF guide in this set.
You can buy this workout equipment for $49.95.

Another popular workout equipment for beginners is the exercise ball, which can be used to perform stretching, physical therapy, sit-ups, and more. It can also help improve balance and coordination—and strengthen your abs, back, and more. It makes a good option for beginners, with its built-in anti-burst system that will prevent it from popping when over-inflated. This exercise ball also comes with a pump to easily inflate it to the perfect size for your body.
You can buy this piece of workout equipment for $26.97.

For anyone getting started in fitness, the jump rope is a great and inexpensive way to get in shape. There are a lot of benefits to jumping rope, including improved cardiovascular health, coordination, and endurance. This cardio equipment from Amazon Basics is a great option for a full-body workout to add to your home gym equipment. Its length can be easily adjusted to fit your height, and the soft-grip handles make it comfortable to use.
You can buy this piece of workout equipment for $9.98.

Ankle weights are essential to help you work on the little muscles, so you can get better at your sport or activity. The additional weight permits the muscles to activate and work just hard enough to become noticeable without breaking down or bulking. They are also excellent for increasing stamina and strength in any exercise, including weightlifting.
One of the best ankle weights is Henkelion Adjustable Ankle Weights. These Henkelion Ankle Weights have an adjustable weight each so you can adjust the amount as you lose weight or gain muscle.
You can buy this piece of workout equipment for $22.99.

Another home exercise equipment is dumbbells. Dumbbells are good for strength training. Dumbells are widely used in many exercises such as bicep curls, chest presses, shoulder raises, lateral raises, etc. These Dumbbells from CDCASA come in different weights so you have an option to assemble them into two single dumbbells or a barbel. For beginners, it is advisable to start with light weights and then progress as you get stronger.
You can buy this piece of workout equipment for $99.99.

If you are looking for a versatile piece of equipment that can help you with a variety of exercises, the kettlebell is a great option. This weight can be swung, lifted, and even tossed around, making it a great choice for all fitness levels. One great option is the Yes4All Kettlebell Weights Set. This Kettlebell is encased with vinyl so you do not have to worry about it scratching up your floor when you are using it. This set is available in ten different sizes, allowing you to choose the weight that best suits your needs.
You can buy this piece of workout equipment for $17.89.

When it comes to the best workout equipment for beginners, a foam roller should be included in your list. Foam rolling is a great way to improve flexibility and circulation, as well as to ease muscle soreness. The TriggerPoint Grid Foam Roller is one of the best on the market, thanks to its firmness and durability. Use it before and after your workouts to get the most out of your session.
You can buy this piece of workout equipment for $34.95.

An air bike is one of the best workout equipment for beginners because it helps you get the quality of cardio workout you need, without putting a lot of stress on your joints. The ATIVAFIT Upright AirBike is ideal for beginners because it is adjustable to fit any height and has a very comfortable seat. This air bike also features a digital display that tracks your distance and speed, so you can see your progress as you work. It is a great piece of fitness equipment that you can use in your home gym.
You can buy this piece of workout equipment for $120.

This adjustable bench from Flybird will allow you to do a thorough bodyweight workout, which will give your muscles the workout they need. It is designed with 7 back positions & 3 seat positions for a full-body workout. With its heavy-duty commercial quality steel frame construction, it can support up to 700 lbs. You can use this bench for a variety of exercises like bench press, incline press, decline press, military press, and much more. It is very easy to store because of its simple folding capability. This can also be a perfect gift for men this holiday season.
You can buy this piece of workout equipment for $164.99.