Work-from-home opportunities are on the rise. Work-from-home jobs are especially useful for people with families, disabilities, stuck with the Pandemic, or for those who simply want to take control of their own careers and learn new skills. It also offers a host of benefits such as flexible hours, no traveling requirements, and choosing your own equipment. Work from home typically requires internet access, a computer, and other peripherals. These work-from-home essentials are important for you to get the most out of what you can do online.
Here are the best Work-from-Home Essentials to boost your productivity:
Laptop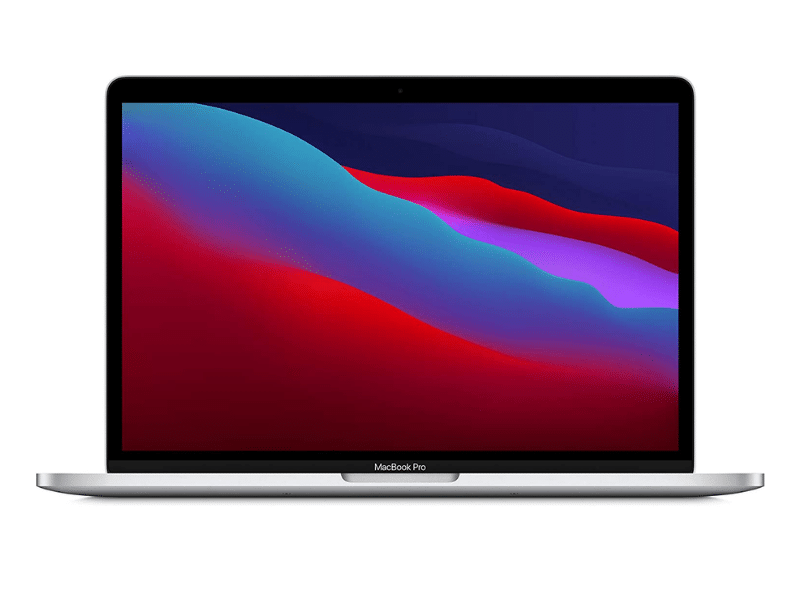 The first and best essential for you is a good, fast and reliable laptop that can handle the kinds of tasks you'll use it for. Your laptop computer will be your primary workstation and tool. You may consider buying a high-end laptop so that any task becomes easy and fast for you. For work-from-home purposes, a laptop exceeding $2000 is not necessary and a MacBook Pro 13-inch with an M1 chip should be just enough to handle the work from home tasks. This laptop is great especially if you're working on graphics, 3D modeling, video editing, or financial analysis.
You can buy this on Amazon for $1,449.99.
Related Article: Best Budget Laptops of 2021
Computer Monitor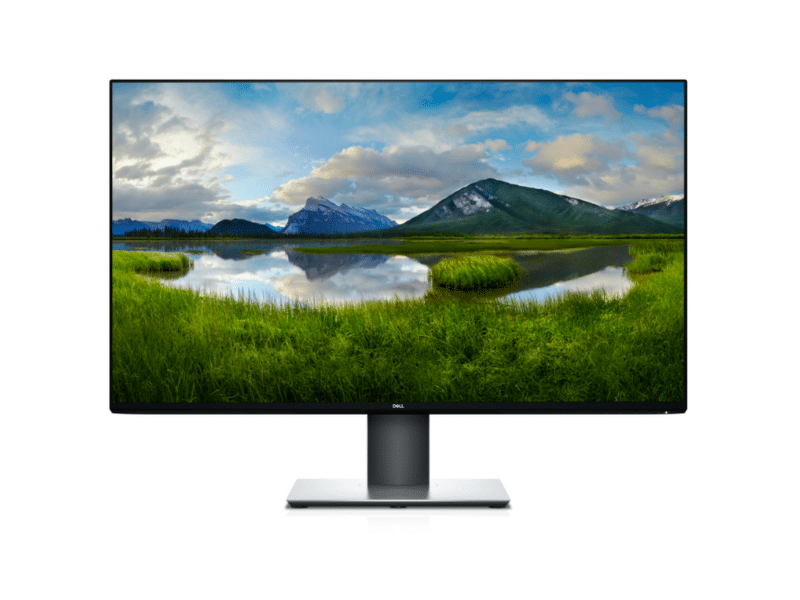 If you have enough room in your home office and considering building a desktop computer setup, then you must consider the Dell UltraSharp Monitor for your computer setup. Workstations often come with multiple monitors that maximize space and allow for several documents to be open at once. Computer desktops are usually more powerful than laptops, but it is heavier and take up more room. Dell monitors are long-lasting and quality built so that your office can offer you excellent visual quality. This computer screen features over 8 million pixels, an adjustable stand, and a premium platinum silver finish. Moreover, Dell has USB-C connectivity so it will allow you to plug in your USB-C devices and peripherals. This monitor has a stylish design and will look great with your work-from-home office setup.
You can buy this on Dell for $1,010.46.
Mouse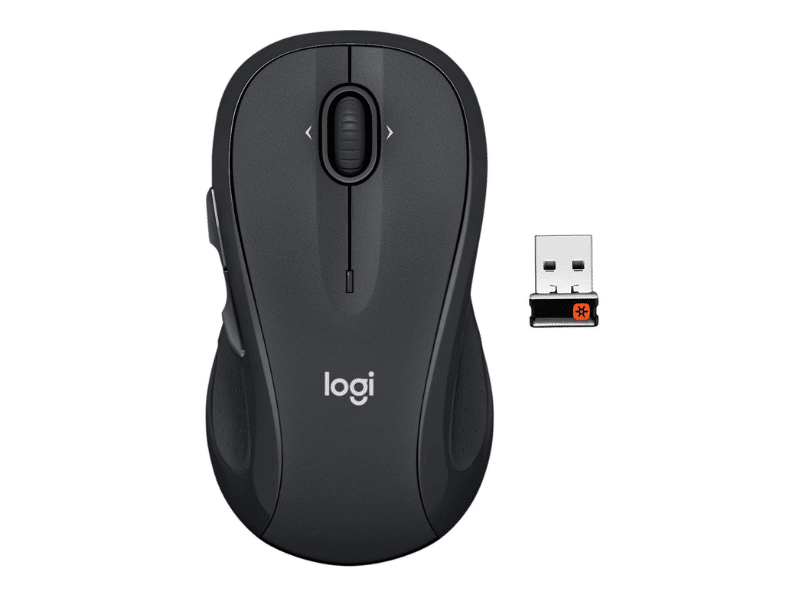 Whether you're using a desktop computer or a laptop, you'll probably be going to need a mouse. Work-from-home essentials include a reliable mouse to do your job faster. A wireless mouse will be easier for you to use and carry around. Logitech M510 Wireless Mouse is one of the best work-from-home essentials that can offer you an easy, smooth and comfortable experience while working. This cordless computer mouse has a contoured shape with soft rubber grips that give you the support that you need.
You can buy this on Amazon for $24.99.
Mouse Pad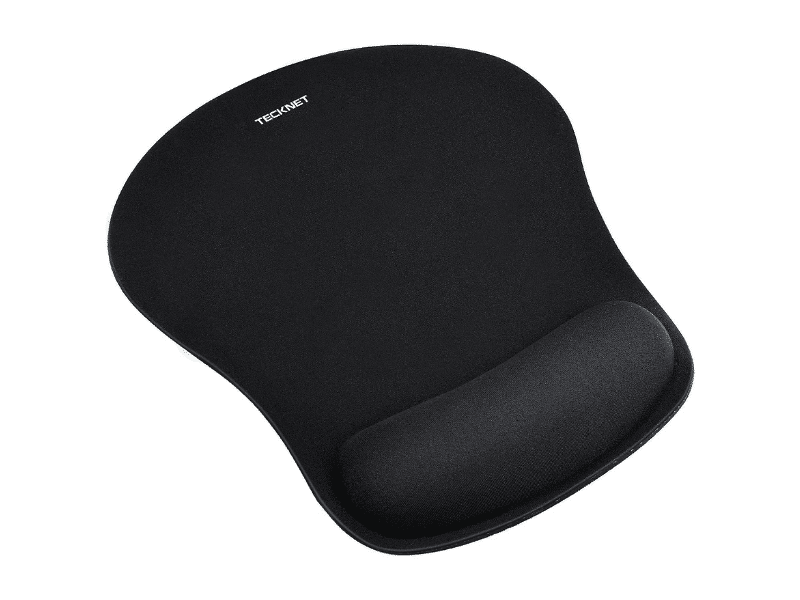 To make your work-from-home setup more comfortable and less likely to strain your wrist or hand, you'll want a mouse pad. TECKNET Ergonomic Mouse Pad will help you work faster and easier. Your Workstation should be convenient with this ergonomic mouse pad. This good-quality mousepad will let you rest your wrist, to prevent carpal tunnel syndrome and other conditions. Its excellent tracking surface provides an accurate and smooth cursor movement. This Work from Home Essential is lightweight and includes a non-slip back, which prevents the mousepad from moving during operation.
You can buy this on Amazon for $8.99.
Keyboard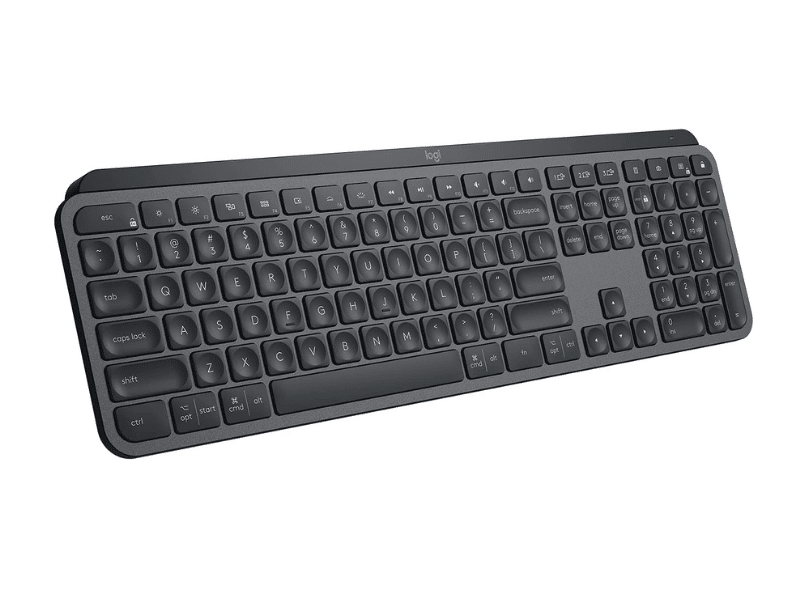 You'll need a high-quality Keyboard that has enough speed and accuracy to let you enjoy your work-from-home experience. With its compact design, this keyboard is perfect for any Workstation setup. It combines spherically dished keys with a sleek design to give work-from-home professionals an efficient workstation experience. This wireless keyboard has responsive keys for easier typing. It features backlighting so it will let you work even in dark lighting conditions or in areas with insufficient light.
You can buy this on Amazon for $98.83.
Ergonomic Chair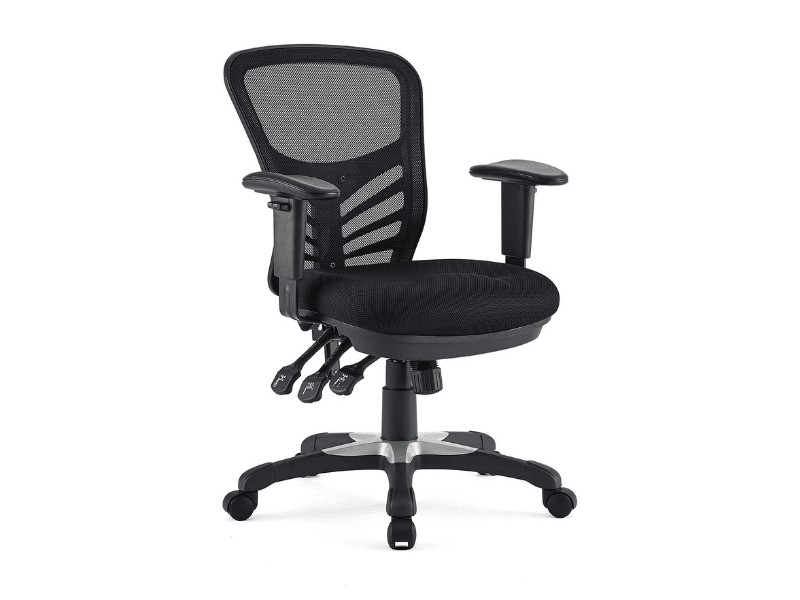 Office chairs are work-from-home essentials that you'll need to remain comfortable while working. Whether you're using a laptop or desktop computer, an ergonomic chair will be ideal for your home setup. Your choice of workstation chair is important if you want to have a healthy work-from-home experience. One good and affordable ergonomic chair is the Modway Articulate chair. This ergonomic chair will maximize your comfort and support the natural movements of your back, neck, and shoulders as you work on your Workstation. It has a breathable mesh material for airflow that keeps the user cool and fresh during long periods of work. If you want to invest in high quality and expensive chair, you can opt for Herman Miller's Aeron Chair
You can buy this on Amazon for $158.99.
Standing Desk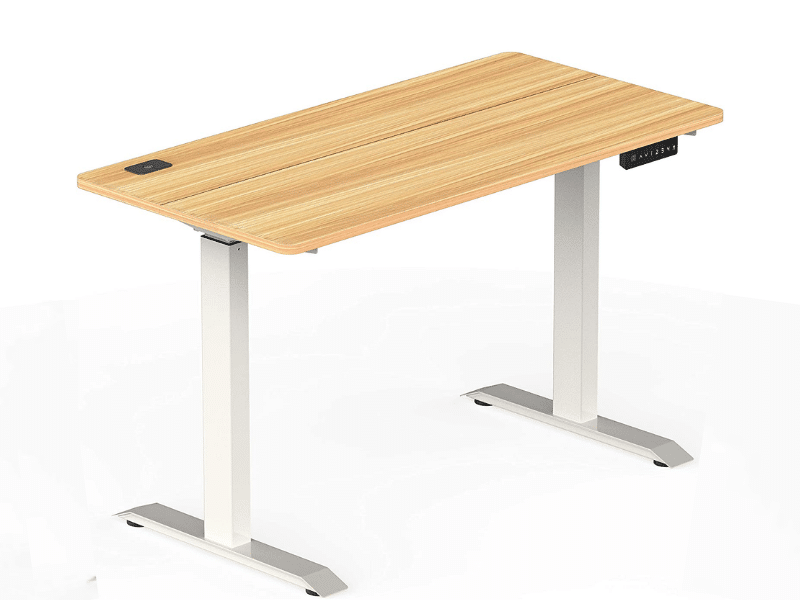 For work-from-home essentials, you'll need a proper desk that will allow you to work and stay healthy and fit. Standing desks are great for Workstations as they come in simple and aesthetically pleasing designs. SHW adjustable desk gives you easy height adjustment so you can keep your work-from-home essentials organized. This adjustable standing desk prevents you from hunching over your workstation, which would maximize your Work from Home experience. Sitting down for too long may increase your risk of chronic diseases and death as well. This adjustable standing desk will help prevent that problem.
You can buy this on Amazon for $238.97.
Lap Desks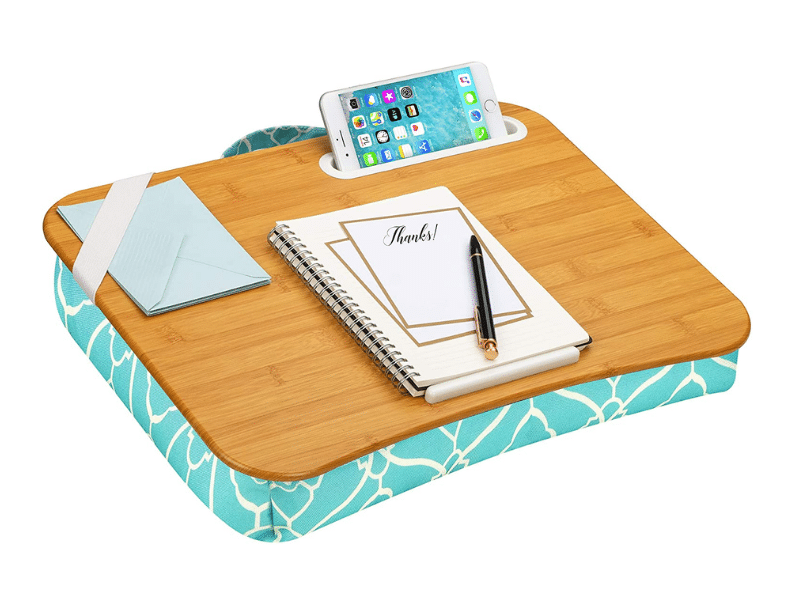 If you frequently find yourself working from your couch or bed, you'll want a lap desk to include in your work-from-home essentials. A lap desk eliminates the discomfort of using your laptop on your legs, allowing you to work in comfort. Work from Home Essentials should not be limited to just laptops and desks; get more out of your home office by including a lap desk. With this lap desk, you can work from the comfort of your bed, couch, or wherever you want.
You can buy this on Amazon for $29.99.
Noise-canceling Headphone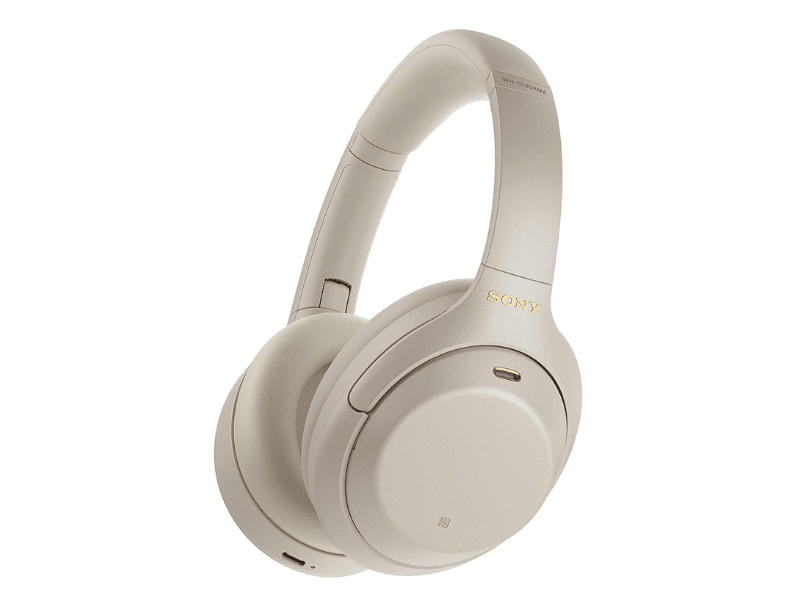 Noises from pets, children, and the television can distract you from your work. If you find yourself struggling to work around background noise, a good pair of noise-canceling headphones is just what you need. Work-from-Home Essentials should include a reliable pair of headphones so that you can always drown out other distractions and focus on your tasks. This noise-canceling headphone from Sony delivers great sound quality all in a lightweight, comfortable design. It features multipoint pairing, upscaling, conversational awareness, and an auto-play/pause using a built-in sensor. Get more done in your home office knowing that you have a good pair of noise-canceling headphones to cancel out background noise.
You can buy this on Amazon for $295.
Laptop Cooler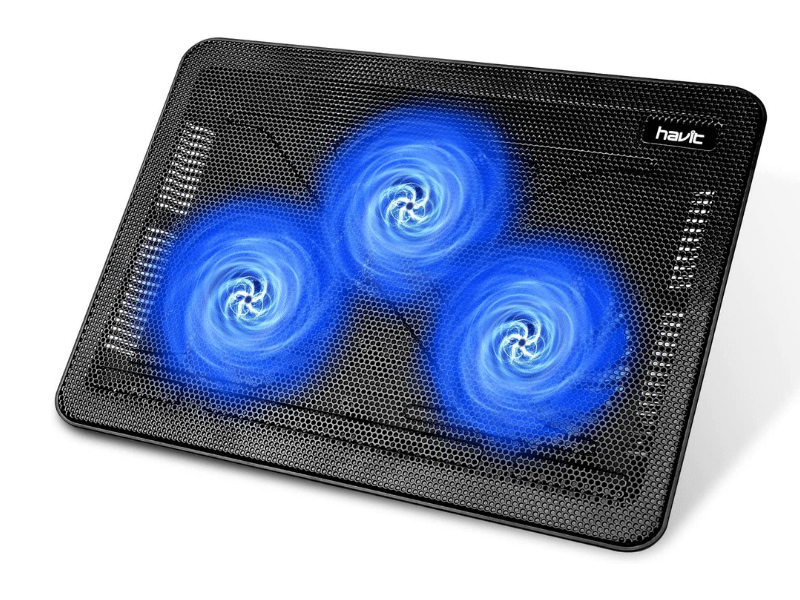 If you're doing heavy work on your laptop, the bottom of your computer can get pretty hot. If you don't do something to cool it down, not only will this shorten the life of your hardware but it could also give you a nasty burn if left for too long. A good laptop cooler will dissipate heat and make your computer last longer to boot. This laptop cooler has three ultra-quiet fans that create a noise-free environment for you. Whether you're working from home or in an office environment, a laptop cooler is one of those work-from-home essentials that you should be without!
You can buy this on Amazon for $34.99.
Water Bottle

Working from home means that you can save money on commuting costs; however, this also means that you're stuck at your desk for eight hours. Drinking water is essential for staying hydrated, but if there's a vending machine outside of your office it might not be as accessible. Instead, invest in a good water bottle. Hydro Flask is a water bottle designed to keep drinks cold for up to 24 hours and hot for up to 12 hours. It has a very durable design, made from double-walled pro-grade stainless steel. Unlike many work-from-home essentials that you might need to purchase for your office space, a water bottle is something of a necessity!
You can buy this on Amazon for $49.95.
Coffee Maker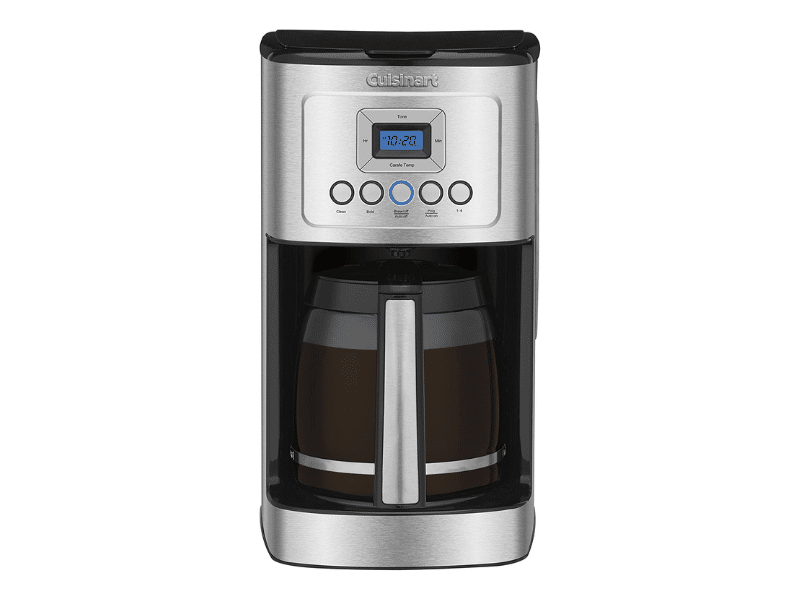 A coffee maker may not be one of the home office essentials but it is for a coffee lover. Coffee makers have stood the test of time for their convenience and ability to brew coffee at the push of a button. A coffee maker is great for people who love to start their day with a coffee mug in hand. This coffee maker from Cuisinart has a lot of features including a fully automatic with 24-hour programmability, self-clean, 1-4 cup setting, and an auto-shutoff. With this, you can have your favorite flavors ready for work or rest!
You can buy this on Amazon for $99.95.