Gaming keyboards are essential for serious gamers. If you want to win your game, it's time to upgrade your old standard keyboard and get a new gaming one. Gaming keyboards have been designed from the ground up with the needs of avid gamers in mind, offering more interactive controls and exciting features aimed at improving performance during intense play. In addition to enhanced durability and reliability, gaming keyboards provide a wider variety of macro commands, improved ergonomics, and customization options.
Professional gamers already know what they want, but if you are new to the universe of games and their accessories, finding the right one among hundreds of models can be challenging. Fortunately for you, we compiled this buying guide to help you pick the right keyboard for your needs.
The Best Gaming Keyboards have everything a PC gamer could want: vibrant lighting, responsive key switches, and an overall ergonomic design.
Read more: Best Gaming Monitors 2022
Here are some of the best gaming keyboards available in 2022:
The Best Premium Gaming Keyboard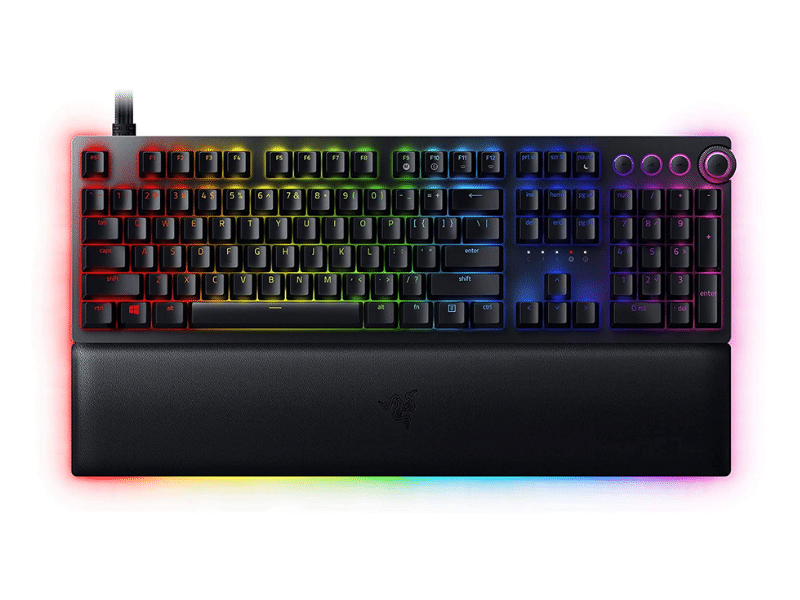 Top-of-the-line features, premium design, and top-notch build quality. This is everything that Razer Huntsman v2 Analog Gaming Keyboard promises to gamers. Each key on this gaming keyboard has been designed for durability and will be able to take a serious beating so you can achieve victory during your most intense matches. It has a Razer Analog Optical Switches, which can detect how far a key is pressed. This makes it extremely responsive and sensitive. It also offers individually programmable backlit keys with 16.8 million color options, ensuring that gamers will be able to find the perfect one for their setup. The ergonomic wrist rest provides comfort to enjoy long hours of gameplay without feeling fatigued in your fingers or wrists.
You can buy this on Amazon for $249.99.
Best Wireless Gaming Keyboard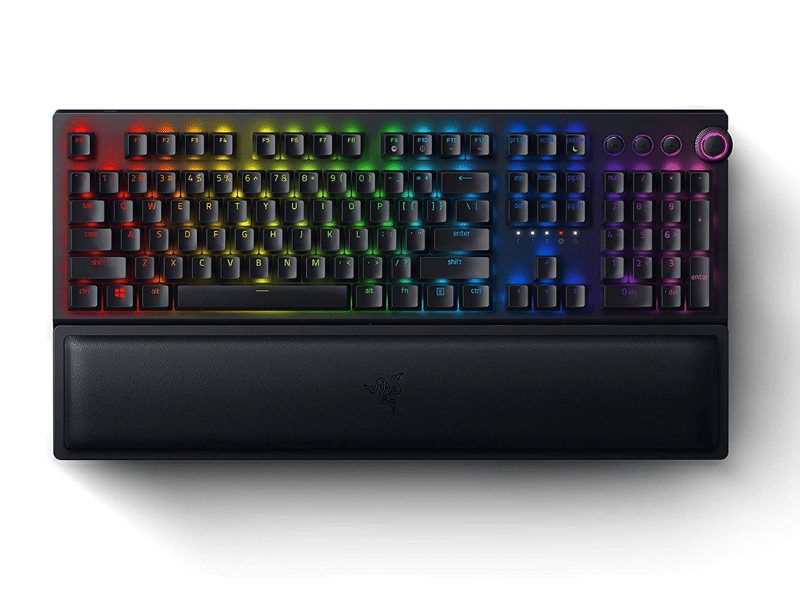 This gaming keyboard is wireless, well-built, and sturdy. Razer BlackWidow V3 Pro offers gamers an optional wired connection via USB-A. So, you can choose whether to connect through USB or wirelessly. This full-sized keyboard has a lightning-fast key response with minimal lag time so you will be able to react quickly during your games. With its soft, cushioned wrist rest, you can play longer with great comfort. This gaming keyboard also allows macros to be programmed on any key so that it doubles as a convenient way to keep track of spells, items, or any other commands. This model is available in either clicky Razer Green switches or linear Razer Yellow switches. It also features four profiles of onboard memory. This way, gamers can take their custom settings with them to other PCs.
You can buy this on Amazon for $229.99.
The Best TKL Gaming Keyboard

The Corsair K70 is one of the best mechanical gaming keyboards that gamers have been dreaming of. It has all the features you'll want in a mechanical keyboard. The design is robust, featuring a portable, tenkeyless form-factor, and aluminum frame that can take a serious beating. It has a maximum polling rate of 8000Hz, which is higher than most other gaming keyboards. Its design is highly customizable with options such as Cherry MX Blue or Brown switches, and per-key backlighting that allows you to fine-tune your keyboard exactly how you want it. It is a mid-range mechanical gaming keyboard that delivers a satisfying typing and gaming experience.
You can buy this on Amazon for $139.99.
Best Gaming Keyboard Splurge

Announced at CES 2020, the K95 RGB Platinum XT is the Best Gaming Keyboard for those who do not want to make compromises. It offers decent hardware and has an amazing software suite and customization options. It also has a smooth typing action, USB pass-through, and dedicated macro keys to keep it competitive. Its new and improved wrist rest is very gorgeous and has comfortable angles to prevent fatigue. With Elgato's Stream Deck software, macro keys are more versatile. This gaming Keyboard doesn't come cheap but is well worth it if you are looking for comfort, performance, features, and style. It is one of the superb gaming keyboards if you are new to the K95 family.
You can buy this on Amazon for $199.99.
Best Customization

Customization is one of the best aspects of gaming keyboards. Being able to change every key's function takes customization to an entirely new level and allows gamers to play how they want. If you're looking for the best-wired keyboard for RGB, the SteelSeries Apex Pro is the one for you. This high-end keyboard has a unique feature that lets you adjust the pre-travel distance of each key. Raised keycaps add height to the board and preset layers let you switch between multiple custom keymaps. It also has the popular OLED screen, which lets you display a small image or upload GIF. It comes with a magnetic wrist rest but is prone to attracting dust. For competitive gamers, the SteelSeries Apex Pro offers everything you could ask for in a gaming keyboard.
You can buy this on Amazon for $199.99.
Excellent Roccat Gaming Keyboard

Roccat produces a wide range of gaming accessories, but its Vulkan TKL Pro mechanical keyboard does far more than the bare minimum you might expect. It's not the cheapest keyboard on the market, but it's designed to combine both responsive performances with an extensive range of features. This gaming keyboard has a classy brushed gunmetal finish to it and everything from the keyboard plate to the keys looks and feels robust. Its floating keys showcase an LED lighting system underneath. The lighting is customizable through Roccat's software, but being able to see the innards of your keyboard might be appealing in its own right. Roccat's Titan optical switches are also becoming increasingly popular among gamers, thanks to their responsiveness and clear, yet quiet performance.
You can buy this on Amazon for $159.99.
Best Mainstream Gaming Keyboard

HyperX Alloy Origins features an aircraft-grade aluminum frame with contoured, textured keycaps. It has advanced customization with HyperX NGENUITY software for programming multiple keyboard lighting and macros. There's an onboard memory for three profiles to bring your personalized setups to other PCs. Its USB pass-through port lets you connect to other devices and it promises up to 80 million keystroke durability. HyperX Alloy is very comfortable, feels high quality, and is quite affordable. For over $100, this gaming keyboard is a real winner. There are two smaller and cheaper versions of this keyboard: HyperX Alloy Origins Core and HyperX Alloy Origins 60. If you're looking to get into PC gaming without spending too much money, the HyperX Alloy Origins is your best option.
You can buy this on Amazon for $109.99.
Read More