In most cases, vinegar and baking soda are all that you need to create your own Eco-friendly cleaning products. These natural ingredients are safe and effective, making them the perfect choice for anyone looking to reduce their environmental impact while keeping their home clean and tidy. But if you're looking for something a bit more advanced, there are several other Eco-friendly products on the market that can help you get your home sparkling clean. These products are made with natural ingredients and work just as well, if not better, than conventional cleaners.
Whether you're looking for a cleaning solution for your kitchen, bathroom, living room, or any other area of your home, there's an eco-friendly cleaner that can get the job done.
Read More: Eco-friendly Makeup Brands to Shop 2022
Here's a list of some of the best eco-friendly cleaning products on the market:
Best Dish Soap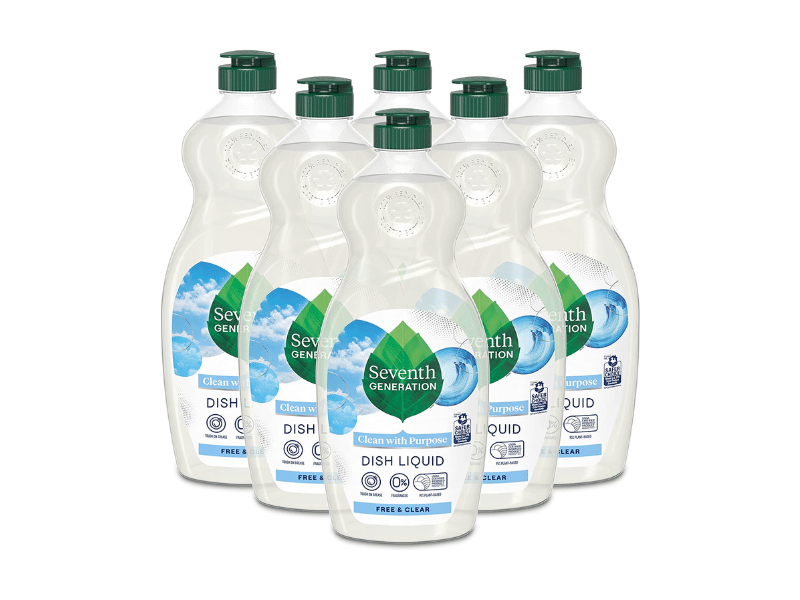 Seventh Generation Liquid Dish Soap
Seventh Generation is one of the largest eco-friendly cleaning supplies sellers in the United States. It has been making eco-friendly cleaning products for years and its dish soap is no exception. This dish soap is made with plant-based ingredients and is free of synthetic fragrances, dyes, and phthalates. It uses scents from essential oils to leave your dishes smelling fresh and clean. Their packaging is also 100% recyclable. It is EPA Safer-Choice certified and a USDA Certified Biobased Product. Plus, this dish soap is gentle on the hands and tough on grease, making it perfect for doing the dishes.
You can buy this on Amazon for $15.79.
Read More: Best Eco-Friendly Products To Help Save The Planet
Best Window Cleaner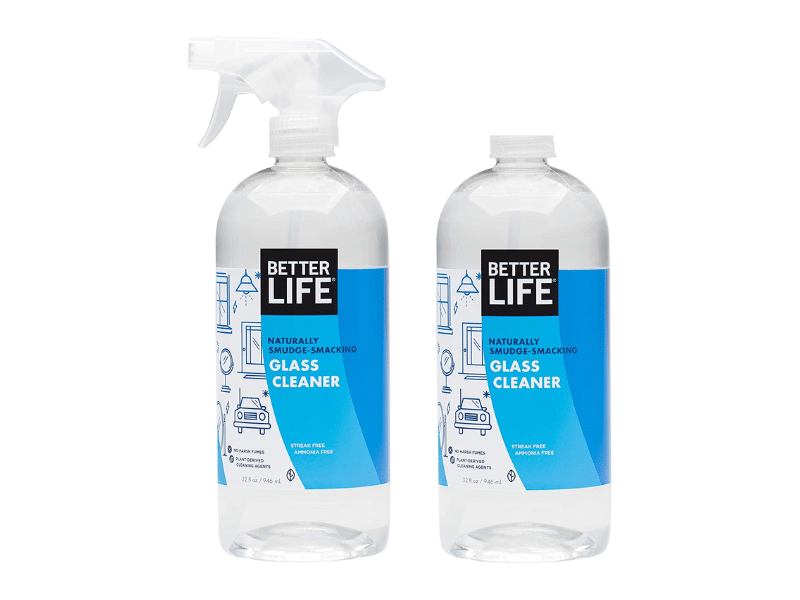 Better Life Glass Cleaner
Better Life was created with the environment in mind. Their eco-friendly cleaning products are packaged using solar energy and recyclable materials, making them a great choice for any eco-conscious consumer. This glass cleaner from Better Life is one of the best eco-friendly options on the market. This glass cleaner features plant-derived ingredients and is free of ammonia, VOCs, and other harsh chemicals. This window cleaner helps kick fingerprints, greasy smudges, rain spots, and dirt to the curb without streaks or stinging scents. It works great on glass, plexiglass, auto glass, windows, light fixtures, chrome, acrylic, mirrors, and more.
You can buy this on Amazon for $13.45.
Read More: Best Robot Vacuums
Best Laundry Detergent

Dropps Stain & Odor Laundry Detergent Pods
Dropps pods were introduced seven years before Tide Pods as a more environmentally friendly alternative. For remarkable success in formulation and product manufacturing, they were awarded EPA Safer Choice Partner of the Year in 2017. As a result of their efforts, each laundry pod contains no phosphates, no paraben, no dyes, and no optical brighteners. It features plant-based ingredients and essential oils to eliminate tough stains while still being gentle on fabrics. Dropps pods are available in fragrance-free, orange blossom, clean and crisp, and lavender eucalyptus options. It works in both standard and HE washing machines. You can also use it on all types of laundry, from delicates to bedding.
You can buy this on Amazon for $46.80.
Read More: Best Smart Home Devices 2022
Best Eco-Friendly Paper Towel

Seventh Generation Paper Towels
Paper towels have long been a staple in many households for their convenience and effectiveness at cleaning up messes. Using traditional paper towels that are typically made from materials can contribute to increased air pollution. With this, Seventh Generation has created a greener alternative with their Eco-Friendly Paper Towels. These eco-friendly paper towels feature 100% recycled paper, with no dyes or fragrances. They're also hypoallergenic and have ingredients that are free from toxic chemicals. As an added bonus, these Eco-Friendly Paper Towels are also fairly priced, making them a great choice for budget-conscious shoppers.
You can buy this on Amazon for $67.96.
Best Hand Soap

ECOS Hand Soap
Looking for a hand soap that is gentle on your skin and the environment? Look no further than ECOS Hand Soap. This eco-friendly hand soap uses all-natural ingredients like glycerin, essential oils, and more to cleanse your hands without irritating them or exposing you to harsh chemicals. ECOS hand soap is also vegan and cruelty-free, making it a great choice for those who are looking for an ethical product. The company's facilities use carbon- and water-neutral procedures and are powered entirely by renewable energy. Thanks to its natural cleaning products at moderate rates, ECOS has delivered the green cleaning movement to nearly one million homes.
You can buy this on Amazon for $31.76.
Best Floor Cleaner

Bona Hard-Surface Floor Cleaner Spray
Cleaning your hardwood floors has never been easier than with Bona Hard-Surface Floor Cleaner Spray. This eco-friendly floor cleaner features a water-based cleaning formula and is safe to use around children and pets. It is free of phthalates and parabens. Not only does it clean the floor without streakiness or residue, but the sweet citrus scent will leave your home smelling fresh and clean. You can use it on hard-surface floors like stone, no-wax sealed tile, laminate, and luxury vinyl (LVT). Its Safer Choice label certifies that its environmentally friendly ingredients don't harm the environment. This Bona floor cleaner also dries quickly so that you can enjoy your clean floors in no time.
You can buy this on Amazon for $7.97.
Best Pet Stain and Odor Remover

TriNova Natural Pet Stain and Odor Remover
No matter how much we love our pets, it can be difficult to deal with the occasional mess they make. Don't worry, though – TriNova's Natural Pet Stain and Odor Remover is here to help. This eco-friendly cleaner boasts natural ingredients like enzymes that work together to break down pet stains and odors quickly and effectively. It is safe to use around children and pets. You can use this anywhere – on carpets, upholstery, bedding, and more. And with its fresh, clean scent, you can rest assured that your home will smell great too.
You can buy this on Amazon for $17.97.
Best Eco-friendly Toilet Cleaner

Biokleen Bac-Out Bathroom Cleaner
Looking for a safe, effective way to clean your toilet? Look no further than Biokleen's Bac-Out Bathroom Cleaner. This product contains a unique blend of live enzyme cultures, lavender, and lime extracts to help clean soap scum, hard water buildup, and grime. It works wonders on tubs, tile, toilets, countertops, sinks, and floors. The only thing left behind will be a natural Lavender & Lime essence, never harsh fumes or residue. Plus, the company uses biodegradable ingredients and they never test products on animals.
You can buy this on Amazon for $6.97.