To celebrate Earth Month and its mission to protect our planet, we're spotlighting the best eco-friendly makeup brands you can shop for in 2022. It's never too late to start making more environmentally conscious decisions, and what better way to do that than with the products you use every day?
If you don't know where to start, don't worry—we've got you covered. From organic and natural formulas to packaging that's recyclable or reusable, these brands are dedicated to creating high-quality makeup with minimal impact on the environment. These eco-friendly makeup brands offer a range of beautiful products that will let you look and feel your best. Whether you're looking for a foundation, eyeshadow, or lipsticks, there's a cruelty-free and environmentally-friendly option available to suit your needs.
Read More: Best Eco-Friendly Products To Help Save The Planet 
Here are all the Eco-friendly Makeup Brands to Shop in 2022:
Ilia Beauty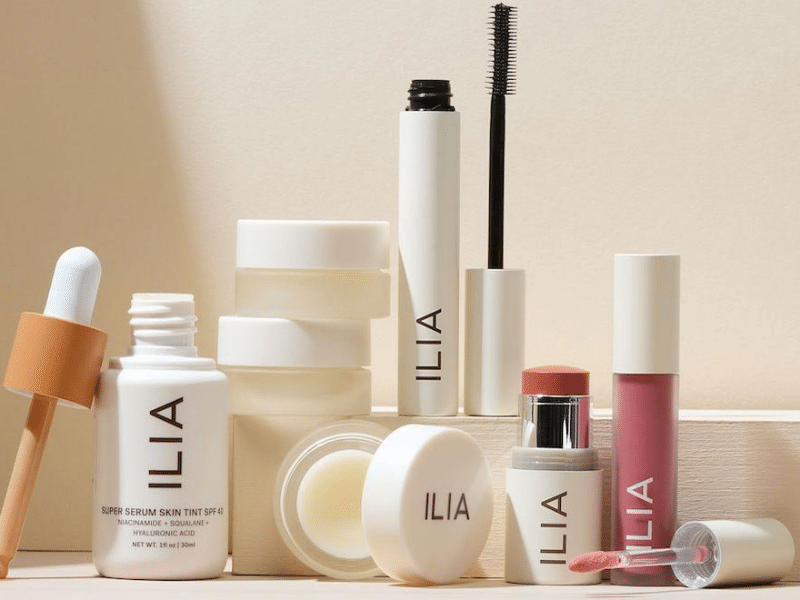 First up, we have Ilia Beauty, a beloved natural and organic makeup brand that was founded in 2011. Ilia Beauty has a wide range of products available, from foundation and concealer to eyeshadow and lipsticks. It comes in a variety of shades to suit all skin tones. It has a fantastic formulation with a lot of skincare ingredients to protect against environmental stressors. Ilia is also vegan and cruelty-free so you can feel good about using its products without harming any animals. Plus, it has sustainable packaging made from recycled aluminum, glass components, and responsibly sourced paper. This is one of our favorite organic makeup brands.
Try their Limitless Lash Mascara, a lightweight and nourishing mascara that creates fluttery lashes.
Read More: Best Acne Treatments for Every Skin Type
Elate Cosmetics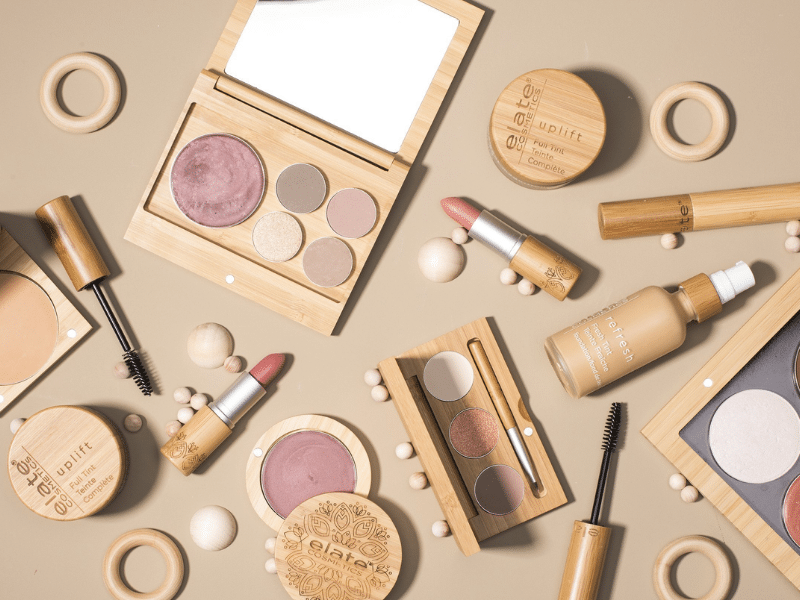 Elate Cosmetics is another eco-friendly makeup brand worth checking out. This Canadian company creates beautiful products that are good for you and the planet. Their makeup is made with natural, sustainable, and certified organic ingredients. It is also vegan, gluten-free, and cruelty-free. They use bamboo, glass, aluminum, and seed paper for their packaging. Their seed paper packing has resulted in the growth of over 100,000 gardens. Elate Cosmetics also donates 2% of sales to social and environmental programs.
Some of their best-selling products include their Prep Primer, a refillable hydrating and smoothing base to prolong your foundation, powder, and other complexion essentials.
Read More: Best Sheet Masks for Healthy Glowing Skin
RMS Beauty

RMS Beauty is a makeup brand that was created by world-renowned makeup artist Rose-Marie Swift. All of their products are free of harmful chemicals, synthetic preservatives, GMOs, and gluten. RMS Beauty prides itself on creating products that enhance your natural beauty rather than covering it up. Their products come from raw, food-grade ingredients. RMS also uses minimal, recyclable, or reused packaging. Their boxes come from 80% post-consumer recycled fiber and are produced entirely by wind power. RMS has not only revolutionized clean beauty but beauty in general.
One that you should try from their line is the "Un" Cover-Up, a lightweight and hydrating concealer that leaves you with a flawless finish and healthier-looking skin.
Read More: Best Skincare Products
Pacifica Beauty

One of the best things about Pacifica Beauty is that it's mostly available at your local drugstore. Founded in 1996, Pacifica offers a range of products spanning skincare, haircare, cosmetics, and fragrance. Pacifica has quickly risen as a go-to brand for affordable, vegan skincare and beauty products. With a wide range of vegan and cruelty-free options, this brand has all your needs covered. In addition, the company has teamed up with Preserve to turn discarded beauty packaging into razors and toothbrushes.
If you're looking for an eco-friendly mascara, try their Lash Extending 7 in 1 Mascara. This mascara amplifies your lashes instantly while nourishing and conditioning them.
Read More: Best Waterproof Makeup Products
100% Pure

100% Pure, is a cruelty-free makeup brand that produces some of the best Eco-friendly makeup to shop in 2022. All of their products come from high-quality ingredients like fresh fruit pigments, essential oils, natural emulsifiers, and vitamins. Because some of their goods contain beeswax, so they are not fully vegan, so read the labels carefully if you're seeking vegan options. 100% Pure also has a wide range of packaging options that are recyclable, reusable, or compostable. Their products come from post-consumer recycled glass, plastic, tin, and paper. For dog lovers, you'll be happy to know that for every order placed, 100% Pure donates dog food to shelter dogs.
The brand offers a plethora of products, but we recommend their Fruit Pigmented Foundation. This foundation gives your skin a healthy, dewy finish while providing buildable coverage.
Read More: Best Hair Products 2022
W3LL PEOPLE

W3LL PEOPLE is a clean beauty brand that was created by an elite makeup artist, a cosmetic dermatologist, and a tree-hugging entrepreneur. Their products come from natural and premium quality, plant-based ingredients. This includes green tea, turmeric, pomegranate, rosehip, and broccoli seed oil. More than 35 of its products are certified by the Environmental Working Group for meeting non-toxic standards. Using their products will get you active botanical formulas that hydrate, nourish, and boost skin health. It is important to note that they are still working on eliminating organic beeswax, pearl powder, and carmines in order to achieve their objective of becoming completely vegan. In terms of packaging, they use FSC-certified paper.
From their line, we recommend the Bio Stick Foundation. This clean foundation has a natural finish that melts into the skin for a fresh, healthy glow that lasts all day.
Alima Pure

Alima Pure is a clean beauty brand known for its commitment to using only the highest quality, eco-friendly and natural ingredients in its products. In 2008, it became the first color cosmetics brand ever to become a certified B Corp. As a member of 1% for the Planet, they donate 1% of their gross sales each year to environmental causes. The brand offers a wide range of makeup products that are perfect for those who are looking to make the switch to a more environmentally friendly beauty routine. It never uses synthetic dyes or tests on animals. They are 100% carbon-neutral and manufacture their products using energy-efficient processes.
One of their best products is the Satin Matte Foundation. This foundation provides buildable coverage with a natural, matte finish that lasts all day long.
Axiology

If you're looking for eco-friendly makeup brands that are also 100% vegan, look no further than Axiology. This clean beauty brand has a mission of creating high-quality, cruelty-free makeup without compromising on performance. This brand makes creamy and colorful multi-use balms and lipsticks. It uses mostly earth-derived pigments like iron oxides and mica. They get them from Just Pigments, a company that works to find mica from mines that do not use child labor. Their products come in boxes made by women in Bali from the paper waste collected on the island.
One of our favorite products from Axiology is their Lip to Lid 3 in 1 Balmies Trio.
Juice Beauty

Juice Beauty is one of the eco-friendly makeup brands that offer high-quality products made with natural & USDA-certified organic ingredients. It is certified vegan by the American Vegetarian Association as well as cruelty-free by PETA. All of their products are free from parabens, petroleum, synthetic fragrances, and harsh chemicals. Juice Beauty also utilizes sustainable energy sources for production. They also use glass containers to eliminate the use of virgin plastic. 
One of the standout products from Juice Beauty is their Stem Cellular CC Cream. This cream delivers the ultimate in age-defying and skin-perfecting results.
Clean Faced Cosmetics

If you are ready to take your beauty game up a notch and ditch those disposable plastic products, look no further than Clean Faced Cosmetics. This eco-friendly makeup brand has quickly become a favorite amongst beauty lovers, thanks to being committed to going plastic-free with their products. Each of their product comes in a container that you can reuse or recycle. Additionally, Clean Face Cosmetics also colors its products with plant-based ingredients like cocoa and turmeric powder. With everything from highlighters and blushes to mascara and eye shadow, there's something for everyone at Clean Faced Cosmetics.
Try their Organic Vegan Natural Mascara, made with ingredients like activated charcoal, aloe vera, bentonite clay, and vitamin E. This mascara is sure to give you long, luscious lashes without any harmful chemicals.