Everyone with a lawn knows the chore of cutting it. For some, it's a weekly ritual that they look forward to, enjoying the peace and quiet of their yard. For others, it's a dreaded task that seems to take forever. No matter which category you fall into, wouldn't it be great if there was an electric lawn mower that could do the job for you? Well, there is – and we've compiled a list of the best electric lawn mowers that you can buy for 2022!
Read more: Best Home Security Cameras 2022
Here are the best electric lawn mowers that you can buy today:
EGO POWER+ LM2102SP 21-in Self-propelled Electric Lawn Mower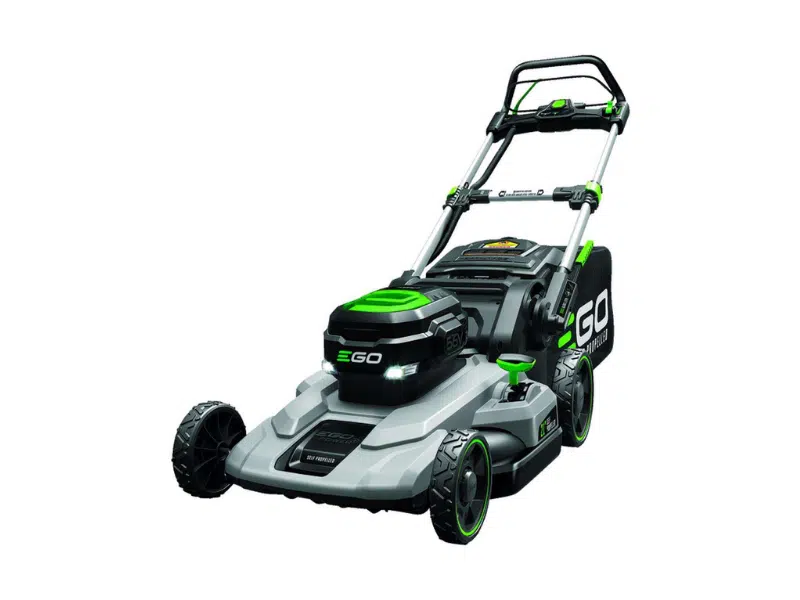 Ego is one of the leading manufacturers of electric lawn mowers, and the LM2102SP is one of their best self-propelled models. It's powered by a 56-volt battery, which gives it plenty of power to tackle even the thickest grass. It can last for up to a full hour per charge And, with a 21-inch cutting width, it can cover a lot of ground quickly.
The LM2102SP is also easy to push, thanks to its self-propulsion feature. Simply push the button and the mower will start moving forward on its own. You can adjust the speed to suit your needs, too. The blades can be adjusted to six different cutting heights and give a precise cut that leaves the lawn looking well-kept. And, when it's time to empty the grass bag, simply detach it and dump it out.
The Ego LM2102SP is a great choice for anyone looking for a powerful and easy-to-use self-propelled electric lawn mower.
You can buy this at the Ace Hardware store for $599.
Ryobi 40V HP Brushless CrossCut 21-Inch Self-Propelled Lawn Mower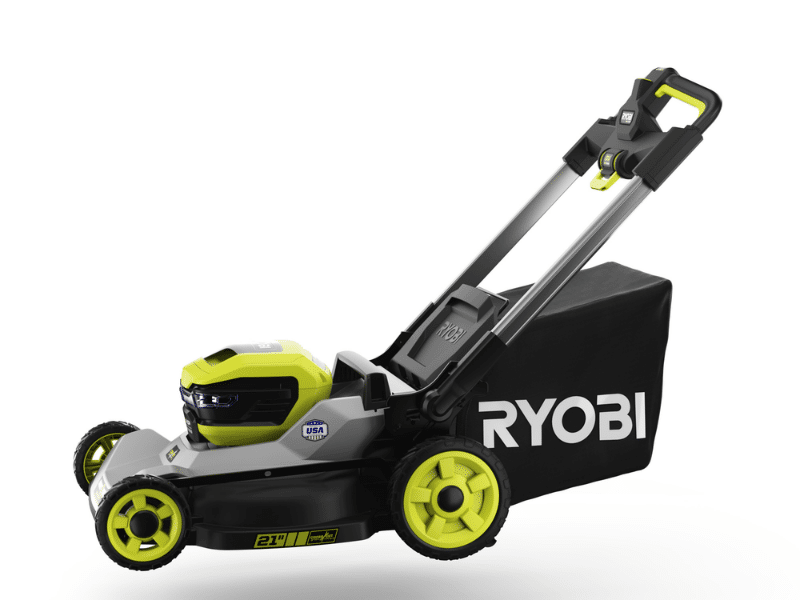 Ryobi is another trusted brand when it comes to electric lawn mowers. This mower has a 21-inch cutting deck and is equipped with a powerful brushless motor. With this, it will automatically adjust its speed and power based on the thickness of your grass.
This lawn mower has a self-propelling feature that makes it easy to push around your lawn. It has excellent mulching, bagging, and side discharge feature to give you the versatility you need to get the job done. It's easy to lift the bag straight up between the handles which makes emptying less of a hassle.
The mower also comes with 7 deck height adjustments. You can choose from 1.5 to 4 inches depending on the grass height. The runtime will depend on the grass condition but you can expect up to 70 minutes on a single charge. Its battery is compatible with more than 50 other Ryobi 40V products.
Like many lawn mowers, you can store this one vertically to save space.
You can buy this on Ryobi for $599.
Greenworks PRO 21-Inch 80V Cordless Lawn Mower

The Greenworks PRO 21-Inch lawn mower is one of the most powerful electric mowers on the market. It has a 21-inch cutting deck and comes equipped with an 80V battery. This gives it the power of a gas lawn mower with none of the fumes or emissions.
This model works with 2 Ah and 4 Ah batteries, and it's also available as a self-propelled variant with a 5 Ah battery and rapid charger. It provides up to 45 minutes of run-time with a fully charged 4Ah battery.
It has 3-in-1 capabilities so you can mulch, rear bag, or side discharge your grass clippings. The Smart Cut Load sensing technology automatically adjusts the power based on the thickness of your grass. This prolongs the life of your battery and ensures a consistent cut.
This mower has seven adjustable cutting heights, all of which are simply toggled using the huge lever on the handle.
You can buy this on Amazon for $576.84.
Black & Decker CM1640 MAX Electric Lawn Mower

The Black & Decker CM1640 MAX is a great choice for those with smaller yards. It has a 16-inch cutting deck which makes it easy to maneuver around tight spaces. Despite its smaller size, it's still packed with features. It comes with six adjustable cutting heights so you can customize your cut from 1 1/5 inch to 3 1/5 inches.
This electric lawn mower is powered by a 40-volt lithium-ion battery which provides up to 30 minutes of run time. It also uses auto-sense technology to automatically adjust the speed of the blade based on the thickness of the grass. This ensures a clean, even cut every time. Because it only weighs 38 pounds, it is easy to push around your yard. It comes with a two-year warranty for peace of mind.
You can buy this on Amazon for $329.99.
Sun Joe 24V-X2-17LM Mulching Lawn Mower

If you're looking for a more affordable option for your small yard, the Sun Joe 24V-X2-17LM could be the best electric lawn mower for you. This one has a slightly bigger steel cutting deck compared to the Black and Decker above, measuring in at 17 inches. The cutting deck is still on the smaller side, but it will be able to handle more grass at once.
The 48V 4 Ah battery makes it a decent little model for easier to mow the grass. It will give you up to 25 minutes of run time on a single charge. It includes a 6-position manual height adjustment for the perfect cut every time. This model also features an 11-gallon collector bag for convenience.
The Sun Joe is one of the more lightweight electric lawn mowers on this list, weighing in at just 35 pounds. This makes it easy to maneuver around your yard without tiring yourself out too much.
Unfortunately, you can't fold this model down for storage, so it will take up a bit more space in your garage or shed.
You can buy this on Amazon for $239.99.
Toro 21466 Recycler Lithium-Ion Electric Mower

You can't go wrong with the Toro Recycler 22-Inch Battery Mower if you want a mower that can handle everything you throw at it. The machine features Vortex Technology, which lets more air into the cutting chamber for finer grass clippings. It has a steel 22-inch cutting deck that will make short work of your lawn. It comes equipped with a 60 V battery, giving you up to 40 minutes of run time on a single charge. That's enough power to get through most small to medium-sized yards with ease.
With 9 cutting positions ranging from 1-4 inches, you may manicure your grass to your liking. Like other best electric lawn mowers, it also features a fold-forward handle design so you can easily store it away in your garage.
You can buy this at Ace Hardware for $669.99.
Read More