If you're in the market for a new monitor, you may be wondering if a curved model is worth the extra money. Here's a look at the best curved monitors that 2022 has to offer. Whether you need a gaming monitor or one for general use, these models are sure to impress. Plus, they come with some great features support that will make your computing experience even better. So, if you're ready to take your experiencce to the next level, read on for information on some of the best curved monitors available right now.
Read more: Best Gaming Monitors 2022
Asus ROG Swift PG35VQ
This 35-inch monitor from Asus is one of the best curved monitors on the market right now. It has a resolution of 3440×1440, making it perfect for gaming or graphics work. It features a 200 Hz refresh rate and G-Sync Ultimate technology, ensuring smooth gameplay and no screen tearing. The G-Sync Ultimate screen also supports DisplayHDR 1000. It's one of the top HDR standards, requiring a peak brightness of 1000 nits. The screen has a rapid 2ms response time, which is ideal for any game, including e-sports.
The PG35VQ boasts two lighting systems: an Aura Sync RGB-infused ROG logo on the back side, and a lighting system in the stand's base that projects an ROG logo onto the surface below. And if that's not impressive enough, the monitor also features a quantum dot display for incredible color reproduction. It has great core image quality that looks superb from any angle, making it perfect for sharing content with friends or colleagues.
Read more: Best Gaming Mouse
You can buy this on Amazon for $1,690.
LG UltraGear 38GN950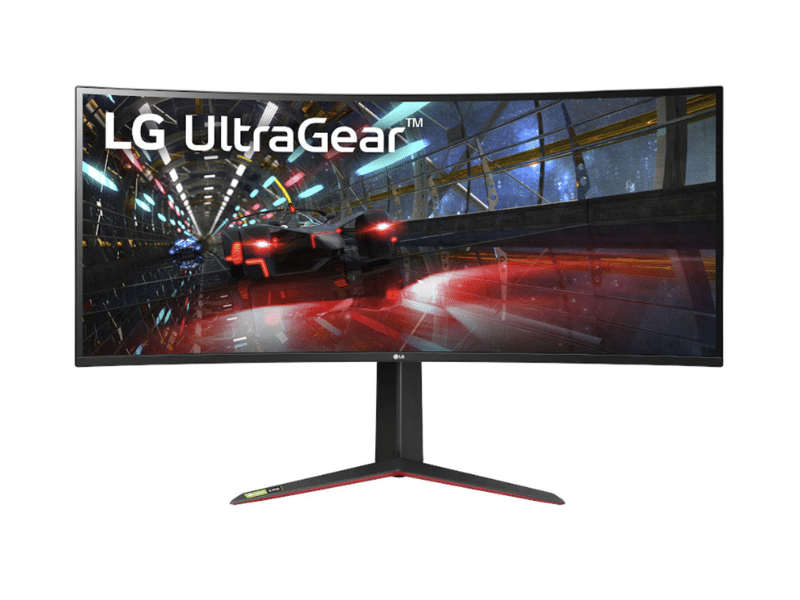 This 38-inch monitor from LG is also a great choice for people looking for an ultrawide monitor. The UltraGear 38GN950's appearance is eye-catching and similar to previous UltraGear models, as you'd expect from LG. It has 'nearly borderless' bezels, which indeed are extremely thin. It has a resolution of 3840×2160 and supports G-sync technology. This monitor is designed to reduce screen tearing and stuttering, making your gaming experience smoother and more enjoyable.
The UltraGear also has a 144 Hz refresh rate, overclocked to 160Hz for all those hardcore gamers out there. It also features a 1 ms response time, faster than Asus ROG Swift PG35VQ. VESA DisplayHDR 600 certification means that it can reproduce 600 nits of peak brightness, making it an excellent monitor for HDR content. Combining a generous size, with super speed and fantastic image quality, the LG UltraGear 38GN950 is an excellent choice for anyone looking for a great curved monitor.
You can buy this on Amazon for $1,499.
MSI Optix MPG27CQ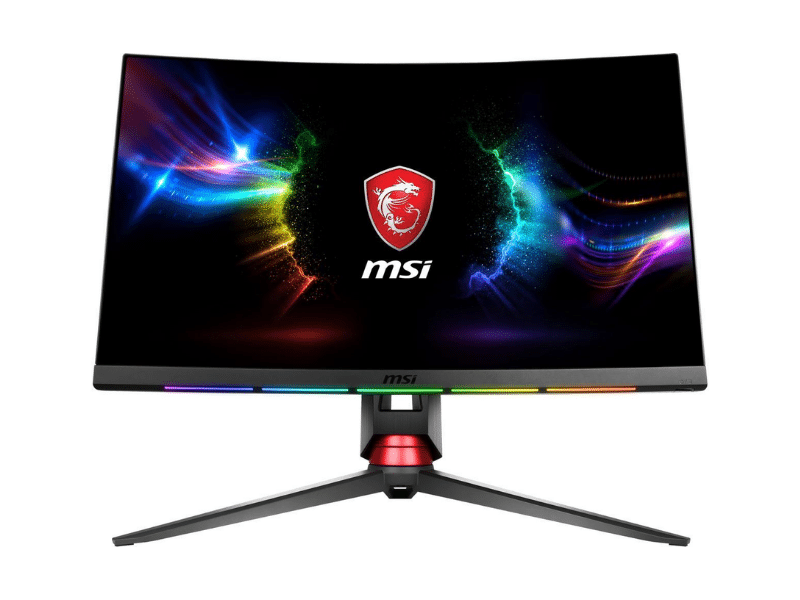 This 27-inch curved monitor is perfect for someone who is looking for a high-quality, affordable option. This is one of the best curved monitors for an affordable price. It has a resolution of 2560×1440 and supports AMD FreeSync technology. This monitor also has a 144 Hz refresh rate, the same as the LG UltraGear 38GN950 which costs twice as much. With fast refresh rates and a 1ms response time, this monitor is perfect for gaming and other intense uses. The stand has a range of ergonomic adjustments available, including tilt, height, and swivel. The ports include one DisplayPort 1.2 and two HDMI 2.0 ports. Lastly, a 100 mm x 100 mm VESA mount on the back of the monitor allows it to be attached to a wall-mounting bracket or an articulated monitor arm. Overall, the MSI Optix MPG27CQ is an excellent curved monitor for a great price.
Samsung Odyssey G9 Gaming Monitor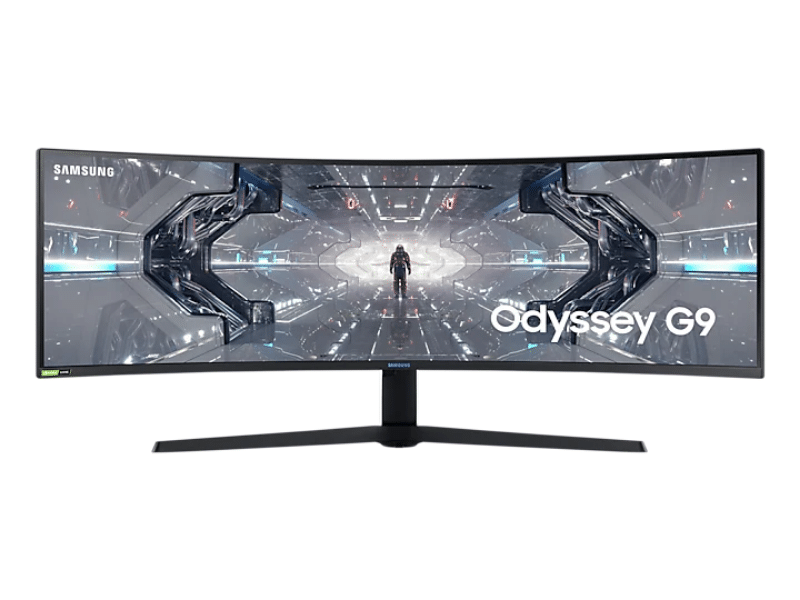 If you're looking for a massive curved gaming monitor, look no further than the Samsung Odyssey G9. This curved monitor measures in at a whopping 49 inches and delivers stunning visuals with its ultra-wide QHD resolution. It supports Nvidia G-Sync and delivers a buttery-smooth gaming experience with virtually no input lag. The 32:9 aspect ratio makes it perfect for watching movies and playing games. The monitor's 1000R curved screen ensures that you'll be completely immersed in the action. When the panel is switched to Full Bright mode, the peak brightness is increased significantly, reaching 716 nits with a full field. It also features a built-in USB hub, HDMI ports, and a DisplayPort. If you're looking for a curved monitor that delivers the best gaming experience possible on a massive screen, the Odyssey G9 is your best bet.
You can buy this on Amazon for $1,399.99.
Alienware AW3420DW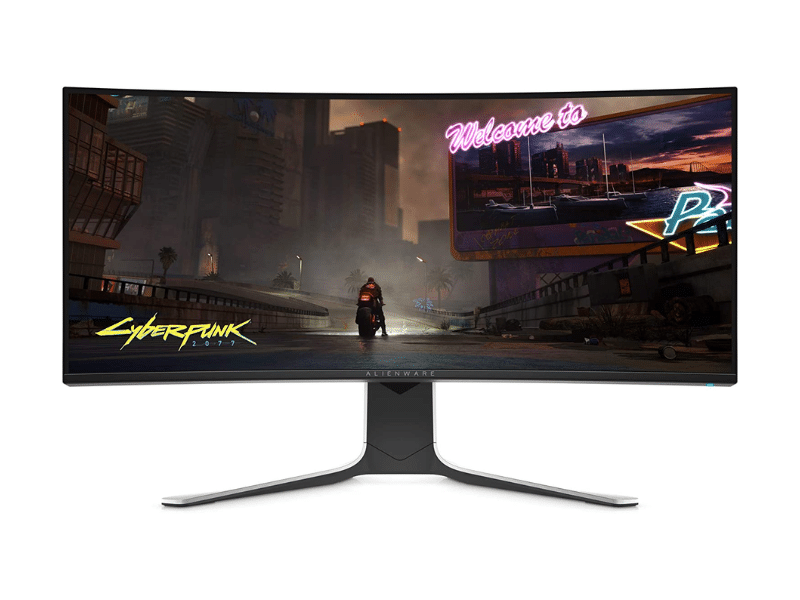 If you're a fan of Alienware, then this is for you. This is a great option for people looking for curved monitors under $1000. This 34-inch monitor supports Nvidia G-Sync and has a 2ms response time. With a speedy 120Hz refresh rate, this monitor will give you incredibly smooth gameplay. It has a 3440 X 1440 WQHD resolution display that delivers sharp and clear visuals. If RGB lighting makes you happy, this Alienware has you covered. Its AlienFX lighting system offers four different light zones. The Alienware Command Center software allows you to customize each zone, which includes dynamic lighting effects and themes for 145 different games. Immerse yourself completely with a sweeping 1900R curved display that transports you further into the game.
Read more: Best Gaming Keyboards 2022
You can buy this on Amazon for $766.49.
Samsung Odyssey G7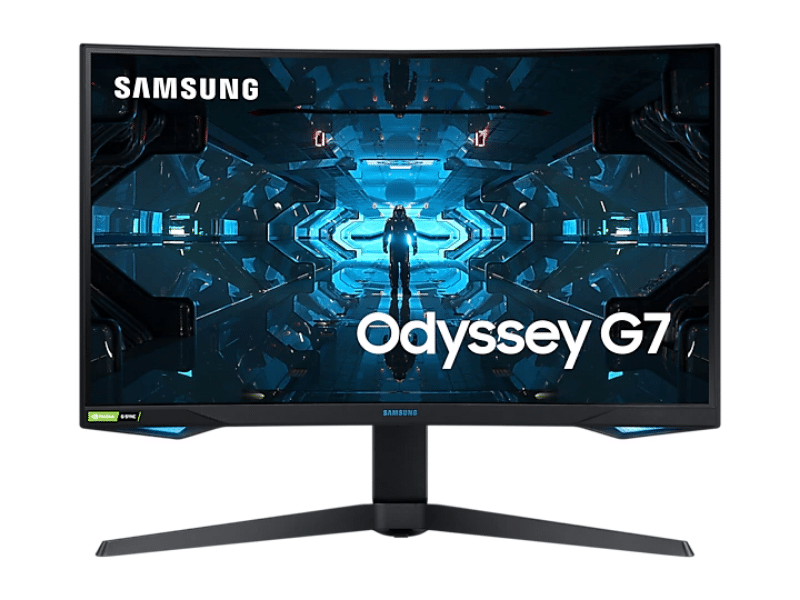 Another best curved monitor that we love from Samsung is the Odyssey G7. It has almost the same price as the Alienware AW3420DW. This monitor has a 32-inch screen with a 2560×1440 resolution, making it perfect for gaming and streaming. The 1000R curvature provides an immersive experience that will make you feel like you're right in the middle of the action. With NVIDIA G-SYNC and FreeSync Premium Pro support, Odyssey matches every frame from your graphics card. It has a rapid 240hz refresh rate, ensuring that the action on-screen stays smooth no matter how intense things get. The extended height adjustment, tilt, and swivel let you configure it to your perfect viewing position. For even more flexibility, the VESA mount gives you the option to install it on a wall or arm. Odyssey is also equipped with Samsung's MagicBright and Eye Saver technologies to optimize your viewing experience.
You can buy this on Amazon for $799.99.