Baby monitors have come a long way in recent years. Not only do they allow you to hear your babies cry, but many also come equipped with a camera so you can see them as well.
There are a few things to consider when purchasing a baby monitor. The most important is range. You want to make sure that the monitor you choose has a good range so that you can hear your baby from anywhere in the house.
Another thing to keep in mind is features. Some come with extras like night vision or two-way audio, which can be helpful depending on your needs.
To help you find the perfect Baby Monitor for your needs, we've rounded up the top-rated baby monitors on the market, from affordable audio-only options to more expensive video Baby Monitors with all the bells and whistles.
Read More: Best Home Security Cameras 2022
Here are the best baby monitors to buy on the market now:
Miku Pro Smart Baby Monitor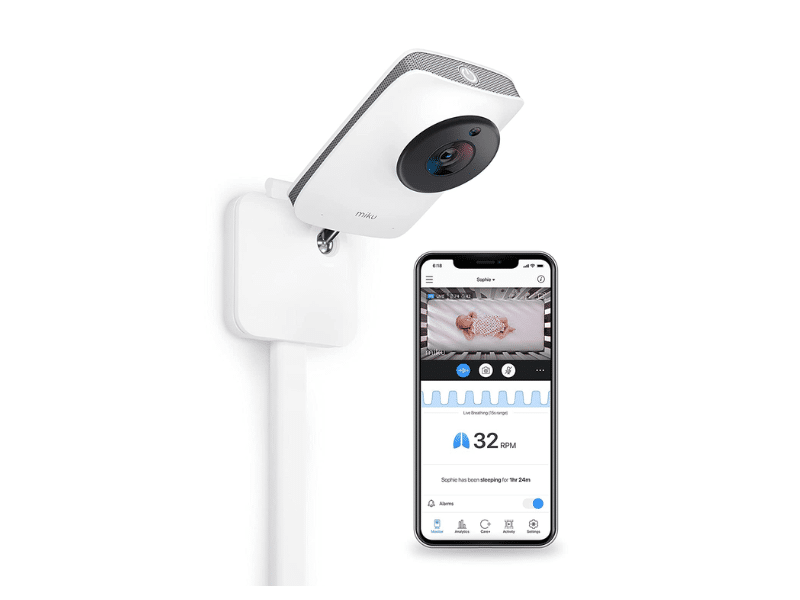 This Baby Monitor is one of the more expensive options on the market, but it comes with a host of features to justify the price tag. In addition to being able to see and hear your baby, the Miku Pro also monitors their breathing and sleeping patterns. You don't need to have special wearables or wires, allowing for a more comfortable experience for your baby. If anything changes with your baby's vitals or nursery circumstances, you'll get real-time information and notifications on your smartphone. It also has temperature and humidity sensors to keep an eye on the environment of the room.
The dual Ole Wolff speakers provide clear sound, whether you are using them to soothe your baby or for two-way audio. Its 1080P HD video and Night vision LED's will give you a clear view of your baby at all hours. You can mount the Miku Pro Baby Monitor on the wall, floor stand, or table stand.
Another huge plus? No subscription fees are required unlike some of the other Baby Monitors on this list.
Read More: Best Dash Cams 2022
You can buy this on Amazon for $334.95.
Nanit Pro Complete Monitoring System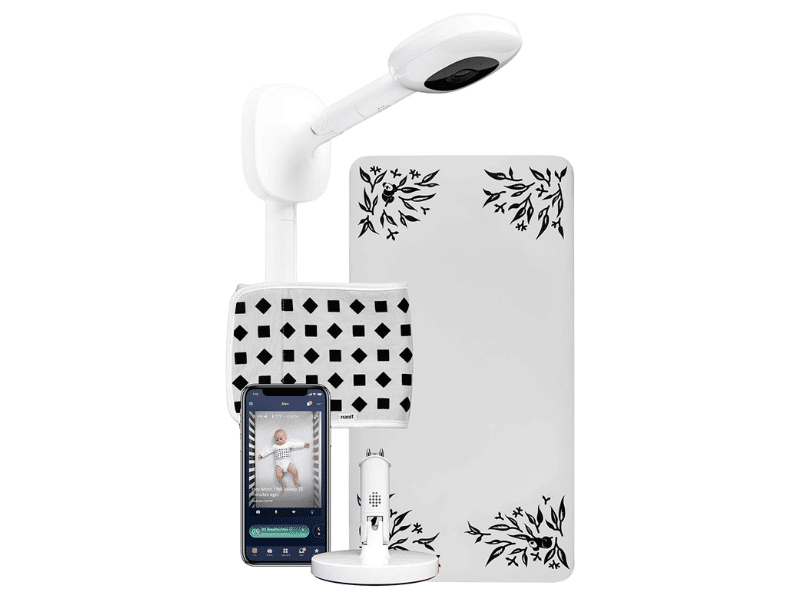 Nanit is one of the newer Baby Monitors on the market, but it's already made a name for itself as one of the best. The Nanit Pro Complete Monitoring System includes a 1080p camera, travel multi-stand, smart sheets crib sheet, and breathing wear band. It also comes with a one-year subscription to the Nanit Insights app.
The 1080p included camera gives you a birds-eye livestream view of your baby, and the breathing wear band monitors your baby's breathing patterns. You can watch your baby, day or night from anywhere on your iOS, Android, Kindle Fire, or Echo Show device. The smart sheets help you measure your child's height and growth progress over time.
You can also use the Nanit app to play nature sounds through the camera to soothe your baby, set up sleep routines, and more.
You can buy this on Amazon for $303.
Infant Optics DXR-8 PRO Baby Monitor

The DXR-8 Pro is a great upgrade from the standard DXR-8 Baby Monitor. The system consists of two main items, including the 720p camera and the portable, battery-powered video monitor upon which you watch, listen, and control the camera. You can pan, tilt, and zoom the camera and it has an interchangeable optical lens to give you a better view of your baby. It also has an enhanced night vision so you can see your baby's face even in the dark.
Another key feature of this Baby Monitor is its Active Noise Reduction (ANR) which filters out any background noise, so you can hear your baby more clearly. The Baby Monitor also has a two-way talk function, allowing you to soothe your baby from anywhere in the house.
Unfortunately, it doesn't work with a smartphone app and has no Wi-Fi compatibility.
You can buy this on Amazon for $199.99.
Eufy SpaceView

The Eufy SpaceView is another great baby monitor without the need for Wi-Fi. But unlike the Infant Optics, this is more budget-friendly. The Baby Monitor includes a 5-inch LCD display, which gives you a large enough screen to see your baby clearly. You can also hear them well with the Baby Monitor's clear two-way audio.
The Baby Monitor has a range of up to 1000 feet, so you can feel confident knowing you're not too far away from your little one. Its cameras can pan 330 degrees, compared with only 270 degrees for the Infant Optics. It can also tilt 110 degrees, allowing flexibility. The Eufy SpaceView can also connect with up to four cameras. The monitor will automatically cycle between each view when two or more cameras are connected.
You can buy this on Amazon for $159.99.
Cubo Ai Plus Smart Baby Monitor

The Cubo Ai Baby Monitor is a great choice if you're looking for a Wifi baby monitor with cutting-edge features. This Baby Monitor uses wifi to not only give you a clear view of your baby but also to track your baby's sleeping patterns. It will even send you alerts if it detects any irregularities like when your child's face is covered by a blanket or swaddle. There's also a danger zone alerts feature which will notify you if your baby leaves a safe area.
Motion detection on the Cubo Plus captures images of your child moving around during the night or during naps. Cubo Plus stores 18 hours of videos so you can review them at your leisure.
Aside from its cute bird design, you can also pair it with up to five cameras on one account. You can share access with up to 7 people, making it great for grandparents or other relatives who want to keep an eye on your little one. The Cubo Ai also has 3 stand options including a floor base, crib attachment, and mobile stand.
You can buy this on Amazon for $299.
VTech DM221 Audio Baby Monitor

If you don't want to splurge on a video monitor, this is the best baby monitor for you. The VTech DM221 Baby Monitor is an audio monitor that gives you enough features you need without the high price tag. Because it lacks a video monitor, the two factors that will determine whether you need this baby monitor are if you want to know if your baby is crying or awake.
This budget baby monitor has clear two-way audio so you can hear your baby from anywhere in your home. It also comes with a soothing light to illuminate the nursery. Using this will let you stay connected to your baby from another room with a range of up to 1,000 feet.
Plus, you can also install a second parent unit to avoid having to carry the monitor around with you everywhere you go in your house. You won't hear any staticky white noise like some other smart baby monitors because this monitor only picks up real noises.
You can buy this on Amazon for $38.95.