It's no secret that dash cams are becoming increasingly popular among car owners. And for good reason – they can provide invaluable evidence in the event of an accident, help you avoid costly fines, and even capture some amazing moments on the road. But with so many different models on the market, it can be tough to know which one is right for you.
That's why we've put together a list of the best dash cams for 2022. We'll help you choose a model that fits your needs and budget, and give you all the information you need to make an informed decision. So whether you're looking for the best value dash cam or the most feature-packed option, we've got you covered.
Read more: Best Home Security Cameras 2022
Let's take a closer look at some of the best dash cams for 2022:
Nextbase 622GW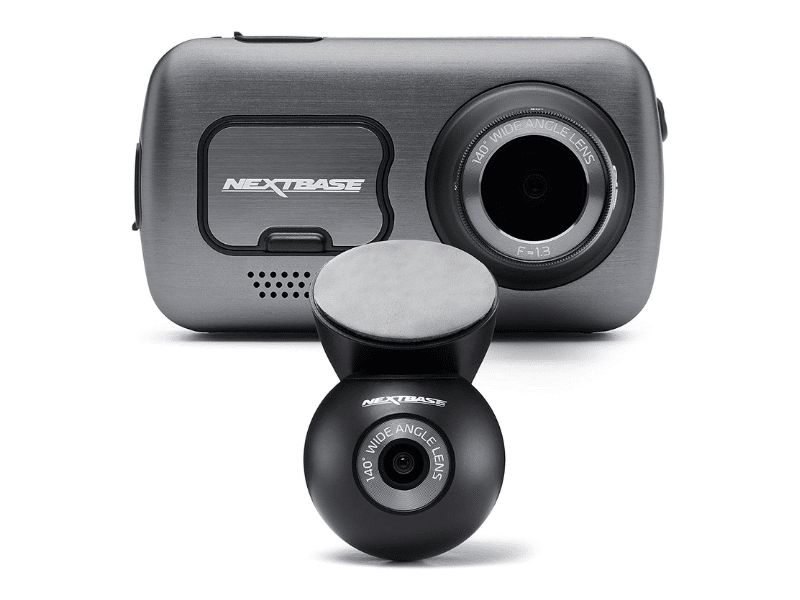 The Nextbase 622GW is a top-of-the-line dash cam that offers some of the best features available. The 622GW shoots 4K video at 30 frames per second or 1080p at 120fps. It has a wide viewing angle of 140 degrees, image stabilization for smooth footage, and a polarizing filter that will minimize reflections.
It also comes with built-in GPS tracking and support for What3Words geolocation services. What3Words is a unique addressing system that divides the world into 3-meter squares, each with a unique three-word address. This can come in handy if you need to give someone specific directions to your location. You may find this very helpful especially if you find yourself in an emergency.
The 622GW also features a built-in G-sensor that will detect any sudden braking or collisions. If an incident is detected, the camera will automatically save the footage to its internal memory. It is an Alexa-enabled device, so you can control it using voice commands. You can also download the free Nextbase app to your smartphone for additional features.
The 622GW is a great option for anyone looking for a high-end dash cam with all the bells and whistles. It's perfect for those who want excellent video quality and lots of extra features.
You can buy this on Amazon for $399 or buy the $419.99 model if you want a front and rear dash cam.
Garmin Dash Cam 57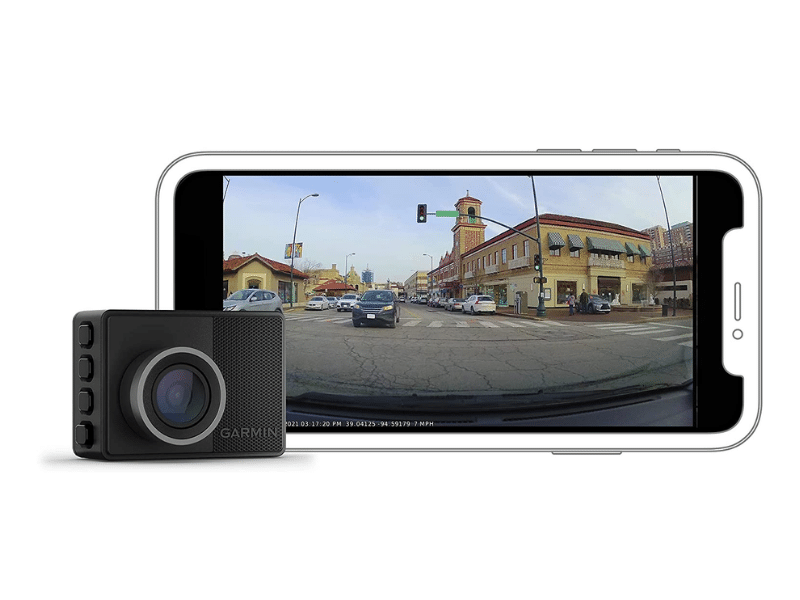 The Garmin Dash Cam 57 is another high-end dash cam with a compact design. It has a 2-inch screen, making it easy to view your recordings, and it also has a built-in GPS so you can track your location and speed. Garmin Dash Cam 57 can record 1440p video resolution and has a wide-angle lens to capture more of the scene. It also comes with a whopping 512 GB SD card, so you can start recording right away. Videos will automatically save in Garmin's cloud service. This ensures that you have a backup even if your camera is damaged or stolen. Garmin Dash Cam 57 offers a live view of what's happening in front of your car even when away from the vehicle.
The Garmin Dash Cam 57 also includes some handy features such as collision detection, lane departure warnings, and alerts when you're coming up to stop lights and speed cameras. Its easy-to-use magnetic mount means you can quickly attach and detach the camera from your car and you can connect it to an additional four cameras to cover other directions.
Like most of the best dash cams, Garmin 57 has voice control so you can start and stop recording without ever taking your hands off the wheel.
Read more: Garmin Fenix 7: Everything to Know
You can buy this on Amazon for $229.99.
Viofo A129 Pro Duo

Viofo may not be a well-known brand, but their A129 Pro Duo is one of the best dash cams on the market. This camera records at a sharp 4K resolution in front and 1080P resolution in the rear, making it an ideal choice for those who want to record both the front and back of their car. It uses a Sony Starvis Sensor, which gives great night vision and records in low-light conditions. The front camera however is a little bit bulkier than some of the other models on this list. It also comes with a G-Sensor and motion detection so it will start recording automatically if something happens.
The A129 Pro Duo has a parking mode, which will continue recording even when your car is off, and it has loop recording so you'll never have to worry about running out of storage space. It runs super capacitors, which have a wider temperature range and longer life span. Integrated GPS tracking is also available as well as a dual-band Wi-Fi for connecting to a smartphone app. 
You can save and lock important recordings with the optional Bluetooth remote without getting distracted or taking your eyes off the road. All you have to do is set it up in a convenient location and push the remote control.
Read more: Best Instant Cameras of 2021
You can buy this on Amazon for $249.89.
Garmin Dash Cam Mini 2

If you're looking for a mid-range dash cam that still offers great quality, the Garmin Dash Cam Mini 2 is a great option. It is one of the smallest dash cams you'll find on the market today. Don't be fooled by its small size though, it can still compete with the bigger names when it comes to features and image quality.
The Garmin Dash Cam Mini 2 can record in high-quality Full HD video with HDR. This feature ensures that your footage will be clear and easy to see, no matter what the lighting conditions are like. At 140 degrees, the lens also offers a fairly wide viewing angle. It also has a forward collision warning, lane departure warnings, speed camera and stop light notifications, and more.
You'll also appreciate that it offers voice commands just like the more expensive Garmin models. This makes it easy to control the dash cam without taking your eyes off the road.
One downside to the Garmin Dash Cam Mini 2 is that it doesn't have a built-in screen. This means that you'll need to use the smartphone app in order to view recordings. Another one is it lacks GPS, so you'll need to use your smartphone's GPS tracking to add location data to your footage.
Despite these downsides, the Garmin Dash Cam Mini 2 is still the best dash cam for those looking for a quality mid-range dash cam.
You can buy this on Amazon for $129.99.
Nextbase 522GW

If you're a fan of Nextbase but can't afford the more expensive Nextbase 622GW model, opt-in to the Nextbase 522GW. It's a quality dash cam that offers most of the features of the 622GW model, but at a fraction of the price. It has a responsive three-inch touchscreen at the back with convenient touch controls.
The 522GW can record a crisp 1440p resolution at 30 frames per second, ensuring smooth and clear footage. The viewing angle is also quite wide at 140 degrees. Videos can be quickly and easily shared to a smart device via Bluetooth and Wi-Fi.
The built-in G sensor and collision detection ensure that your footage is protected in the event of an accident. It also offers emergency SOS calling and an integrated GPS for accurate location, direction, and speed data. The built-in Alexa functionality lets you play music, listen to audiobooks, and control smart devices with your voice. The 522GW is a great all-around dash cam that's perfect for everyday use.
You can buy this on Amazon for $233.99.
Vantrue N4

The Vantrue N4 offers not just front and rear cameras, but also interior recording. This can come in handy if you ever need to capture an incident that took place inside your car. The video quality of the footage is also top-notch, making it a great option for those who are looking for a reliable dash cam. You can change the settings to record your vehicle's front, back, or interior in 4K + 1080P high definition. It has a viewing angle of 155 for its front camera, 165 for the interior camera, and 160 for its rear camera. Its 24-hour parked-car monitoring feature is a nice touch, as it can help to ensure that your car stays safe even when you're not around.
The Vantrue N4 also comes with a number of other features, such as night vision, motion detection, impact detection, loop recording, and more. Unlike most dash cams, the N4 lacks app connectivity. So, if you're looking for a dash cam that you can control remotely, the N4 may not be the best option for you.
You can buy this on Amazon for $259.99.