Tired of having a Wi-Fi connection that keeps dropping out or is too slow? If so, you need to invest in the best Wi-Fi routers available on the market now. These powerful Wi-Fi routers provide fast and reliable Wi-Fi coverage throughout your home or office, so you can always stay connected. Whether you're looking for speed, security, or simplicity, there's a Wi-Fi router out there that's perfect for you.
Read More: The Best Curved Monitors 2022
Here are our picks for the best Wi-Fi routers for 2022:
Asus RT-AX88U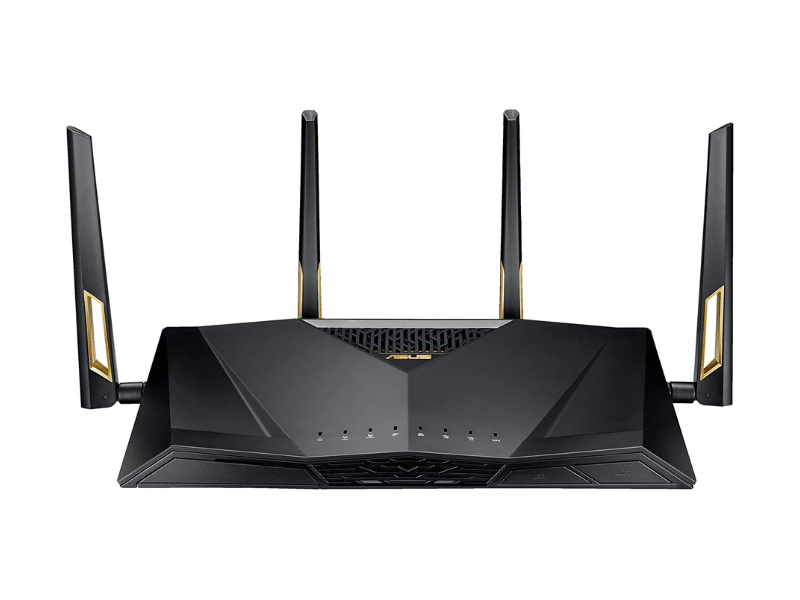 This Wi-Fi router from Asus is one of the best on the market right now.  It is one of the first WiFi 6 routers released on the market and it's also one of the few to be WiFi 6 certified. This router has borrowed the design of the RT-AC88U, so expect the same huge plastic case with a black matte finish, angular wavy top, and ventilation cut-out. This 4×4 dual-band WiFi router provides 160MHz bandwidth and 1024-QAM for dramatically faster wireless connections. It has Wi-Fi speeds of up to 6000Mbps, which is more than enough for even the most demanding users. It is faster than most Wi-Fi 6 routers out there, thanks to its innovative MU-MIMO and OFDMA technology.
Additionally, this router features a gigabit WAN port and eight gigabit LAN ports. Powerful Wi-Fi protection using AiProtection Pro is also present to keep your devices safe from online threats
You can buy this on Amazon for $299.99.
Read More: Top 5 Gaming Laptops
Asus RT-AX86U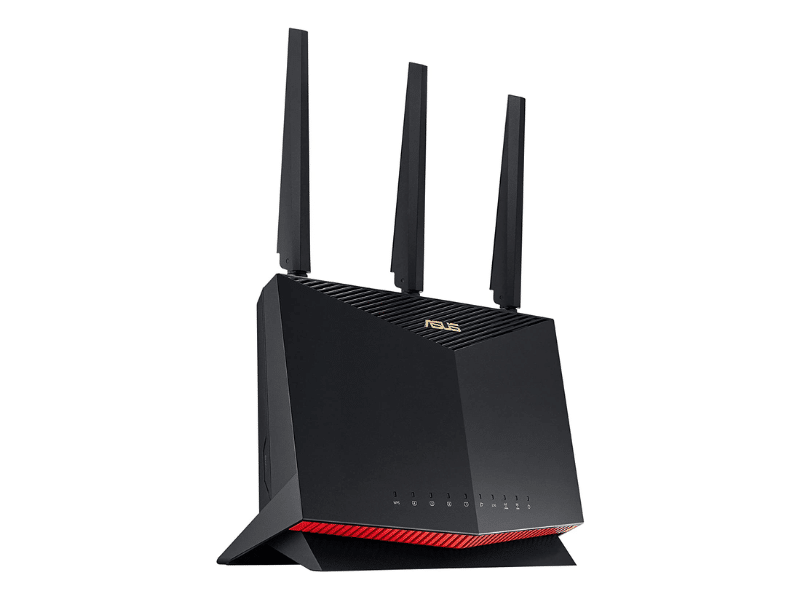 The RT-AX86U is another excellent dual-band WiFi 6 router from Asus. It boasts an eye-catching design, easy setup and use, and impressive performance. Unlike other WI-Fi routers, the RT-AX86U can stand vertically to save you some space. With a powerful 1.8GHz quad-core processor and Wi-Fi speeds up to 5700Mbps, it provides fast and reliable Wi-Fi coverage no matter what you're using your devices for. It is best for large homes with lots of devices, especially if you need to connect devices that require a lot of bandwidth, like 4K TVs or gaming consoles.
It includes advanced features like link aggregation, guest networks, Wi-Fi scheduling, and an OpenVPN server for those who need them. There are also a lot of ports, including a 2.5 Gbps port configurable as WAN or LAN, as well as two USB 3.2 ports. The RT-AX86U also supports WPA3 encryption and DFS channels, which can help you prevent 5GHz network interference from your neighbors.
You can buy this on Amazon for $279.99.
Read More: Best Gaming Monitors 2022
Asus ROG Rapture WiFi 6 Gaming Router (GT-AX11000)

If you have enough budget for a WI-Fi router, then look no further. The ROG Rapture Wi-Fi 6 Gaming Router from Asus is one of the best WiFi routers out there for serious gamers and power users. With Wi-Fi speeds of up to 11000Mbps and a 1.8GHz 64-bit quad-core processor, this router is a dream for gamers who need ultimate Wi-Fi performance. It's also the world's first 10 Gigabit WiFi router. It supports cutting-edge wireless technologies such as Orthogonal Frequency-Division Multiple Access (OFDMA) and dynamic frequency selection. It may also use any of the 15 5GHz bands for the best signal quality.
The ROG Rapture comes with a slew of cool features, including Game Boost, which automatically prioritizes gaming traffic over other network activity. This will give you the lowest latency and the best gaming experience. You can also find four downstream Gigabit LAN ports, a single 2.5G Base T Ethernet connection, and two USB 3.0 ports for connecting peripherals.
You can buy this on Amazon for $419.99.
***
TP-Link Archer AX6000

TP-Link has long been known for its high-quality Wi-Fi routers, and the Archer AX6000 is one of its best offerings. This dual-band Wi-Fi 6 router uses 1024-QAM and delivers astonishing wireless speeds of up to 5952 Mbps: 4804 Mbps (5 GHz) and 1148 Mbps (2.4 GHz).
The AX6000 includes eight Gigabit LAN connections and a single 2.5Gbps WAN port. Link aggregation can be used to combine two LAN ports into a single, fast connection. A USB-C 3.2 Gen 1 port and a USB-A 3.2 Gen 1 port are also included for connecting storage to network devices. You can also use a variety of other channels for your 5GHz network. This will offer you enough room to avoid rival networks from your neighbors.
You can buy this on Amazon for $276.74.
Netgear Nighthawk 12-Stream WiFi 6E Router (RAXE500) 

If you're looking for a Wi-Fi router that's specifically designed for gaming, then the NETGEAR Nighthawk WiFi 6E Router is the one you want.
The Netgear Nighthawk RAXE500 was the first Wi-Fi 6e router to hit the market. With the addition of the new 6-GHz band to the already impressive capabilities of Wi-Fi 6, this router delivers even lower latency, reduced jitter, and less congestion. The RAXE500 is a 12-stream Wi-Fi 6 router that offers data rates up to 1.2Gbps on the 2.4GHz band, 4.8Gbps on the 5GHz band, and an additional 4.8Gbps on the 6GHz band for a total of 10.8Gbps. It also has one of the most comprehensive customization options, ranging from RTS Threshold to which Wi-Fi channels it uses.
This might be the most expensive Wi-FI router on this list but it is worth your every penny.
You can buy this on Amazon for $537.04.
TP-Link Archer AX21

If you have a small space and you want a Wi-Fi router that can cover it completely, then TP-Link Archer AX21 is the best option for you.
The TP-Link Archer AX21 is a budget-friendly Wi-Fi 6 router that's great for small spaces. Even though it's not as powerful as some of the other Wi-Fi 6, it still has a lot of features that many users will love. Thanks to its AX1800 wireless connection, it can provide data rates of up to 1.8Gbps. It pushes 574Mbps at 2.4GHz and 1,201Mbps at 5GHz.
The Archer AX21 also includes MU-MIMO and OFDMA technologies for better performance when multiple devices are connected. It features four Ethernet ports and a USB port and supports WPA3 technology. It also has an easy setup procedure thanks to the TP-Link Tether app for smartphones.
So, if you're looking for something to keep up with most households without going overboard, the AX21 is a great fit.
You can buy this on Amazon for $99.99.
TP-Link AC1750 Smart Wi-Fi Router

If you're looking for a wireless router that's packed with features but won't break the bank, then the TP-Link AC1750 Smart Wi-Fi Router is the best wi-fi router for you.
This dual-band Wi-Fi 5 router can deliver up to 1,300Mbps on the 5GHz band and 450Mbps on the 2.4GHz band.  Even though this router lacks support for MU-MIMO, it does come with a USB port and five Gigabit Ethernet ports (one WAN and four LAN ) for wired connections.
With the TP-Link Tether app, you can easily set up and manage your Wi-Fi router from your smartphone. If you wish to block specific URLs or prioritize a connection, this router comes with basic QoS and parental controls. Lastly, it works with Alexa and is compatible with all Wi-Fi devices, 802.11ac and older.
You can buy this on Amazon for $59.99.
Read More: Best Budget Smart Home Devices 2022