Wouldn't it be amazing if you could fit an ultra-powerful phone in your pocket? Well, that's exactly what Foldable Phones are aiming for! Foldable phones are essentially normal smartphones with a special display that you can fold in half to make them about the size of your palm, or even smaller. The best Foldable Phones will be able to do just about anything that current phones can. These phones are becoming more and more popular every year. So, whether you're looking for the best new foldable phones or are simply curious to learn more, read on for all the details!
Read more: Best Wireless Earbuds 2022
Here are some of the Best Foldable Phones on the market today:
Best Overall Foldable Phone
Samsung Galaxy Z Fold 3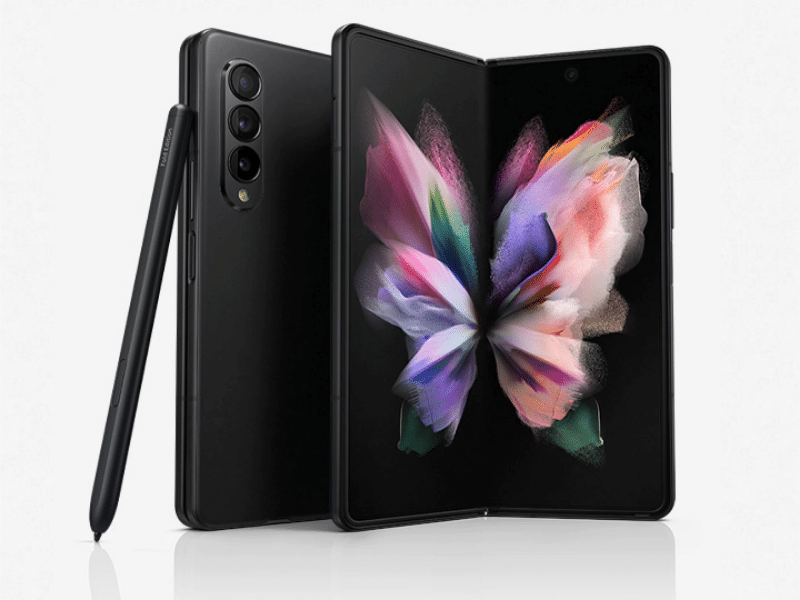 The Galaxy Z Fold 3 is the latest foldable phone from Samsung, but it sure isn't the last. Fold 3 combines a large 7.6 inches screen with a small 6.2 inches secondary screen for all your needs. It's Samsung's first-ever phone with an under-display camera. It has a dynamic AMOLED 2X display to ensure that you get the most vivid colors. It comes equipped with a powerful Qualcomm snapdragon 888. The rear camera includes three lenses: a 12-megapixel ultra-wide, a 12-megapixel wide-angle, and a 12-megapixel telephoto. The front camera includes a 4MP sensor hidden beneath the display, while the cover camera has a 10MP sensor. Fold 3 has an internal battery of 4400 mAh and works with an S Pen stylus. It is the first folding phone that works with an S pen. Additionally, it is also IPX8-rated waterproof, which means it can be submerged up to 1.5 meters deep in water for 30 minutes at a time.
Read more: SAMSUNG GALAXY Z FOLD3 5G: Buyer's Guide
You can buy this on Amazon for $1,499.51.
Best Clamshell Foldable Phone
Samsung Galaxy Z Flip 3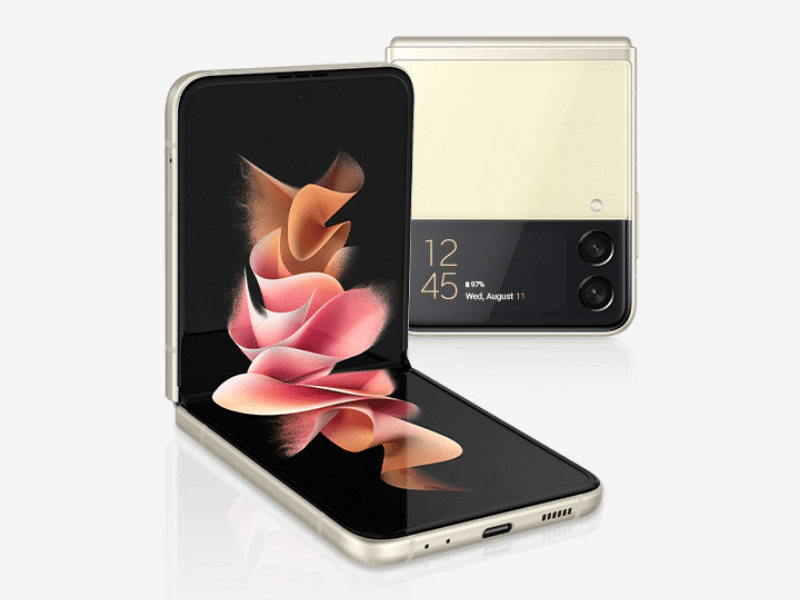 As the title suggests, this phone folds in a clamshell-style. It has an attractive 6.7-inch AMOLED display with a 120Hz refresh rate. When folded, this phone has a 1.9-inch cover screen. You can use it to control your music, access Samsung Pay, and check your messages. You can even take pictures without unfolding the phone. And thanks to its flip design, you can launch two apps at once. Multitasking is easy with this phone. There are two separate batteries, one for each half of the phone. With this, you get a total of 3,300mAh and it features wireless charging. It features the same dual-camera setup as its predecessor, consisting of a 12MP main camera and a 12MP ultra-wide camera. For selfies, you get a 10MP camera. It also runs on Android11 powered by Qualcomm's flagship Snapdragon 888 chip.
Read more: Samsung Galaxy S22 Ultra: Most Premium Galaxy Yet
You can buy this on Amazon for $881.61.
A Still-great Foldable Phone
Samsung Galaxy Z Fold 2

The Samsung Galaxy Z Fold 2 is the successor to the Samsung Galaxy Fold. Fold 2 has a large 7.6 inches display with a triple 12MP rear camera system. The rear camera setup has autofocus. Its front camera has a dual 10MP camera. Fold 2 is equipped with Qualcomm Snapdragon 865 Plus chipset. Fold 2 also contains 12GB of RAM and up to 512GB of internal storage for even more speed and efficiency while multitasking. This foldable phone can run up to three apps at the same time. You can also drag and drop content from one window to another in certain apps. Lastly, it has a 4,500mAh battery and supports 5G. The foldable phone market is heating up, and Fold 2 is one of the best foldable phones you should consider.
You can buy this on Amazon for $1,999.99.
Best Dual-screen Phone
Microsoft Surface Duo 2

If you're looking for a new foldable phone with a different kind of display, check out the Microsoft Surface Duo 2. It has two separate screens perfect for multitasking. It is not really a foldable device. Instead, it has two 5.3-inch panels that open up to reveal an 8.3-inch display. Fold it in half to play games or watch movies on one screen or leave it unfolded for work with both screens on hand. The two screens are connected by a hinge that looks like it's made of metal or another durable material. The slim hinge rotates 360-degrees. Microsoft Surface Duo 2 is equipped with Qualcomm Snapdragon 888 chipset, the same chipset as some of the best phones today. As a gaming device, the Duo is fairly wild. It works with Xbox Game Pass game streaming and pairs with Xbox Bluetooth controllers.
You can buy this on Amazon for $439.
Galaxy Z Flip 3 foldable rival
Huawei P50 Pocket 

Huawei has finally made its own flip-style foldable phone. Released just last December of 2021, this foldable phone rivals the Samsung Galaxy Z flip 3. Originally thought to be a Chinese exclusive, the phone was awarded an international release on January 26, 2022. The standard variant has a white finish, 8GB of RAM, and 256GB of storage. The Premium Edition, on the other hand, has a unique gold finish created in partnership with Iris Van Herpen. The P50 Pocket comes with up to 12GB of RAM and 512GB of storage. It uses a triple rear camera setup led by a 40Mp main camera and backed up by a 13MP ultrawide sensor and a 32MP Ultra Spectrum Camera. It also has a 6.9 inch OLED display which supports up to 120Hz refresh rate. The battery is 4000mAh – better than Samsung offered into its Z Flip phones. Two main things though to keep in mind is the lack of 5G support and Google services.
You can buy this on Huawei Store for $1,799.99.
Best Value Foldable Phone
OPPO Find N

Oppo is one of the latest companies to jump on the bandwagon of creating the best foldable phone. It unveiled its latest foldable smartphone, the Find N, on the second day of its "Inno Day" event on December 15, 2021. This foldable smartphone is a result of four years of research and development, as well as six generations of prototypes. Fold it in half to use a 5.49-inch AMOLED display, or open it up like a book to watch movies and read your ebooks in its 7.1-inch AMOLED display. The hinge on this foldable phone minimizes the display gap and significantly reduces the visible crease, two of the most common complaints regarding folding phones. Oppo Find N, like most phones on this list, has a powerful Android chipset – Snapdragon 888 processor. For faster network performance, this device also offers 5G and Wi-Fi 6 capabilities. Unfortunately, however, Oppo has no plans to release the Oppo Find N outside of China.
Read more: Oppo Find N: Everything to Know
Best Foldable for Clamshell Nostalgia
Motorola Razr 5G

If you're a fan of Motorola, you might want to get the Motorola Razr 5G. This phone will surely satisfy your nostalgia. It features a 6.2 inch OLED screen and a 2.7-inch second screen on the front useful for phone notifications, alarms, and so on. Snapdragon 765G powers this flip phone, along with 8GB of RAM, and a slightly longer battery life than its predecessor. It only has a single-lens 48MP rear camera and a 20MP selfie camera, just enough for your daily photo-taking duties. The design is sleek and simple and you can easily fit it in your pocket. This is one of the most durable foldable devices on the market today.
You can buy this on Amazon for $997.
Read More