As more and more people look for ways to be productive while on the go, 2-in-1 laptops have become increasingly popular. These devices offer the portability of a laptop with the added benefit of being able to convert it into a tablet.
If you're in the market for a 2-in-1 laptop, look no further than our list of the best 2-in-1 laptops you can buy right now. These 2-1 laptops offer the best combination of features, performance, and value for money.
Read more: Best Budget Laptops
Here are our picks for the best 2-in-1 laptops you can buy:
Microsoft Surface Pro 8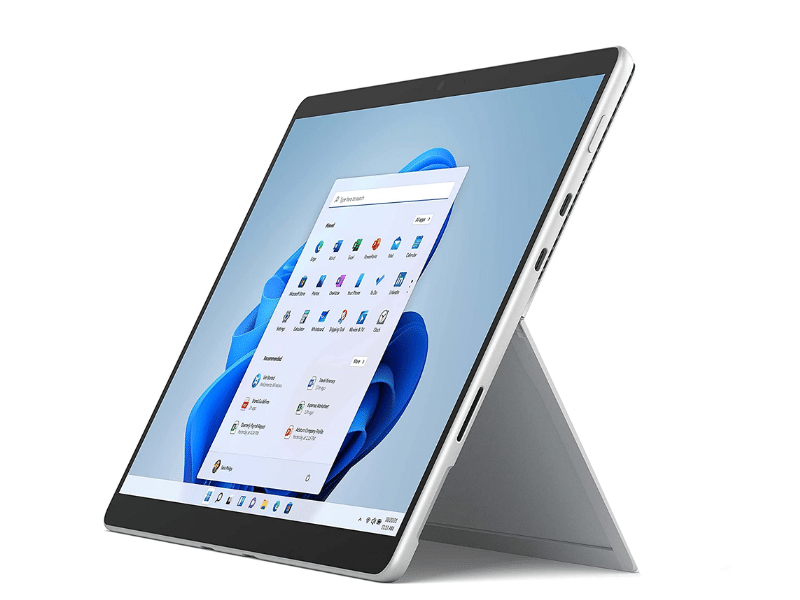 After years of refinement, the Microsoft Surface Pro 8 is finally the 2-in-1 laptop that you can buy with confidence. It has a gorgeous 13-inch display with up to a 120Hz refresh rate. It comes equipped with an 11th Gen Intel Core i7-1185G7 processor and supports up to 32GB of RAM.
Microsoft has also upgraded the Surface Pro 8's cameras. It now comes with a 5MP front-facing 1080p camera and a rear-facing 1080p camera with 4K video support. The Two USB-C ports with Thunderbolt 4 support are also a welcome addition.
As a tablet, the Surface Pro line is perhaps best known for its built-in kickstand. The Surface Pro 8 is no different, with its new Surface Pro Signature Keyboard. This keyboard has a built-in slot or trench forward of the keys, which houses and charges the Slim Pen 2. For creatives and professionals, the new Surface Slim Pen 2 is a must-have accessory. The screen makes use of Windows' GPU ink acceleration for a more natural drawing and writing. However, keep in mind that you'll have to purchase the detachable keyboard cover and stylus separately.
This 2-1 laptop might be too expensive for some, but if you think all its features justify the high price tag, then you should definitely get your hands on it.
You can buy this on Amazon for $1,389.
Lenovo Yoga 9i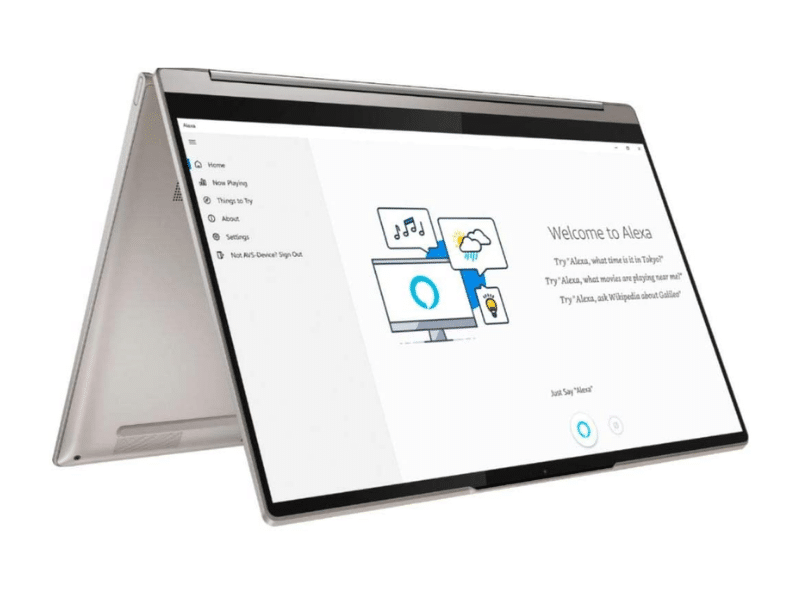 The Lenovo Yoga 9i is a 2-in-1 laptop that's sure to turn heads with its sleek and stylish design. This 2-1 laptop is the successor to the excellent Yoga C940. It has a luxurious, ultra-portable design as well as a novel hinge that also serves as a spinning soundbar speaker. The hinge itself can rotate a full 360 degrees, so you can use the Yoga 9i in laptop, tablet, stand, and tent mode.
The display is a gorgeous 14-inch 4K UHD (3840 x 2160) IPS panel with support for Dolby Vision. It's bright, colorful, and very sharp. The bezels around the screen are thin, which makes for a very immersive experience.
Under the hood, the Yoga 9i boasts an Intel Core i7-1185G7 processor. It's a powerful 2-in-1 laptop that can handle anything you throw at it, from everyday tasks to demanding workloads.
Among those noteworthy features is the included rechargeable Lenovo Active Pen, which has a home at the back of the chassis.
You can buy this on Amazon for $1,429.99.
HP Spectre x360 (2021)

HP's 2-in-1 laptops have always been some of the best on the market, and the HP Spectre x360 14 is no exception. It's a beautifully designed 2-in-1 laptop with a stunning 13.3-inch OLED display. This gorgeous Windows laptop comes with an 11th generation Intel Core processor and the available graphics now go up to Intel Iris Xe. You can also get up to 16GB of RAM and 2TB of storage.
The HP Spectre x360 has a full-size keyboard with a springy and responsive action. The keys are backlit and there's a dedicated fingerprint sensor for sign-in and security. Its touchpad has a wide space, giving you a little extra room to wiggle your fingers. You also get two Thunderbolt 4 USB-C ports, a USB-A port, a full-size HDMI connector, and a headset jack. Although it is a thin laptop, it still feels heavy and bulky so it's far more successful as a laptop than a tablet.
You can buy this on Amazon for $1,499.99.
Dell XPS 13 2-in-1

The standard XPS 13 is already a fine laptop but, as 2-in-1 laptops go, the Dell XPS 13 2-in-1 is even better. It's a convertible laptop, so you can use it in tablet mode, tent mode, or standard laptop mode. It's not quite as slim as a MacBook Air, but it has the same strikingly thin appearance. This 2-in1 model takes everything we love about the clamshell XPS 13. Thanks to Intel's 11th Gen Tiger Lake CPUs with Iris Xe Graphics, the XPS 13 2-in-1 is more powerful than ever.
It has an absolutely stellar battery life, Wi-Fi 6, plenty of storage, and great all-around performance making this a real champion of Windows laptops.
Ports are limited, in keeping with current trends. There are two USB-C Thunderbolt 3 ports on the device, as well as a 3.5mm audio output and a MicroSD card slot. One of the USB-C ports is dedicated to charging, leaving only one for anything else.
You can buy this on Amazon for $1,299.
Microsoft Surface Laptop Studio

Microsoft Surface Laptop Studio is another favorite from Microsoft. The Surface Laptop 2's design is still as elegant as ever. The 3:2 display is just the right size and resolution for a laptop of this class.
The Surface Laptop Studio has a unique hinge that allows the display to be pulled forward and positioned in three different modes. Although you lose the ability to use the screen as a separate tablet, it is technically a 3-in-1 device.
The high-res 120Hz panel is great for creative work, gaming, and general use. It has a fantastic battery life which Microsoft claims will last for up to 18 hours on the Core i7 model or 19 hours on Core i5 versions.
The i7 model is a hefty 1.82kg which is heavier than most 14-inch laptops, so it's not as portable as you might be expecting.
The webcam, on the other hand, is in much better shape. The 1080p sensor ensures that video calls are clear and crisp, and two studio mics ensure that you are heard clearly. The Laptop Studio supports Windows Hello face unlock thanks to an adjacent IR sensor.
You can buy this on Amazon for $2,499.99.
HP Envy x360 15 (2021)

The HP Envy x360 15 is a great 2-in-1 laptop for those who want a bit more screen real estate. The 15.6-inch display is plenty large for most needs and the panel looks absolutely stunning.
This 2-1 laptop will be an excellent way to take full advantage of the new OS and its support for Android apps. Although, due to its 15.6-inch screen size and 4.1-pound weight, it is difficult to use as a handheld tablet.
But it's not just the display that's impressive. Under the hood, you can either choose either AMD or Intel processors. Regardless of which route you go, you're getting a powerful machine. As for battery life, you can get more than 11 hours of use out of this 2-in-1 before needing a charge. It also has plenty of ports so you can quickly set it up with all of your favorite peripherals and accessories.
The Envy x360 just proves that you don't need to spend a fortune to get a great 2-in-1 laptop.
You can buy this on Amazon for $1,099.
Apple iPad Pro (M1, 2021)

If you're a fan of Apple products, then the iPad Pro is a 2-in-1 laptop for you. The iPad Pro is one of the 2-in-1 laptops that's been getting a lot of attention lately and for good reason. It's powered by Apple's M1 chip which offers desktop-class performance in a portable package. This is the same Apple Silicon that's found in the latest MacBook Air, MacBook Pro, and Mini.
The iPad Pro features a gorgeous 12.9-inch Liquid Retina display with a 120Hz refresh rate. The new Liquid Retina XDR display includes other advanced technologies that can also be found in the 11-inch iPad Pro, including ProMotion, True Tone, and P3 wide color support. It also has an ultra-fast 5G connectivity, so you can stay connected even when you're on the go.
As for battery life, Apple claims that the iPad Pro will last up to 10 hours. When it comes to cameras, nothing can beat the iPad Pro. It has a 12MP Ultra Wide front camera that enables Center Stage.
The only downside to the iPad Pro is its price tag. But if you're already in Apple's Ecosystem, then the iPad Pro is definitely worth considering.
You can buy this on Amazon for $999.
Read More: Apple March Event
Samsung Galaxy Book Pro 360

For Samsung devices users, the Galaxy Book Pro 360 is one of the best 2-in-1 laptops you can get. You can buy either the 13-inch or 15-inch model, both of which still offer a great 2-in-1 experience.
The Galaxy Book Pro 360 is one of the thinnest 2-in-1 laptops out there, thanks to its metal chassis. It's also pretty lightweight, so it won't weigh you down when you're carrying it around. Despite its small size, it still packs a punch when it comes to performance. It is powered by a combination of 11th-gen Intel chips and Iris Xe integrated graphics. The battery life is likewise exceptional, rivaling that of some of the most long-lasting laptops on the market.
Of course, the Pro 360's defining feature is its 360-degree hinge, which converts the laptop into a tablet. It also has an S Pen support but unless you are planning on using it for artistic purposes, you can probably do without it because the added price will set you back.
You can buy this on Amazon for $1,477.99.
Read More: Best Samsung Phones 2022