Tired of lugging around your large upright vacuum cleaner? Are you looking for something much easier to deal with but without any loss in power or functionality? Handheld Vacuums are your answer! They provide similar functionality and power as traditional vacuums but come in a smaller and more portable design.
Whether you are searching for the best Handheld Vacuum Cleaner to keep your car clean, or you want to find the Best Handheld Vacuum Cleaner for home use, we've got you covered.
Here are the best Handheld Vacuums of 2021:
Best Cordless Handheld Vacuum for Pet Hair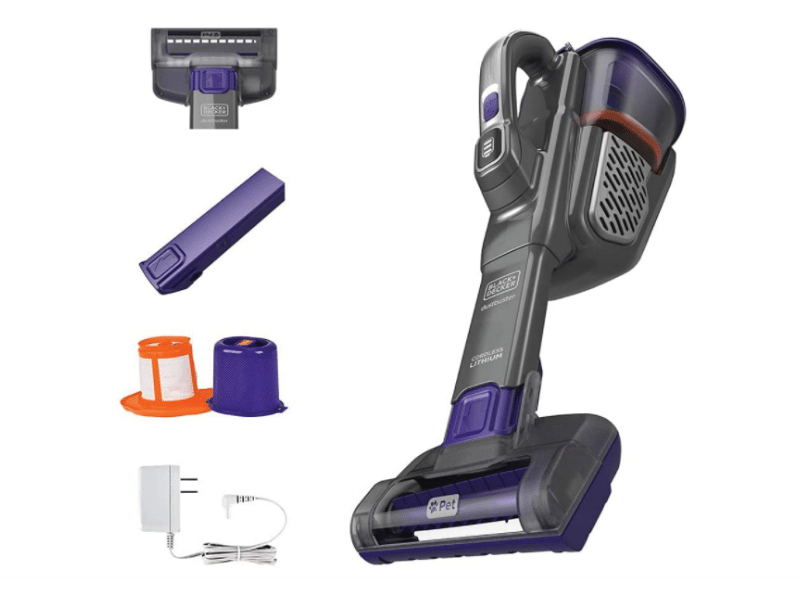 Do you have a lot of pet hair to clean up? Are you tired of having to drag out your full-sized vacuum cleaner, only to clean up a little bit of pet hair in the corner? Try this best cordless Handheld Vacuum for pet hair is the Black + Decker Hand Vac AdvancedClean+.
It comes with a built-in extra-long crevice tool to adjust from cleaning large debris all the way down to pick up those stubborn pet hairs. For longer use, the 20V MAX lithium-ion battery increases runtime by up to 145 percent. It has 4x more suction power than the average Hand Vac and an extra-large bottom-emptying dust bin to get rid of all the collected dirt without interruption.
Maneuver around your home with ease with this cordless hand vacuum.
You can buy this on Amazon for only $99.
Best Corded Handheld Vacuum for Pet Hair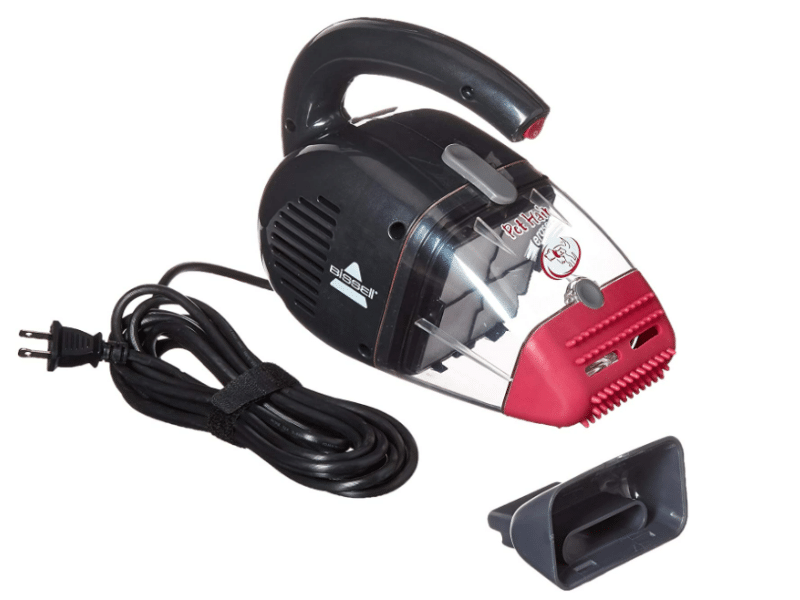 If you don't like the cordless type of handheld vacuum then this Pet Hair Eraser from Bissell might work for you. Corded Handheld Vacuums are often had more power than their battery-powered counterparts, which makes them better for picking up pet hair. This Bissell Handheld Vacuum features a cyclonic cleaning system which makes it powerful in removing all the dirt from all surfaces. Handheld vacuums are also great for stairs, upholstery, and other hard-to-reach places where a full-sized vacuum would be cumbersome. The 16-foot power cord of this corded vacuum provides a great reach for cleaning your house. This is one of the best corded handheld vacuums available on the market right now.
You can buy this on Amazon for only $47.26.
Best Lightweight Handheld Vacuum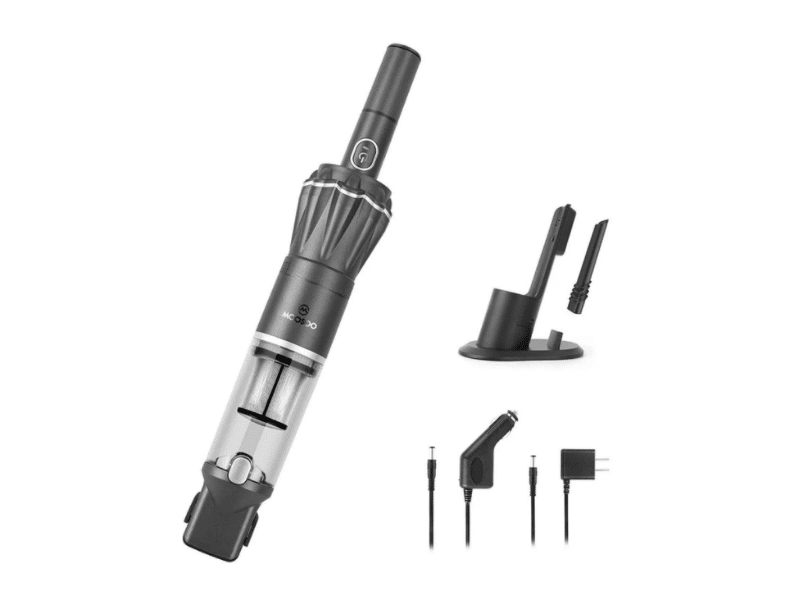 If you want a really lightweight handheld vacuum that does the job at a great price, then check out the Handheld Vacuum Cleaner by MOOSOO. It weighs only 1.1 pounds, so you won't even feel it on your hand. This is a perfect handheld vacuum for a quick and easy way to clean up messes in a hurry.
This ultra-lightweight MOOSOO Handheld Vacuum Cleaner is surprisingly powerful! It has the power to clean hard-to-reach cleaning areas such as wall corners, window corners, and gaps. The 2500mAh Li-ion Battery with Large Capacity provides for up to 21 minutes of continuous use. To fulfill a variety of needs, the K12 portable vacuum has two modes: normal 8Kpa and powerful 12Kpa.
You can buy this on Moosoo for only $99.99.
Best Car Handheld Vacuum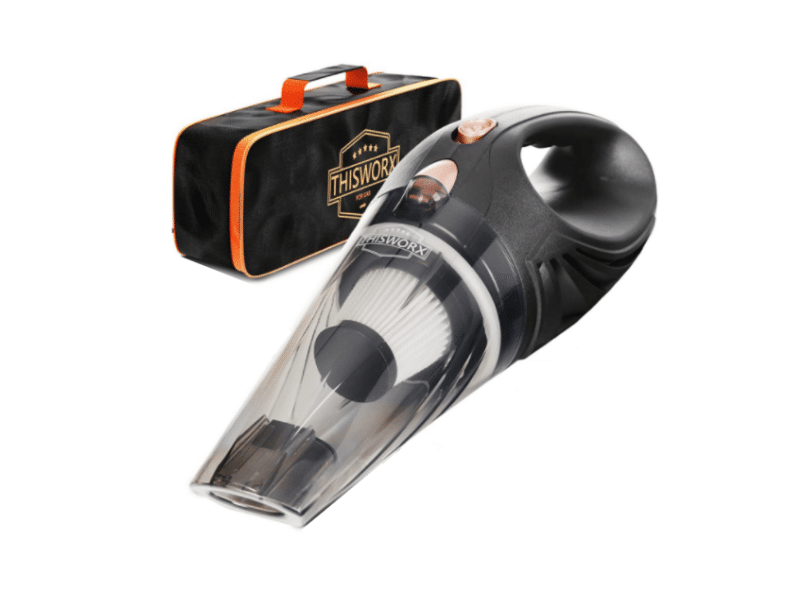 Are you tired of your car getting messy and dirty? Handheld vacuums are the best solution. Handheld vacuums are the perfect tool to help you keep your car looking clean, spick, and span. One of the best handheld vacuums for cars is the handheld vacuum by THISWORX. This vacuum is very powerful, yet portable. The device comes with attachments for all of your cleaning needs. It includes 3 attachments (flathead, extendable, or brush nozzle) for detailing, carry bag, filter brush, and spare HEPA filter.
This handheld vacuum helps you remove loose dirt, sand, and other materials from your car's interior tight spaces. It glides across flat surfaces with ease to give you a sleek finish.
You can buy this on Amazon for only $34.99.
Best Heavy-Duty Wet/Dry Handheld Vacuum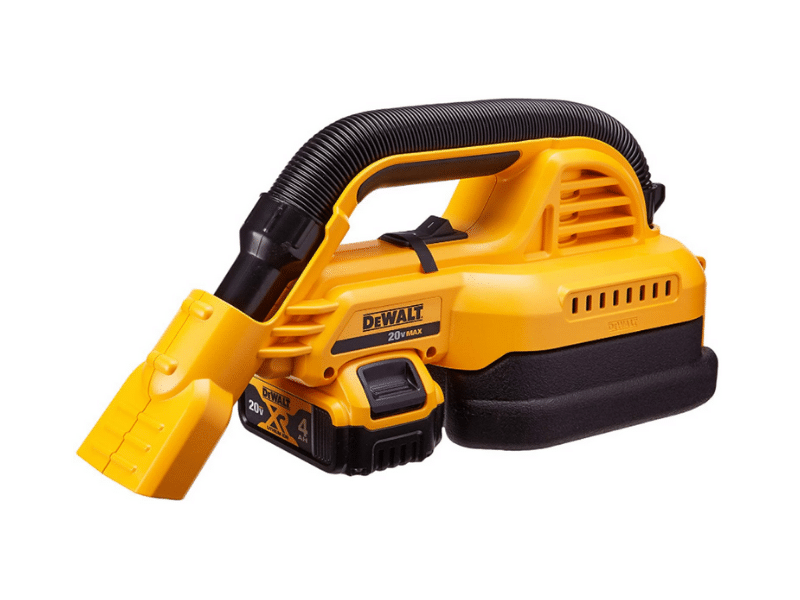 Handheld vacuums that are not designed for heavy-duty work will wear down very fast and leave you with a broken and ineffective tool. Handheld vacuums that were created specifically for heavy-duty work will last longer and do the job right. One of these best handheld vacuums is the DeWalt DCV517M1 20V Max Handheld Vacuum. DeWalt Handheld Wet/Dry Handheld Vacuums are known for their rugged build and superior performance. This vacuum can handle wet spills as well as dry messes. It features a Gore HEPA wet/dry filter that helps trap 99.97% of dust at 0.3 microns. The powerful vacuum has a 20V Max motor that will provide you with the constant power you need to get your job done. This handheld vacuum is perfect for construction sites or small jobs that require quick pick up.
You can buy this on Amazon for only $201.28.
Best Basic Handheld Vacuum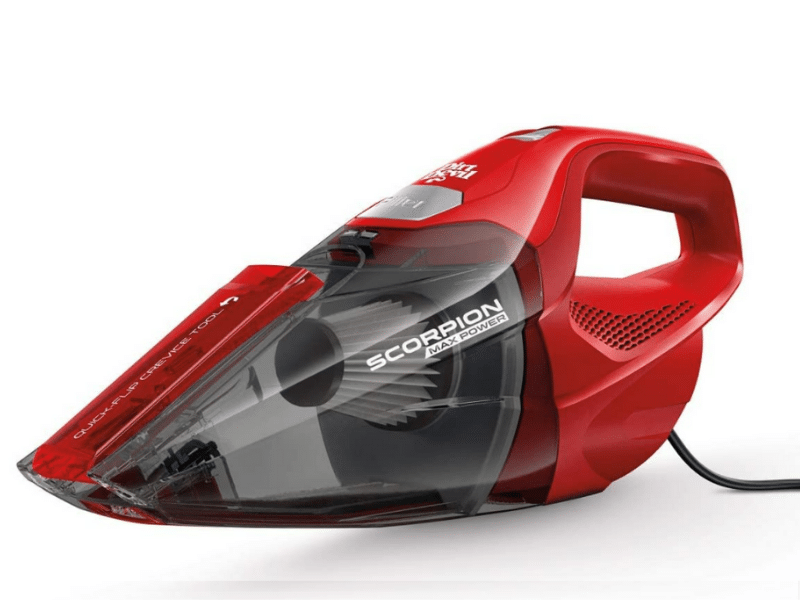 If you are looking to stay within a $30-$40 range for a Handheld Vacuum, then the Dirt Devil Scorpion Handheld Vacuum Cleaner is the best basic Handheld Vacuum that will get the job done. Don't let its simplicity fool you though – this Handheld Vacuum has over 10000 reviews on Amazon. This handheld vacuum has a 16-foot cord, 0.45-liter dirt cup, 2.5-foot hose, and a built-in crevice tool for tight spaces. Sand and pebbles are no match for the powerful 7 amp motor. The lightweight and portable design are great for quick pick-ups and the compact size makes it easy to store. Overall, this Handheld Vacuum is great for simple cleaning jobs around your home. This is one of the best handheld vacuum cleaners under $50.
You can buy this on Amazon for only $40.63.
Related Article