If you're a dog owner, you know how important grooming is. Getting your dog groomed in a professional pet salon can be very expensive and time-consuming. Grooming your dog at home with a high-quality grooming kit is a great way to save money and have fun with your pup. Although grooming your dog yourself can be a difficult task, with the right tools, it is much easier. Whether you're looking for a simple nail clipper or an all-inclusive dog grooming Kit, there are plenty of options on the market.
Here's our list of the 10 best grooming kits that you may want to consider buying in 2021: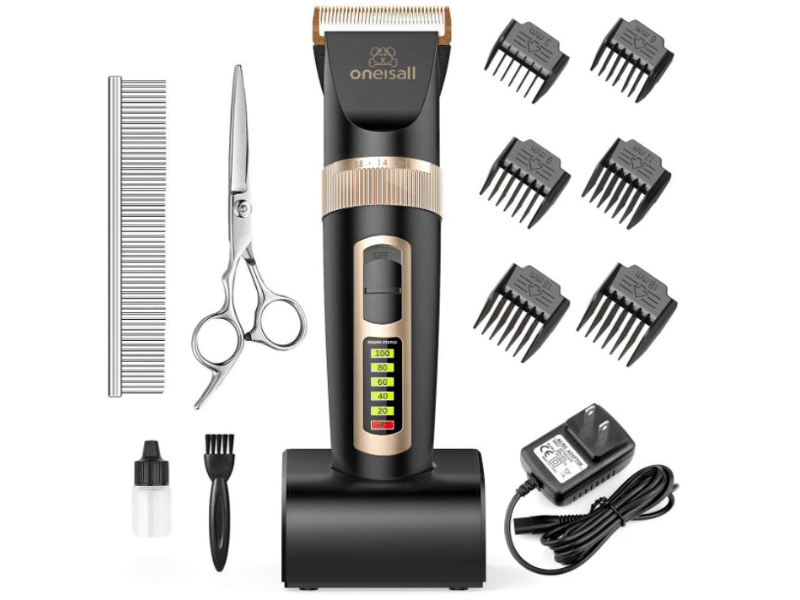 One of the best dog grooming clippers on the market right now is Oneisall Professional Dog Grooming Kit. The Oneisall Grooming Kit comes with a Oneisall dog grooming clipper, a cleaning brush, 6 guide combs, scissors, and more.
This dog grooming kit has upgraded stainless steel fixed blades and ceramic moving blades that can deliver superior cutting performance and durability. It also has a long-lasting battery life of up to 4 hrs of continuous use after a 3 hr charge.
This heavy-duty two-speed clipper can get through all types of hair, thick or thin, long or short. It has 6 guide combs to provide you with a variety of options when it comes to size and style.
You can buy this dog grooming kit on Amazon for $38.99.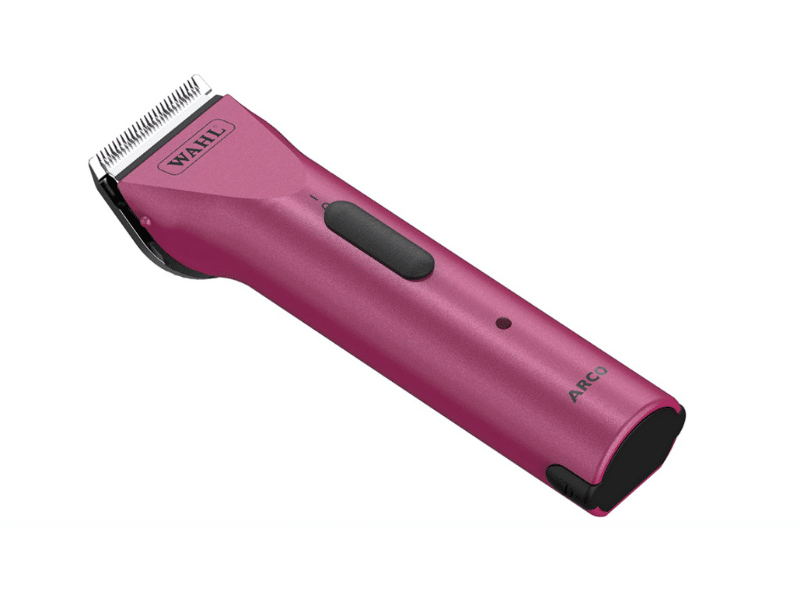 If you have enough budget and want premium grooming clippers, try the Wahl Arco Cordless Pet Clipper Kit. With this grooming kit, you can groom your pet in its hard-to-reach spots such as ears, faces, and paws for maximum pet comfort.
Wahl's pet clipper can be used on small and medium-sized dogs as well as cats. It can also be used as a horse clipper and is great for trimming and touch-ups on the muzzle, face, ears, legs, fetlocks, and bridle paths.
For hassle-free grooming, use this easy-to-clean clipper with a no-maintenance motor. Pet owners will have everything they need in this lightweight 5 in 1 cordless clipper.
You can buy this dog grooming kit on Amazon for $152.55.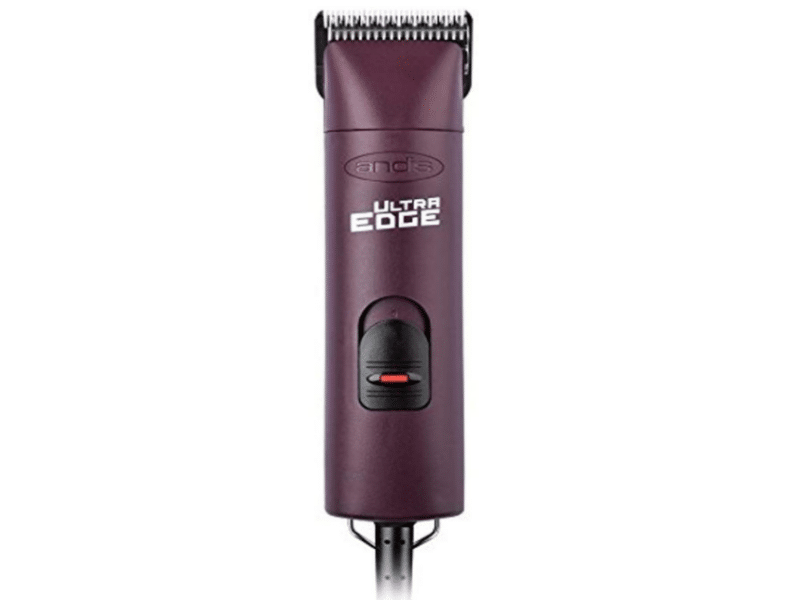 If you want an ultra-quiet grooming clipper, the Andis ProClip AG2 grooming clipper is a good choice. This grooming clipper is corded and boasts a low noise rating, so it's perfect if you prefer to groom your dog in peace. Some dogs tend to become anxious and aggressive when groomed, so making sure you have a quiet tool can help reduce their anxiety and fear.
The Andis ProClip AG2 Grooming Clipper comes with high-quality steel blades that rotate at 3,400 SPM (strokes per minute). They're extremely sharp and will get the job done quickly. The blades are detachable for ease of changing and cleaning. It has a power regulator control on its handle which allows you to vary the speed.
You can buy this Grooming clipper on Amazon for $174.95.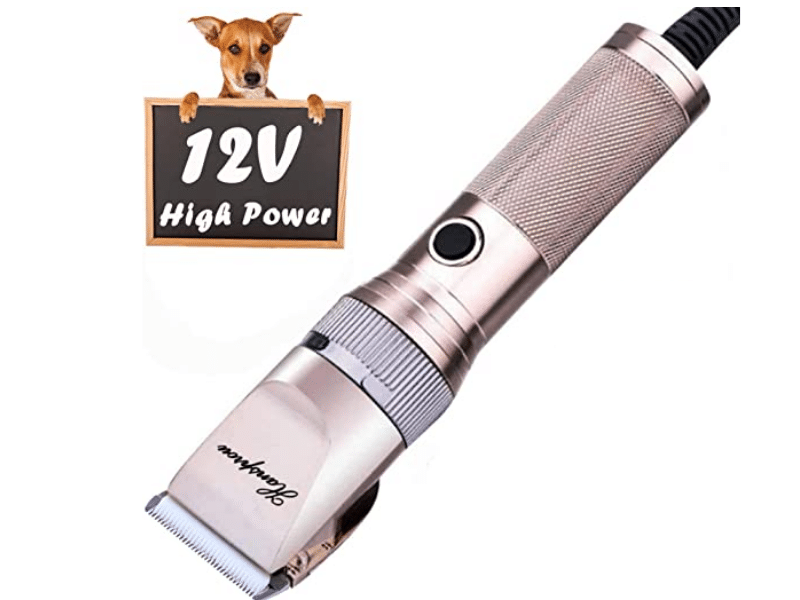 Another great basic dog clipper set is the Handsprou Grooming Kit.
These durable dog grooming clippers are made with titanium alloy and ceramic blades to provide a safe cut that will not snag or pull hairs. The blades are also easy to clean and do not tend to get gummed up with fur. Hansprou Dog Shaver Clippers are designed to perfection with a 35 tooth cutter head that speeds up the grooming process and a 12V large motor.
This professional pet clipper is ideal for grooming all types of animal hair and fur for dogs, cats, and other pets. This dog grooming kit runs quietly and efficiently, eliminating the unpleasant noise that many clipper sets produce.
You can buy this Grooming clipper on Amazon for $62.98
This rechargeable cordless clipper from Sminiker is great for pet owners who have cats and dogs.
This dog clipper has a titanium blade combined with a ceramic moveable blade to give your pet a great grooming experience. The Sminiker pet clipper's titanium blade will never rust. It maintains its sharpness and provides long-term durability.
This dog grooming kit includes four guide combs that provide various cuts for your pet. It also includes a pet clipper, scissors, nail clippers, a nail file, a cleaning brush, adapter, battery, and a user manual.
You can buy this dog grooming kit on Amazon for $23.99.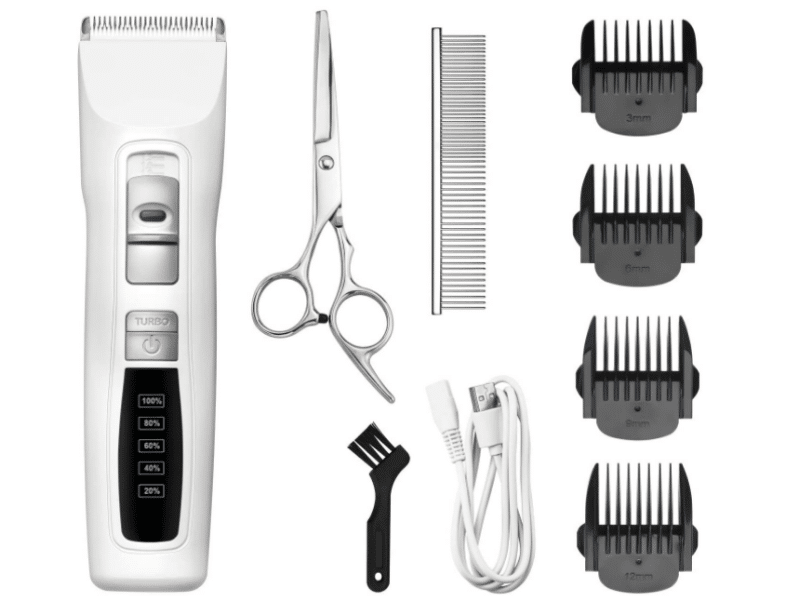 Another budget-friendly dog clipper on our list is the Bousnic Professional dog grooming clippers. This lightweight grooming clipper is perfect for beginners. It comes with dog grooming clippers, 4 combs with different lengths, a cleaning brush, stainless steel scissors, and more.
It's lightweight, has two speeds, and can be charged through USB, making it ideal for occasional usage or travel.
You can buy this Grooming clipper on Amazon for $29.99.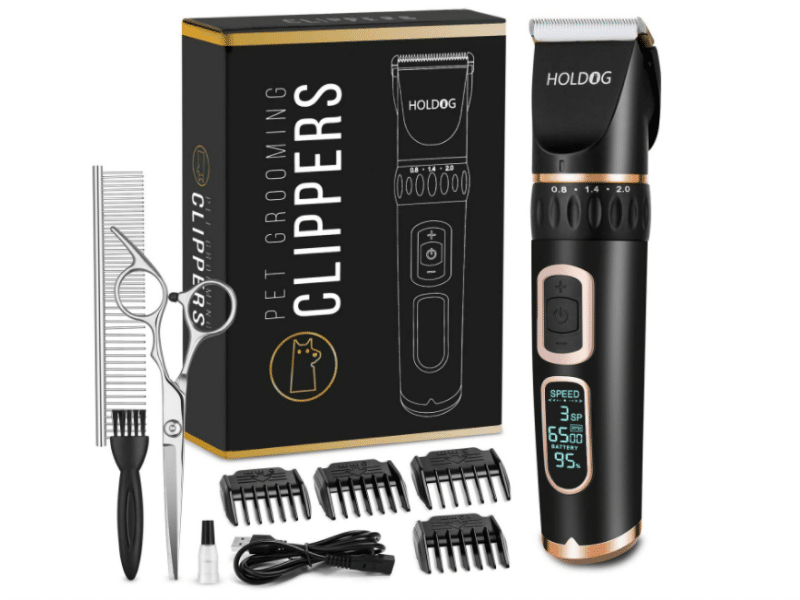 This grooming kit from Holdog is a great product at a great price. It comes with a detachable titanium-ceramic blade for a smoother cut than standard blades. The heavy-duty steel material makes it great for both professional and home use. This dog hair clipper has a lot of power and speed without generating a lot of heat or noise. The clipper is designed with an LCD real-time display that lets you monitor the battery life and your speed. It also has a 3-speed adjustable high-speed turning motor, which saves time and money while clipping pet hair and makes the process more efficient.
You can buy this dog grooming kit on Amazon for $32.99.
Want to know the best Vacuums for your Pet's hair? Read it here – Best Robot Vacuums of 2021