The key to a well-organized home is having a place for everything. If you're looking for the best home organization products of the year, look no further! We've gathered a selection of the top products to help you get your home in order. From storage solutions to decluttering tools, these home organization products are the must-haves for keeping your home neat and tidy.
Read More: Best Eco-Friendly Products To Help Save The Planet 
Here are some helpful home organization products to consider:
VtopMart Food Storage Containers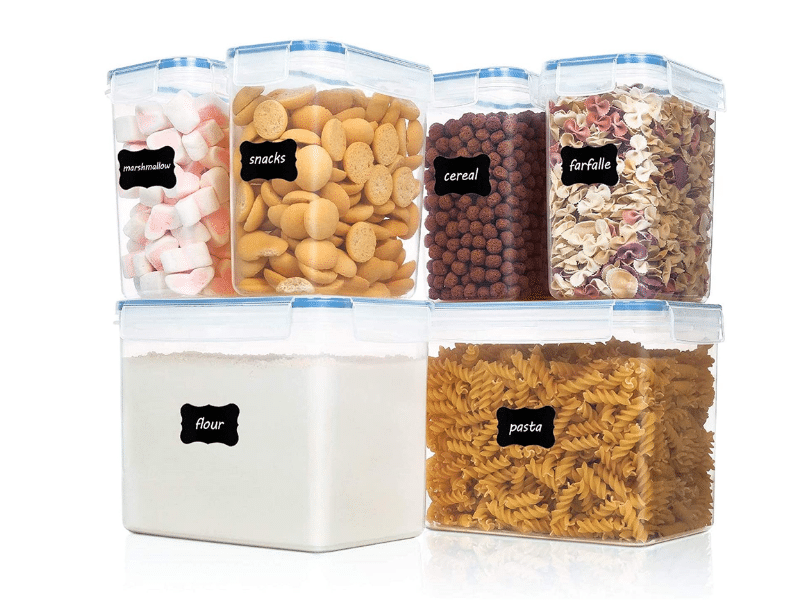 One of the biggest challenges to keeping your home organized is figuring out a way to keep your food and pantry items neatly stored away. Food storage containers are the perfect solution for this. These containers from VtopMart are durable, BPA Free and made from food-grade materials, ensuring that your food stays fresh and safe. It features side-locking lids with a silicone gasket to keep air and moisture out. The set includes 15 containers in four different sizes. Imagine being able to see all of your food at a glance, rather than rummaging through cluttered cupboards. From airtight containers for dry goods to refrigerator storage solutions, these are the home organization products you need to keep your kitchen in order.
You can buy this on Amazon for $35.99.
Utopia Home Pantry Organizer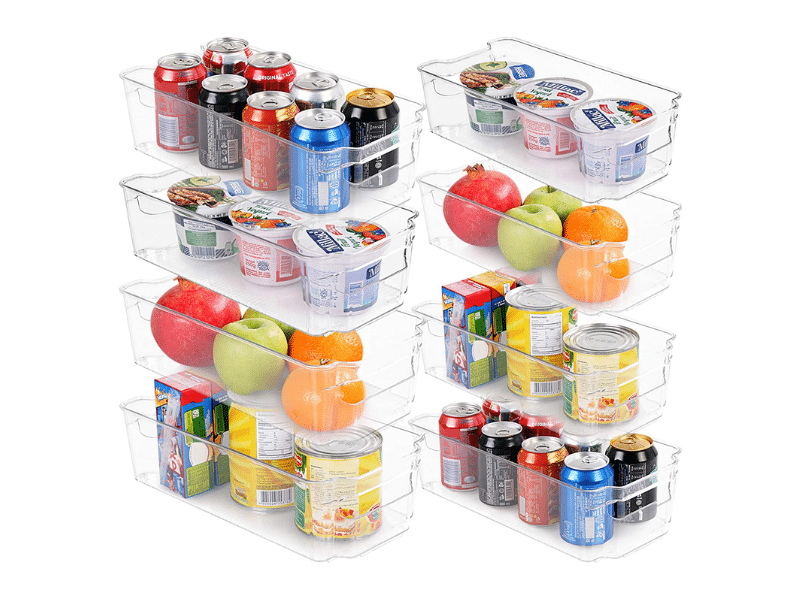 If you wanted something without lids to have on your shelves, this is a great option! This pantry organizer will declutter and organize your spices, cans, dry goods, and so much more. The sleek design takes up minimal space and its transparent design makes it easy to see what you have at a glance. It comes in a set of 8 with 4 big drawers and 4 smaller ones. It also features a built-in handle for easy access. However, it is important to note that you need to clean these pantry organizers with your hands using a light detergent. Other than that, this is an excellent product for organization and space-saving.
You can buy this on Amazon for $24.99.
Home-it Mop and Broom Holder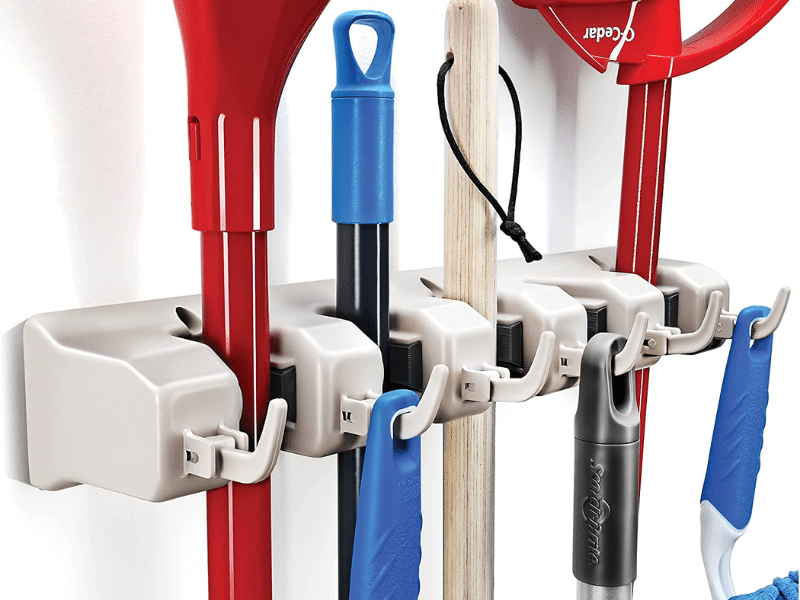 Where do you store your brooms and mops? If they're just leaning against the wall in a corner, it's time to invest in a mop and broom holder. The mop and broom holder is an easy and affordable solution for all your sweepers, mops, and brushes. This one from Home-It can be mounted on the wall or door and holds up to 11 items. It has 5 positions and 6 hooks to help you bring a neat environment. The rolling balls on this holder automatically adjust to each handle's thickness and grip it securely. You can easily mount the Mop and Broom Holder using the six supplied screws and screw anchors onto any wall, door, or flat surface.
You can buy this on Amazon for $13.99.
Cable Management Box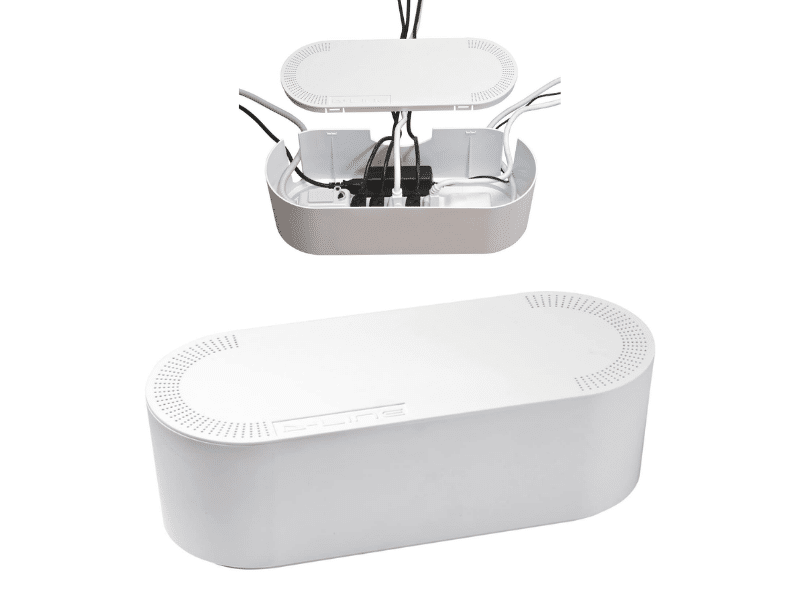 Having to see and deal with a bunch of cords and cables can be stressful. Not only is it unsightly, but it can also be dangerous if not managed properly. This is where a cable management box comes in to make your life so much easier. The handy box from D-Line hides and organizes all your cords and cables in one place. Made from high-quality electrically safe ABS plastic, this cable management box has 3 entries/exits and ventilation holes. The box also comes with a lid for a neat and tidy finish. The lid can also be used as a stand for auxiliary items.
You can buy this on Amazon for $26.99.
YouCopia Food Container Lid Organizer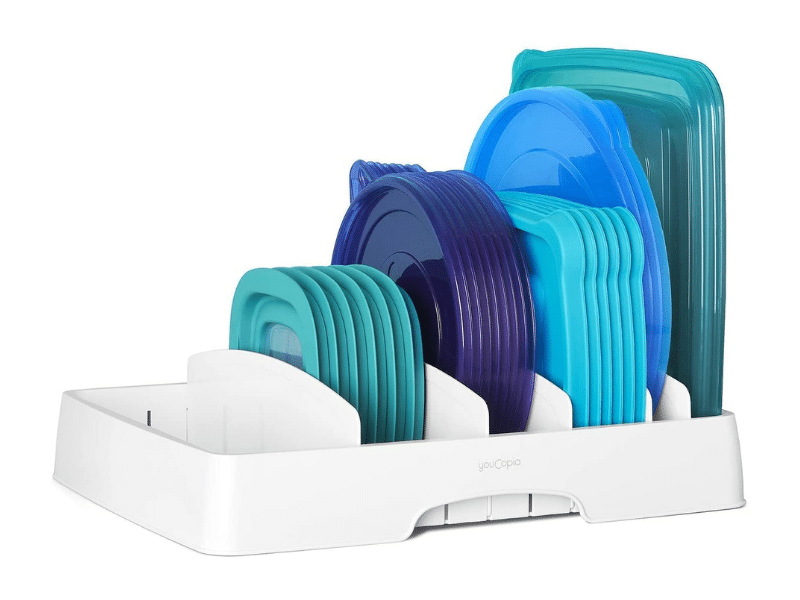 Another must-have for a well-organized home is a food container lid organizer. This one from YouCopia has a large space with adjustable dividers, so you can customize more as needed. It fits in standard upper cabinets or deep drawers. It is simple to set up and requires no tools or installation. Simply remove the box, place dividers (where desired), and fill your container lids. With this food container lid organizer, you will never have to dig around the cabinet to find the right lid again.
You can buy this on Amazon for $19.99.
Deco Brothers Pan Organizer Shelf Rack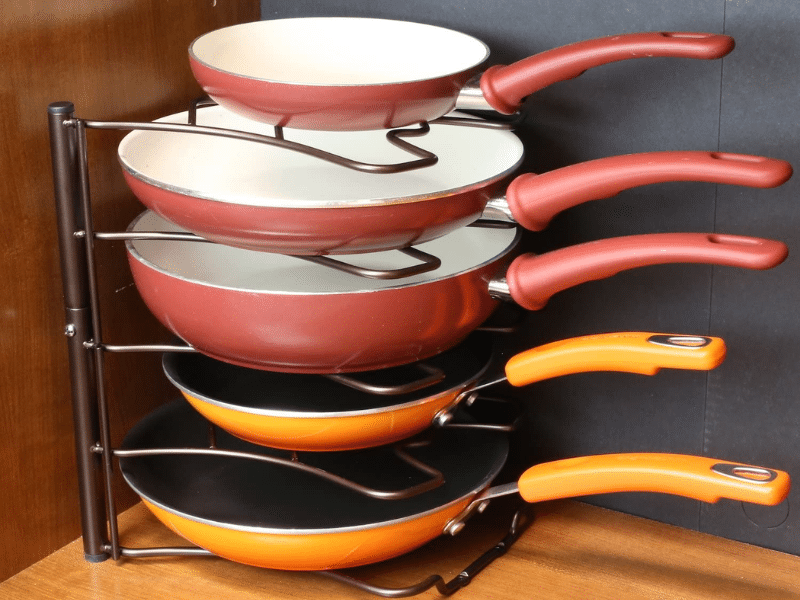 If you have a lot of pans, this pan organizer shelf rack is perfect for you. It makes any messy pan situation so much better. This pan organizer can hold up to five pans with vertical installation (or four pans with horizontal installation). It can also mount to the interior of a cabinet for added stability. One reviewer calls this pan organizer "a champ for holding large heavy pans." Whether you have a lot of pans or just one large pan, this rack is sure to help make your kitchen more organized and clutter-free. Save so much space in your kitchen with this one simple purchase.
You can buy this on Amazon for $19.47.
Lifewit Clothes Storage Bag Organizer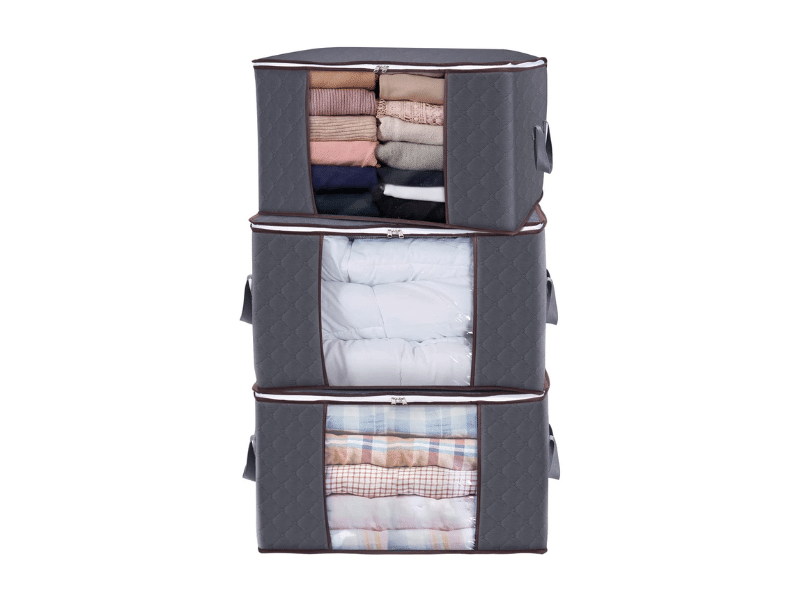 Clothes are a necessary part of life, but they can also be one of the biggest sources of clutter in your home. To keep all your clothes neat and organized, try investing in a clothes storage bag organizer from LifeWit. This highly durable fabric bag has a large space enough for your comforters, blankets, jackets, or other clothes. It is nearly two feet long and 14 inches tall. It features a transparent window so you can easily see what is inside. Thanks to its thick handle, you can carry it with ease. The bag also has a zipper closure to keep everything secure. This is one of the best home organization products if you're in a dormitory, attic, or bedroom use.
You can buy this on Amazon for $16.99.
SimpleHouseware Desk Organizer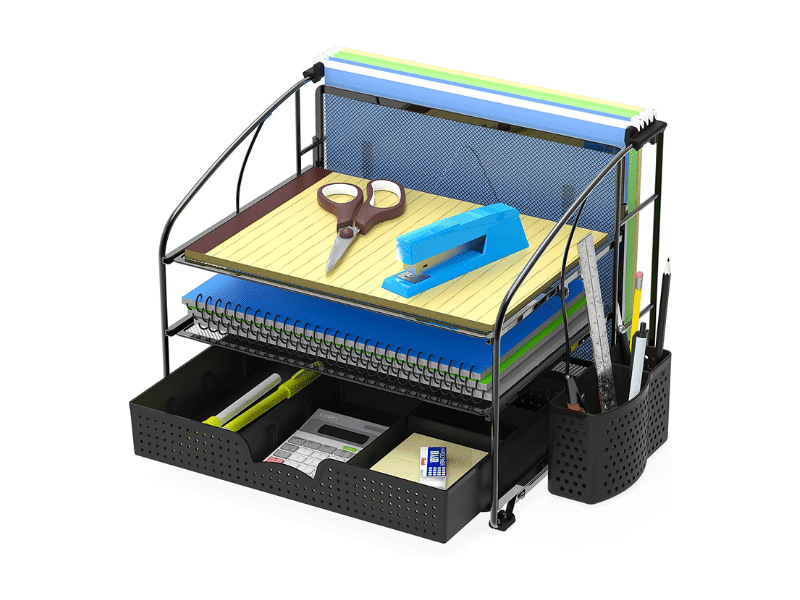 Whenever you are looking for home organization products, desk organizers are always a great option. Studying and working at your desk can often be chaotic and disorganized, with papers and gadgets strewn everywhere. That's why a desk organizer is so helpful. This one from SimpleHouseware comes with three side load letter trays and a tray with a 3 compartment drawer. It makes perfect for storing office supplies like pens, pencils, paper clips, scissors, and more. Alternatively, you can also use it to store your makeup, jewelry, and other small items that you don't have a designated spot for. With this desk organizer, your desk will be neat, tidy, and organized in no time.
You can buy this on Amazon for $24.97.
Simple Houseware 3-Tier Shoe Organizer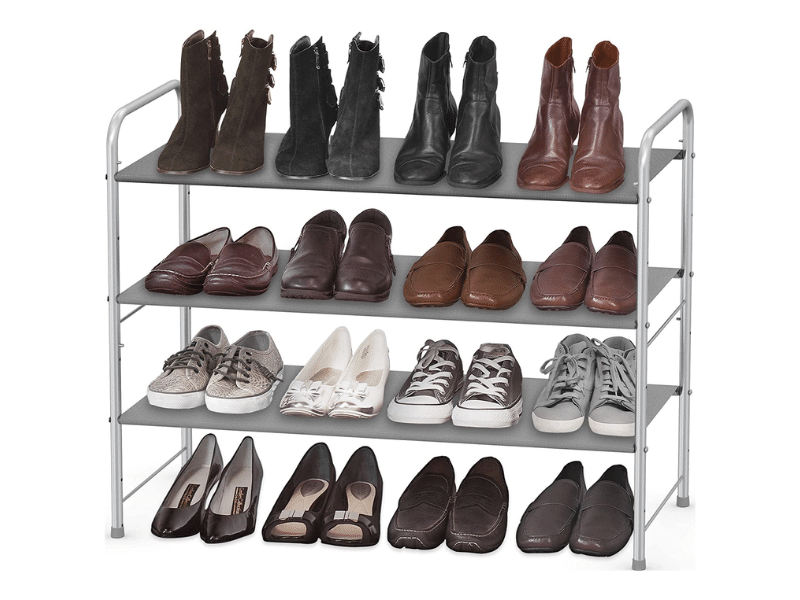 Tired of your shoes cluttering up the entryway of your home? Instead of just shoving them all in a corner, why not try investing in a shoe organizer? A good shoe organizer is essential for any household. One of the best on the market is this 3-tier shoe organizer from Simple Houseware. This shoe organizer features three shelves for storing multiple pairs of shoes. Its sturdy steel frame can hold up to 12-20 pairs of shoes. All shelves can be adjusted to fit your specific needs and preferences. Save space, time, and hassle with this 3-tier shoe organizer.
You can buy this on Amazon for $21.97.
SMARTAKE 13-Piece Drawer Organizers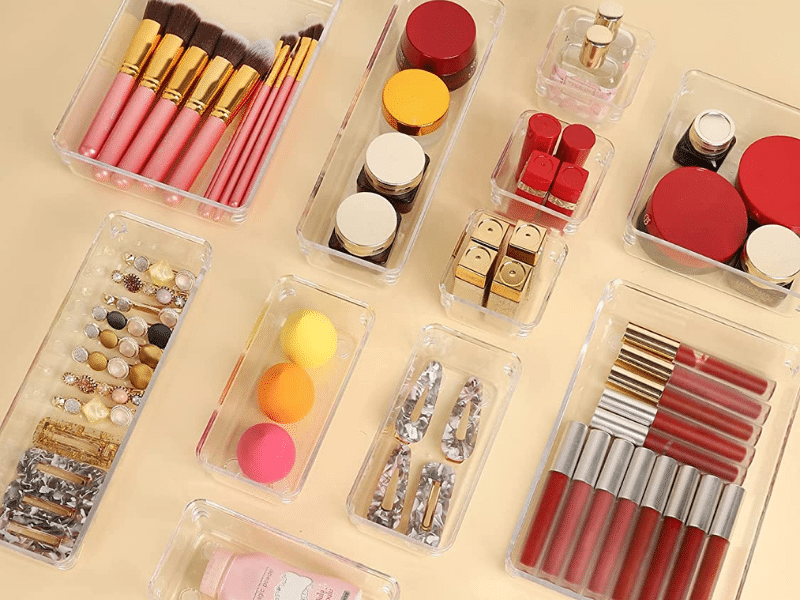 If you're looking for a way to keep your drawers neat and organized, look no further than SMARTAKE drawer organizers. With more than six thousand reviews on Amazon and a 4.8-star rating, these organizers are sure to be an essential part of your home organization arsenal. This 13-piece set comes with multiple different organizers in various sizes, perfect for any drawer in your kitchen or bathroom. They're made out of durable plastic that won't bend or warp over time. It has silicone non-slip pads at the bottom of the bin to prevent the box from moving freely when dragging the drawer. These practical organizers are designed to fit in standard drawers and make it easy to sort your kitchen utensils, makeup collection, or office supplies.
You can buy this on Amazon for $21.99.