The holiday season is fast approaching and it's time to start thinking about the perfect gift for everyone on your list. While you're busy buying presents for the people on your list, don't forget about the kids. While there are numerous toys to choose from, toy advent calendars may be worth considering. Kids advent calendars just like any other advent calendars were designed to count down the days leading up to Christmas Eve.
Kids love the element of surprise and toy advent calendars come preloaded with little toys and other goodies that will help you ring in Christmas this year.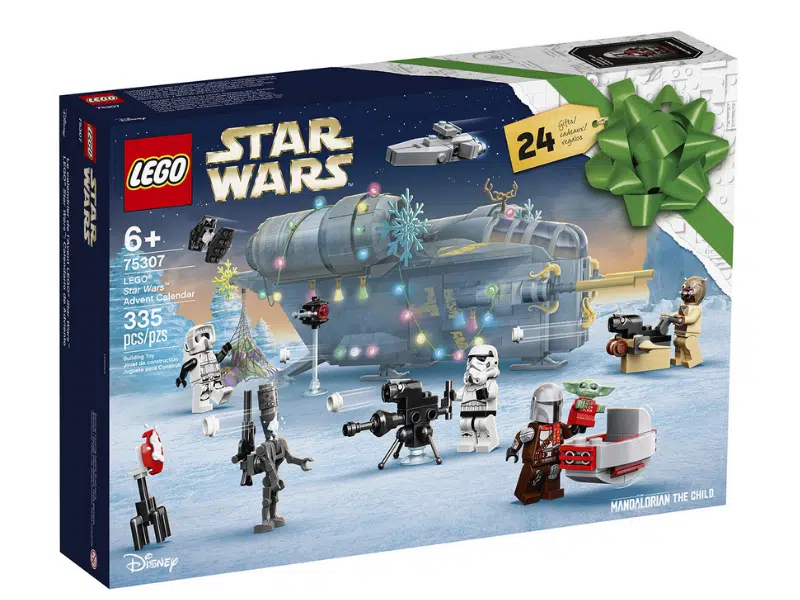 Do you know someone who loves Lego and Star Wars? If yes, the Lego Star Wars set is the perfect toy advent calendar for them. The Lego Star Wars advent calendar includes a LEGO Minifigure, LEGO figure, vehicles, and weapons. This toy is inspired by Star Wars: The Mandalorian Season 2.
Want to see Baby Yoda in a festive outfit? Buy this perfect stocking stuffer and let your kids enjoy this fun-filled holiday toy advent calendar.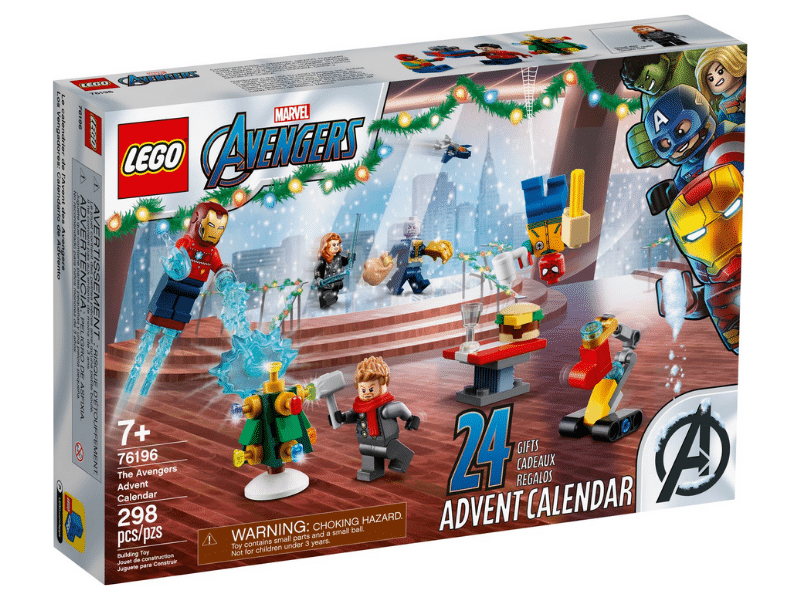 This Marvel The Avengers Advent Calendar from Lego features 24 mini-gifts for your children to discover one day at a time.
It comes with special pieces and characters like Iron Man and Spiderman and also includes authentic accessories from Avengers adventures.
Let your kids play with these action-packed characters from the Marvel world while they count down to Christmas day.
This toy is recommended for children aged seven and up.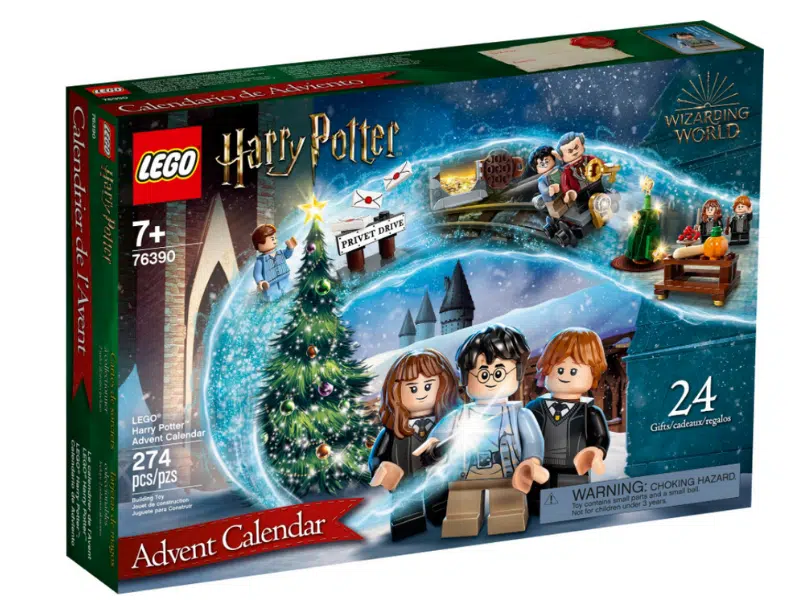 Toy Advent Calendars of LEGO will not be completed without having a Harry Potter on their list.
Enjoy the magical journey it brings as you build and recreate an iconic scene from the Harry Potter books or movies. The set includes 6 exclusive Minifigures – Harry Potter, Hermione Granger, Ron Weasley, Draco Malfoy, Griphook, and Dudley Dursley. This toy treat also comes with two wizard card tiles for Harry Potter fans to collect (16 in total).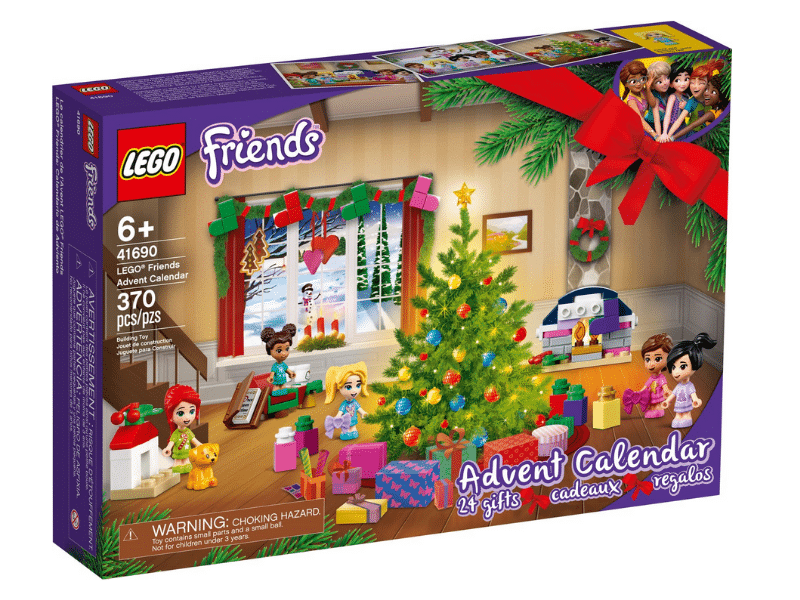 Last but not least for our list of Lego Advent Calendars is the LEGO Friends Advent Calendar.
All the characters from the Heart City series are included – Stephanie, Emma, Andrea, Mia, and Olivia.
This Advent Calendar has a lot of buildable items including a sleigh, snowboard, and a fireplace. The blender arm can be lifted and the oven door opens for a more imaginative play.
Make the holiday season truly fun for kids, with this LEGO Friends Advent Calendar that gives them chances to build new things every day of the Advent season.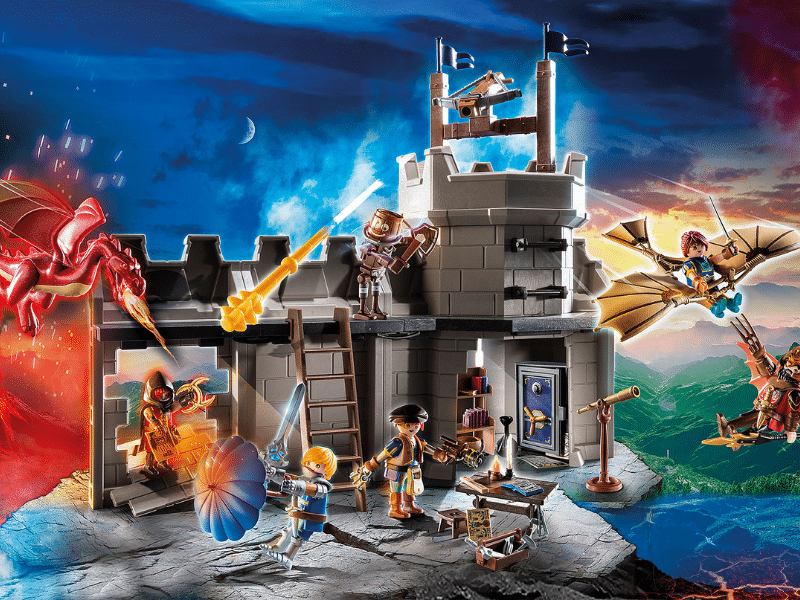 Every year, Playmobil brings a new twist to their ever-so-popular Advent Calendars. This time around, they have Novelmore – Dario's Workshop.
Dario and his exclusive inventions from his secret workshop will take you on a journey into Novelmore. This countdown calendar features Dario DaVanci and other well-known Novelmore heroes as they embark on an adventure of creating new tools, machines, and weapons.
Every day kids can open a door to make new inventions with Dario DaVanci!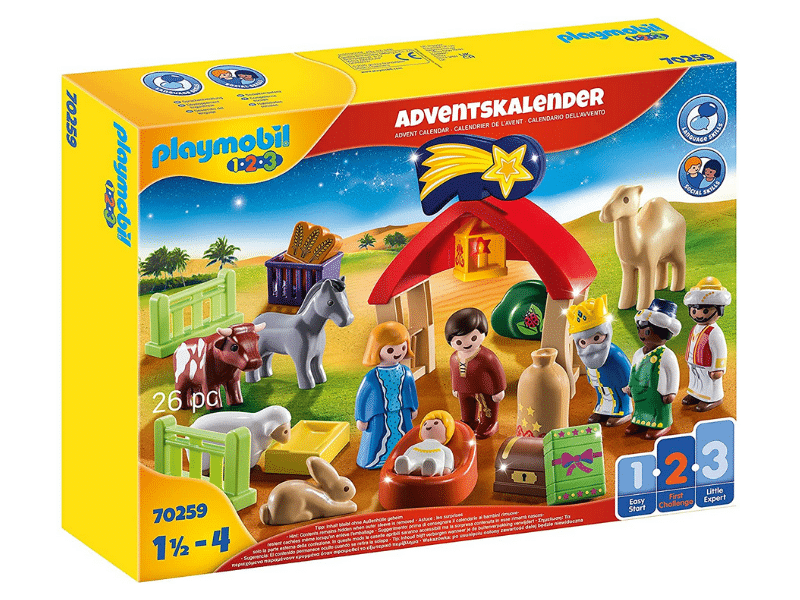 Christmas is just around the corner and this Advent Calendar from Playmobil will help you count down the days to Christmas. Tell the story of Christmas to your kids with this 24 piece Playmobil set that includes all the key elements of the Nativity. It highlights the town's residents, animals like camels and horses, the three kings, and more. Celebrate the story of Christmas by adding a new piece each day to the collection leading up to Christmas.
This toy will help your toddler develop language and social skills as they play out this classic Christmas tale.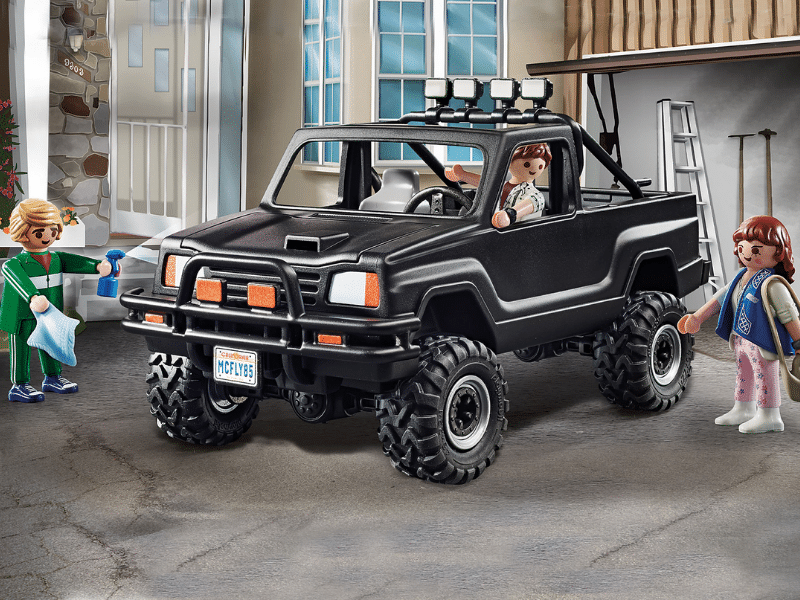 Grab this Back to the Future Marty's Pick-up Truck Advent Calendar from Playmobil and get lost in the time travel journey. The new playset once again brings Playmobil fans Back to the Future. This 24-piece set has all the details that you loved from the movie, including Marty McFly's iconic Pickup Truck. It also comes with other characters like Marty McFly, Jennifer Parker, and Biff Tannen to help you re-write history. Good news for real fans because the set includes a collector's postcard. These cute little figures will bring a smile to their faces each day leading up to Christmas.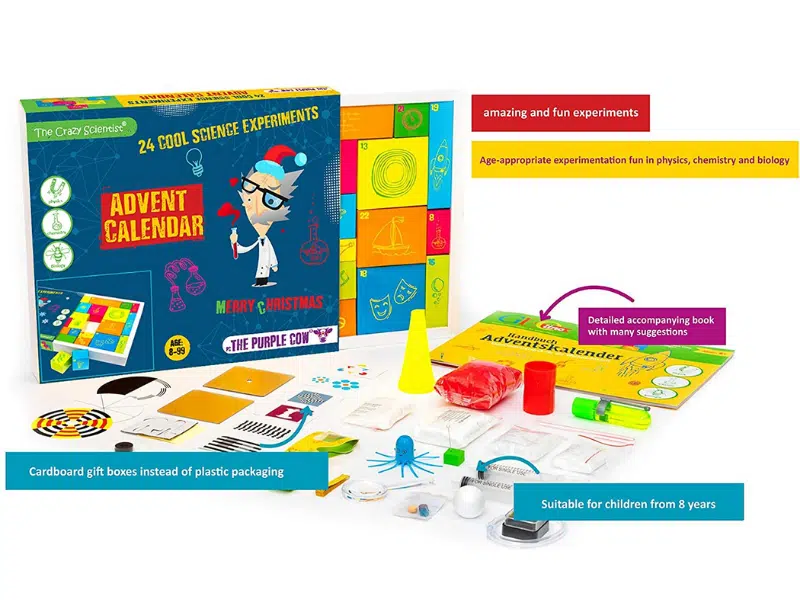 Have an aspiring scientist at home? This toy advent calendar is the perfect way to introduce your child to the world of science. Teach them about science experiments, all while they have a blast opening each day's door to discover what toy surprise awaits!
The set includes 24 exciting experiments with a step-by-step guide from different fields of science like Chemistry and Biology. With this, kids learn about science in a fun and hands-on way.
This is one of the best toy advent calendars on our list.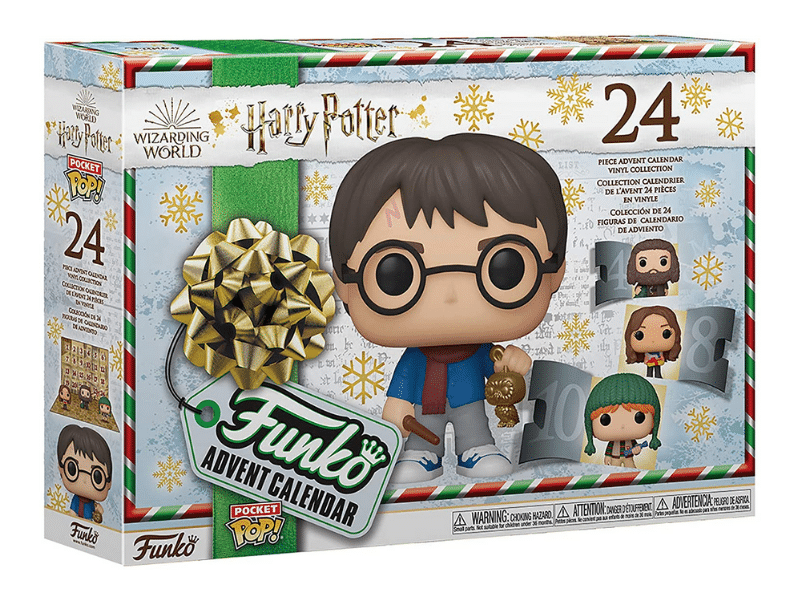 Count down the days to Christmas with your kids by bringing home the Harry Potter Advent Calendar from Funko. This set is a collection of Harry Potter Funko character figurines with different heights depending on the character. Collect these wizards and witches up until Christmas day and enjoy counting down the days with Christmas songs and Harry Potter-themed activities! You can also get Funko Pop Pokémon, Dragon Ball Z, and Fortnite.
It's super cheerful and makes for a really great gift for anyone who needs a bust of holiday cheer.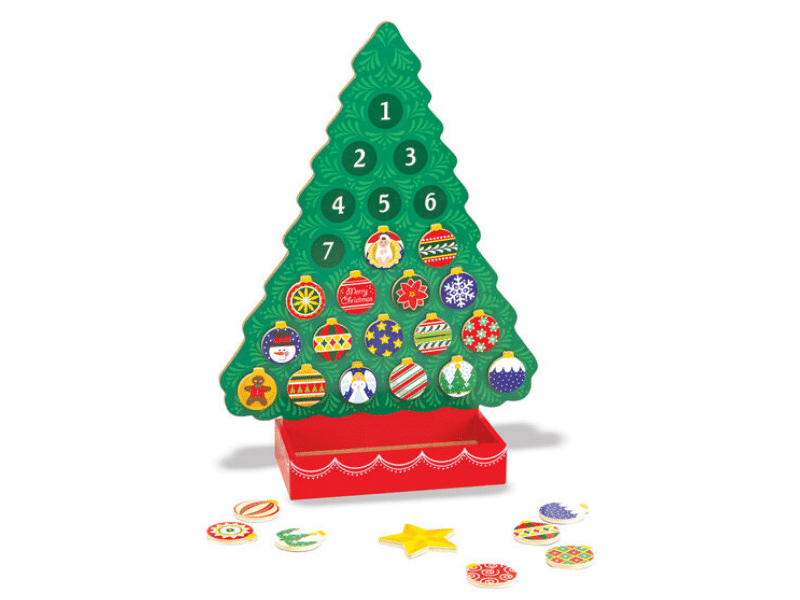 For many years, Mellissa & Doug have created wonderful wooden toys for kids. The Countdown to Christmas Wooden Advent Calendar is no exception. This advent calendar is an annual bestseller. It has 24 little doors and behind each door is a Christmas-themed wooden craft for kids to make. The pieces include glittery magnetic ornaments and 1 shining star for the top of the Christmas tree. Each day, kids can add one magnetic ornament until they reach Christmas day. This advent calendar will also be a money saver for you can use this toy every year.
This kid-friendly calendar is fun for kids to open the little doors every day in the month of December.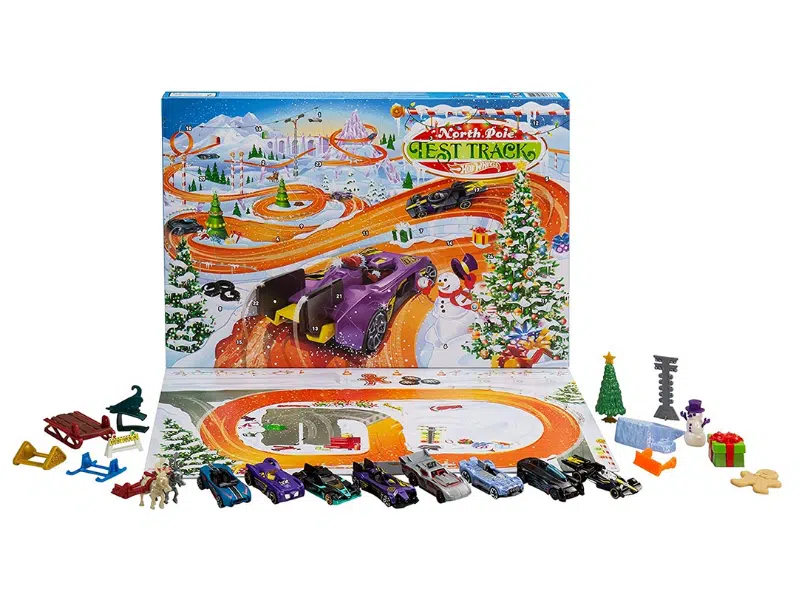 Make your Christmas countdown worth the wait!
The Hot Wheels Advent Calendar is a great way for kids to get their daily dose of fun and excitement.
This toy advent calendar includes eight Scale Vehicles & Other Cool Accessories. Kids will enjoy the surprise and fun that comes with opening one window each day. When the countdown to Christmas finally reaches its end, kids will surely be satisfied with their new collection of Hot Wheels cars!
This is a perfect toy for all the car lovers' kids out there!
Are you on a tight budget? Read here – Best Gifts Under $200